Accessibility
---
The Strong museum welcomes guests of all abilities and is committed to providing quality, accessible experiences for all ages.
Sensory Resources
The museum, in collaboration with Autism Up, a local not-for-profit organization that supports individuals on the autism spectrum, provides families opportunities to experience the museum before it opens to the general public through its Sensory Friendly Sunday program. Children have access to designated quiet areas that include sensory friendly toys, light and sound reduction, and extra visual safety signage.
Additionally, the museum offers alternatives for children who prefer quieter activities, including craft tables, book nooks, and aquariums. Guests who require a quiet space have access to the museum's guest rests, located on the first and second floors of the museum.
Download The Strong's Bloomberg Connects app for mobile-friendly social stories and multilingual exhibit descriptions.
Social Stories
Wheelchairs
The museum offers a limited supply of complimentary wheelchairs, available on a first-come, first-served basis. All public entrances (and most exhibit areas) are accessible by wheelchair, scooter, stroller, and walker. The museum also has two ramps available for guests, including one at the rear of the Skyliner Diner and one that leads to the upper portion of Reading Adventureland.
Designated Therapists, Caregivers, or Interpreters
General museum admission is available at no additional cost to licensed care providers and interpreters for visitors requiring assistance. These care providers and interpreters must provide an employee badge from a licensed facility and a matching photo ID, and will only receive complimentary admission when their client pays general museum admission.
Riding the Train and Carousel
Caregivers assisting guests on The Strong Express Train or Elaine Wilson Carousel may ride free of charge. Please see a museum host for more information.
Elevators
The Strong has two conveniently located elevators that allow guests access to the museum's second floor.
Benches
An ample number of benches are located throughout the museum's two floors of interactive exhibits, allowing guests a place to rest.
Parking
Accessible parking spaces can be found on levels one, two, and three of the museum's parking garage. A disabled parking placard or license plate is required.
Self-Guided Mobile Tours
Self-guided tours of the museum's America at Play exhibit and "The 12 Must-See Artifacts" are available in written and audio format via The Strong Museum Guide. The app also includes an easy-to-follow floor plan and event listings. Guests can download the app using the museum's free Wi-Fi from any smartphone through the Apple Store or Google Play. Full audio transcripts are available in English and Spanish.
Closed Captioning
The museum offers exhibition labels (available in English) that display content information about the artifacts and the concept behind each exhibit/display.
ASL Interpreters
ASL Interpreters or additional accommodations such as DeafBlind requests should be made two weeks in advance by contacting Cathy DeBellis at cdebellis@museumofplay.org.
Service Animals
Service animals are welcome in the museum. All service animals must remain on a leash or harness at all times. With the exception of service animals, no domesticated animals of any kind can be admitted into the museum.
Family Restrooms
An ample number of restrooms are scattered throughout the museum, including two family restrooms on the first floor and one on the second floor. All restrooms are wheelchair accessible and include changing tables for infants and toddlers. The family restroom on the right, behind Imagination Destination, also includes a changing table for families caring for older children and adults.
Guest Rest Rooms
The museum offers two guest rest rooms when you need a quiet, out-of-the-way space for you and your child. Guest Rests are located in the G. Rollie Adams Atrium on the first floor and in the Academy of Interactive Arts and Sciences exhibit on the second floor.
Headphones
Noise-cancelling headphones are available upon request at the admissions desk. Guests are asked to leave a driver's license as collateral while borrowing the headphones.
First Aid
Museum security staff is certified in First Aid and CPR. If assistance is required, please notify a host or a security officer.
---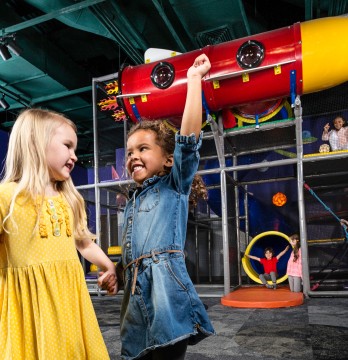 ---
Make a Donation Today
Become a champion for play and help make a difference in the lives of the children and families who play, learn, and grow with The Strong.