Visiting the Toy Halls of Fame Exhibit
I am going to visit the Toy Halls of Fame exhibit at The Strong Museum.
Museum hosts will be wearing blue shirts, and some may wear a mask. I might see museum workers cleaning and smell cleaning supplies while I am visiting. I can help keep the museum clean, too, by cleaning my hands.
I can choose to take the blue staircase or elevator up to the exhibit. There will be other children playing there.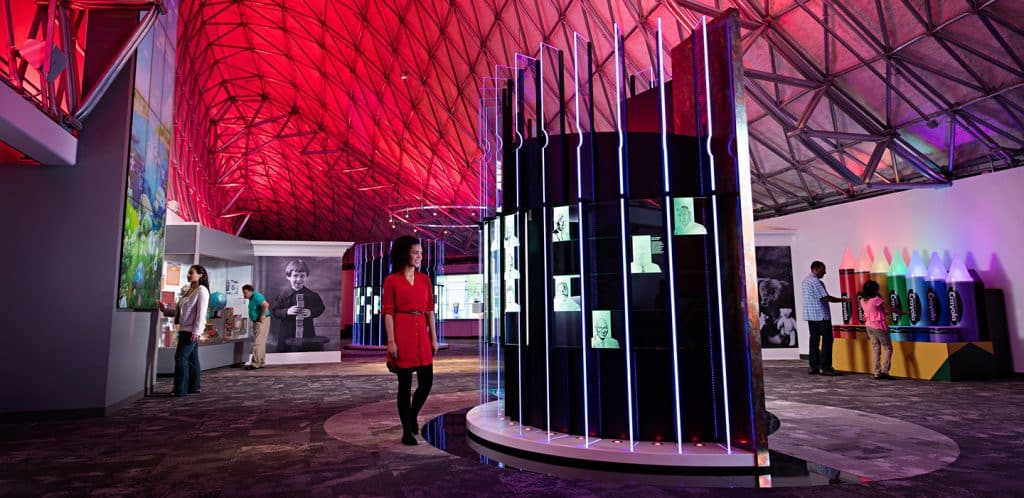 I can play games by moving my body. I will see a big Mr. Potato Head overlooking the exhibit. Mr. Potato Head waves at me when I touch buttons on a special pad. I can wave back, too. If I want, I can make pretend bubbles on a very tall video screen. I will stand in the circle on the carpet. When I wave my arms up and down, I make lots of bubbles. I will let the next child take a turn when I am finished.
There is a large, glowing Crayon Piano in the exhibit. I can make the crayons light up and create music when I wave my hands over them.
I might also like to play with the virtual playroom. When I stand in a circle on the carpet, I can pretend to play with toys on the screen or draw a picture by moving my arms.
The exhibit has information about toys in the National Toy Hall of Fame. It also has information about people who create toys. I may see my favorite toys in display cases.
The Toy Halls of Fame exhibit is colorful. I will stay with my adult in the exhibit. I will have fun at the museum!