The Strong's professional development experiences are designed for pre- and in-service teachers, administrators, curriculum development professionals, and other early childhood professionals. The Strong's educators have expertise in the Reggio Emilia approach, play-based learning, and project-based learning. Experiences are offered at the museum or at an off-site location. The Strong's professional development experiences are custom-designed to meet the unique learning goals of each group, and can be designed to meet New York State Office of Child and Family Services' training requirements for early childhood programs. To request a visit, please fill out a professional development request form.
The following selection of recent case studies illustrates the variety of play-based development experiences that The Strong can deliver:
Buffalo Zoo Preschool
Buffalo Zoo education staff visited The Strong to tour exhibits and observe The Strong's Reggio Emilia-inspired Woodbury School as part of their planning process for a new preschool program (which opened at the zoo in 2015). Later the Buffalo Zoo Preschool staff continued their professional development at The Strong through custom workshops focused on the role of play in learning and interpretation of the Reggio Emilia approach.
Elmwood Franklin School (Buffalo, NY)
The Strong's educators led a series of workshops with preschool and primary teachers and administrators at Elmwood Franklin School. The training focused on the evolution of project work and the role of documentation in Reggio Emilia-inspired classrooms. Staff from Elmwood Franklin School also observed Reggio Emilia's implementation in The Strong's Woodbury School. Faculty came away with tangible ideas for integrating play-based learning in their classrooms.
Fairport Central School District
Board members, administrators, and teachers from the Fairport Central School District took part in a series of trainings at The Strong aimed at incorporating play into Fairport's kindergarten classrooms. The sessions examined current research on play-based learning, and explored The Strong's Woodbury School model. The trainings are part of an ongoing, multi-year professional development series custom designed for the district.
Gates Chili Central School District Universal Pre-Kindergarten Program
The Strong's educators welcomed teachers and faculty from Gates Chili Central School District for two on-site, full-day workshops about playful learning in the early childhood classroom. Through presentations and small-group discussions, participants learned how play supports learning and development, drew upon the museum's interactive exhibits for school lesson ideas, and developed plans for their universal pre-kindergarten classrooms.
Custom Experience Request Form
Sign Up for Educator E-News
Educator sign-up
---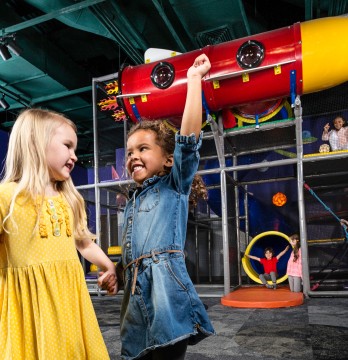 ---
Make a Donation Today
Become a champion for play and help make a difference in the lives of the children and families who play, learn, and grow with The Strong.