Parties and Museum Rentals
---
Create treasured memories for years to come by celebrating a special occasion at The Strong.
Party Package
Note: Museum is not accepting party reservations July and August 2023.
The museum's playful environment provides an ideal setting for birthday, engagement, graduation, and anniversary parties and gatherings such as family reunions and baby showers.
Party Package Includes:
A private party space for 1.5 hours. Choice of 10:30 a.m. to 12 p.m. or 1 to 2:30 p.m.
Museum admission for 10 people (non-members).
One ride per child on the train or carousel.
A museum host to assist with party needs.
Price: $225 for 10 party guests.
Additional party guests can be added for $14 each (age 2 and older).
Current museum members are free.
Party Add-on Options
Butterfly garden tickets: $6 each
E-Game tokens: 120 tokens for $25
Costumed Characters: Enjoy a 20-minute visit from a Berenstain Bear for $50. Choice of Mama, Papa, Brother, or Sister Bear.
Food and Beverage
Food may be ordered from the food court or Bill Gray's.
Store-bought food and refreshments may be brought in by the host of the party. Delivery of catered food, such as pizza is also allowed.
Homemade food and beverages are not permitted.
Alcoholic beverages are not permitted.
Decorations
Table-top decorations may be brought in to customize the party area.
Balloons, piñatas, party poppers, confetti, wall decorations, and birthday cake candles are not permitted.
Make a Reservation
Reservations must be made at least two weeks in advance and are subject to availability.
All parties require a 50% non-refundable deposit to confirm the reservation.
Final balance is due four days before the party.
To make a reservation, contact Debie Himmelsbach at dhimmelsbach@museumofplay.org or 585-410-6332.
Note: Museum is not available for political, religious, or fundraising events. The party room has a maximum capacity of 40 guests.

Museum Rentals and Private Events
The Strong museum offers a unique and memorable setting for meetings, receptions, and other special events. Whether it's a team-building outing, a business meeting, a dinner, or a reception for 250, the museum has just the right space to meet your needs. Please contact Debie Himmelsbach at dhimmelsbach@museumofplay.org or 585-410-6332 to discuss your event needs.
Discover the museum's playful spaces:
G. Rollie Adams Atrium (Reception 200, Seated 150)
Main Lobby (Reception 250, Seated 100)
Paychex Theater (Seating 290)
Toy Halls of Fame (Reception 75, Seated 50)
Dancing Wings Butterfly Garden
Skyline Climb Ropes Course
Entire Museum!
Corporate Partner Benefits
Corporate Partner members may qualify for waived or discounted rental fees. For more information about the Corporate Partners program, please contact Hillary Bobys, Director of Corporate and Strategic Relations, at hbobys@museumofplay.org or 585-410-6302.
The museum is not available for political, religious, or fundraising events.
---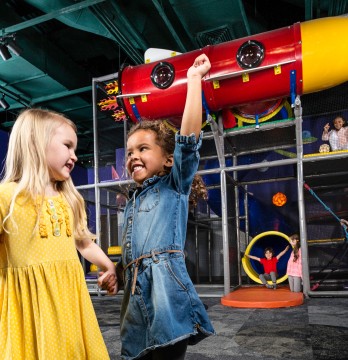 ---
Make a Donation Today
Become a champion for play and help make a difference in the lives of the children and families who play, learn, and grow with The Strong.