Getting Ready to Visit the Museum
I am going to visit the The Strong National Museum of Play. My adult will drive to the museum's parking garage. There are other cars driving around the parking garage. We will walk from the car to the museum's entrance. I will stay close to my adult.
After we enter the museum, I will walk past the restrooms. If I need to, I can use the restroom. I will get in line in the admissions area. There may be other people waiting in line, too. I will be patient.

When it is my turn at the admissions desk, my adult will pay a museum host. Museum hosts wear blue shirts. Museum hosts help me and other people visiting the museum.
Things will be different from my last visit. This is to keep me and my adult healthy. Museum hosts will be wearing blue shirts and masks. The museum may smell different than I remember. I will smell the cleaning supplies that the workers are using to clean the
museum. I might see workers cleaning while I am visiting the museum. I can help, too, by cleaning my hands and not touching my face.
Now I am ready to play in the museum.
I am really excited, but I am going to stay with my adult while in the museum. I will walk, not run, in the museum.
There are so many fun things to do in the museum. I am going to have a great time!
---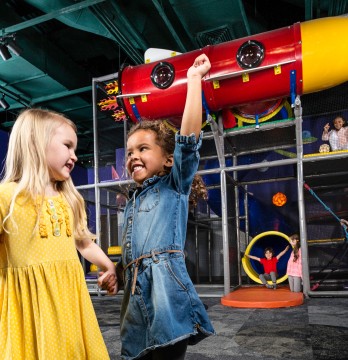 ---
Make a Donation Today
Become a champion for play and help make a difference in the lives of the children and families who play, learn, and grow with The Strong.