The National Archives of Game Show History
---
The National Archives of Game Show History at The Strong preserves the history of game shows—from the earliest panel shows and quiz scandals, to the games and puzzles of the 1970s, to the big money network series and the classic games now in primetime.

Oral Histories
Patte Barry and Don Enright

Patte Barry was the wife of Jack Barry, and Don Enright is the son of Dan Enright. Jack Barry & Dan Enright Productions were one of the most formidable game show production companies of the 1950s. When the quiz show scandal of the 1950s broke, Barry and Enright were exiled from American television. Both men rebuilt their careers and re-established their company in the 1970s, with hit games like "The Joker's Wild" and "Tic Tac Dough."

Michael Brockman

From the 1960s through the 1990s, Michael Brockman had tenures as head of daytime programming for ABC, NBC, and CBS, and oversaw many all-time favorite game shows in that role. Among other contributions, he put "Family Feud" on the air and rescued "The $10,000 Pyramid" from cancellation.

Dana Calderwood

Dana Calderwood is one of the most prolific game show directors in cable TV history. He called the shots for MTV's "Remote Control," Nickelodeon's "Double Dare," Food Network's "Pressure Cooker," The History Channel's "History I.Q.," and Game Show Network's "Idiotest." He also helped bring Iron Chef from Japan to the U.S.

Bob Eubanks

Originally a disc jockey and a concert promoter who brought The Beatles to Hollywood, long-time master of ceremonies Bob Eubanks was at the helm of "Card Sharks," "Dream House," "Trivia Trap," and more, but you remember him best for making "Whoopee" a household word during his 16 years on "The Newlywed Game."

Mike Gargiulo

In his final interview, Emmy-winning director Mike Gargiulo recounted a legendary career that spanned the era of live and "live-to-tape" shows. His credits included some of the most popular game shows in television history, including "The Price is Right," "What's My Line?," "Password," "The $10,000 Pyramid," and "The Match Game."

Ron Greenberg

Ron Greenberg began his career as a page at NBC's famous studio complex in Rockefeller Plaza, later producing games like "Camouflage" and "Word for Word." Independently, he created "The Who What or Where Game," "The Big Showdown," and "The Money Maze." Later, he became executive producer of classics like "The Joker's Wild" and "Tic Tac Dough."

Mark Itkin

Mark Itkin got his start as a contestant on "The $10,000 Pyramid" before becoming an agent and specializing in "packaging": assembling the creative side of a television show (talents, producers, writers) from his clients and pitching them collectively. His lengthy game show career includes "Wordplay", "American Gladiators", "Supermarket Sweep", "Who Wants to be a Millionaire", "Greed", "Deal or No Deal", and "Celebrity Family Feud", among many, many others.

Edd Kalehoff

An innovative composer, Edd Kalehoff pioneered the use of the Moog synthesizer in game show music and altered the sound of the genre forever. Kalehoff's instantly recognizable works have included the soundtracks of "Password," "Concentration," "Card Sharks," "Double Dare," "Finders Keepers," and 50 years of "The Price is Right."

Peter Marshall

Peter Marshall is an accomplished Broadway leading man, comic, singer, and actor whose career has spanned more than 70 years on stage, screen, and television. To television viewers, he's best known as a game show host. For nearly 15 years, he was "the Master of The Hollywood Squares," a role for which he would earn four Emmy Awards. He also hosted "All-Star Blitz", "Yahtzee", and "The Reel-to-Reel Picture Show". His memoir, "Backstage with the Original Hollywood Square", is now available from BearManor Media.

Wink Martindale

His very name is synonymous with "game show host." Wink Martindale was a Memphis disc jockey who came to Hollywood and became one of America's best-known hosts, with shows spanning five decades. His games include classics like "Gambit", "Tic Tac Dough", and "Trivial Pursuit". He also became a prolific producer, creating "Bumper Stumpers", "Boggle", "Jumble", and "Shuffle". Making a vow that he would never retire, Wink's voice can still be heard on his syndicated weekly radio show, "The History of Rock & Roll".

Terrence McDonnell

Starting his career on "Truth or Consequences" and "The Joker's Wild," Terrence McDonnell is possibly the most prolific question writer in game shows, with a 50-year-long career that had stops at "Jeopardy!," "Who Wants to be a Millionaire?," "Win Ben Stein's Money," and "The Chase," continuing today at "Master Minds."

Bill Monk

The head of Television City Electronics, Bill Monk, has spent more than four decades designing and maintaining electronic components, like the Apple II-powered "Tic Tac Dough," the puzzle board for "Wheel of Fortune," dozens of games for "The Price is Right," and the famous game board on "Press Your Luck."

Bev Pomerantz

Bev Pomerantz has helped thousands of skilled players start their journey to winning millions of dollars in cash and prizes. As a game show contestant casting Director, her job has been to seek out players with winning personalities and a knack for the games. Her credits have included "Family Feud", "The Dating Game", "Classic Concentration", "Let's Make a Deal", and "Supermarket Sweep".

Robert Sherman

A second-generation game show producer, Robert Sherman joined Goodson-Todman in the 1970s and helped write and produce a slate of hits for the company, including "Match Game," "Tattletales," "Now You See It," "The Price is Right," "Password Plus," "Body Language," and "Super Password." He has since worked independently as a consultant for other production houses.

Pamela Usdan

Pamela Usdan started her career in Australia with Reg Grundy Productions, before heading to New York to start a career in American television. Originally joining Mark Goodson-Bill Todman Productions for a staff job at "What's My Line?," Usdan remained with the company to supervise the international adaptations of Goodson-Todman games.
These oral histories have been produced to tell the story of game shows and to serve as primary source material for future generations. The conversations present the personal viewpoints of individuals who have worked in the world of game shows. The stories and perspectives interviewees offer are their own opinions and recollections, and the National Archives of Game Show History is honored to have the opportunity to record, preserve, and share them.
Co-founded by veteran television producers Howard Blumenthal (Where in the World is Carmen Sandiego?) and Bob Boden (Funny You Should Ask), The National Archives of Game Show History focuses on acquiring the records and materials of the many professional producers, performers, directors, designers, writers, and staff members who have been involved in all facets of game show development, production, marketing, and distribution. The materials they provide—scripts, set designs, props, technical plans, marketing materials, creative plans, production plans, and more—form the heart of the archives. Read the Variety magazine article.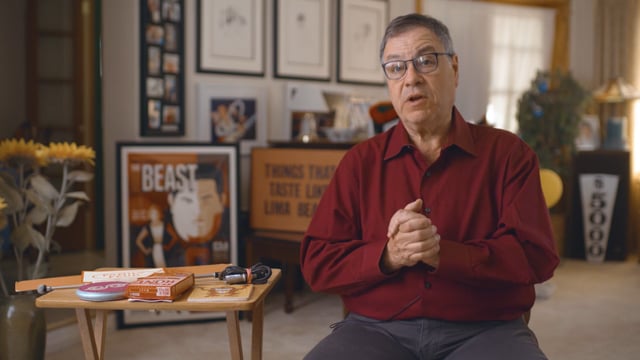 From the Blog:
National Archives of Game Show History
By Adam Nedeff, researcher for the National Archives of Game Show History In October 2021, the National Archives of Game Show History began recording interviews for our Oral Histories series. Chatting with important figures from game shows past and picking their brains about their experiences, we have attempted to tell the rich story of game…
---
Hear behind-the-scenes stories from game show contestants in Tell Us About Yourself: Conversations with Game Show Contestants, a new BuzzerBlog podcast by Christian Carrion, in conjunction with the National Archives of Game Show History.
How to Donate
If you are interested in adding to The National Archives of Game Show History:
Make a list of the potential donations and send it to collections@museumofplay.org. (Call 585-410-6340 if you have questions.)
The Strong museum's curators, librarians, and archivists will consider your offer.
The appropriate staff member will contact you regarding your offer and, if it's right for the archives, work with you to determine the best way for it to physically reach the museum.
When the item(s) arrives at the museum, the donation is processed (steps that may include cataloging, conservation attention, and photography).
The donation is presented to the museum's Acquisitions Team for final approval.
The collections manager sends the donor a Deed of Gift via email or U.S. Mail as preferred.
The donor completes and signs the Deed of Gift, keeps a copy, and returns a copy to The Strong.
Frequently Asked Questions
What kinds of materials are you looking to collect?

Program development documents; program proposals; pilot and production scripts (some with notes from production personnel); materials related to hosts and players; scenic plans, renderings, construction drawings; materials related to music and sound effects; show rundowns; shell scripts; director's notes; network notes; edit notes; publicity materials; and associated physical materials which may include costume designs, props, graphics, and more. These materials may be originals, copies, scans, facsimiles, depending upon what is reasonably available. All such materials shall be provided on an as-is basis.
What about intellectual property rights?

The museum is aware that donors of papers, documents and other materials may not hold copyright or intellectual property rights to the content. The Strong provides those donors with clear and specific ways to designate the appropriate limitations involved with intellectual property.
How does the museum decide whether to accept a donation?

The museum considers each potential acquisition carefully. The appropriate curator, librarian, or archivist evaluates each item or collection to make sure it supports the goals of The National Archives of Game Show History and does not duplicate items already in the museum's holdings. When items or groups of items fit those criteria, the staff member responsible for the initial review presents a written justification for acquisition to The Strong's Acquisitions Team. If that group agrees at its monthly meeting, a Deed of Gift form is prepared for the donor.
What is a Deed of Gift?

Once The Strong museum's Acquisitions Team has officially accepted an item or a collection, the donor receives a Deed of Gift via email or U.S. Mail. A Deed of Gift is a formal document that transfers legal ownership of the donated item(s) to The Strong. Provisions within the document allow donors to choose how they want their donation acknowledged, to define or assign intellectual property rights, and to specify preferences for research access.
What are the financial implications of a donation?

The Internal Revenue Service has determined that The Strong qualifies as a 501(c)(3) organization. In keeping with professional standards and accreditation requirements of the American Alliance of Museums, The Strong does not appraise items offered for donation. Donors are encouraged to seek the advice of counsel before claiming deductions for the purpose of computing income and heritance taxes under state and federal laws.
Must donated materials be in mint condition?

Items or collections offered to the museum should be complete (not missing significant parts) and in stable condition, but they do not have to be mint-in-box or look the way they did when new. It is not necessary to clean objects prior to offering them to The Strong. Curatorial and conservation staff members examine each artifact to assure that its condition will allow it to be preserved for future exhibition, research, and educational needs.
Should I organize my collection before offering it to The Strong?

It's not necessary to organize a collection prior to offering it to The Strong. Staff from the museum's Collections Team will organize the materials after they arrive.
Should I clean or repair my objects before offering them to The Strong?

It's not necessary to do cleaning or repair work prior to offering it to The Strong. Conservation staff will evaluate what steps are necessary once items are accepted by the museum.
Will my donations be displayed?

In its early years, The National Archives of Game Show History will operate as a research facility, not as a display for general guests at The Strong museum. In the future, we may develop a public exhibit. However, donations are shared with a worldwide audience by way of the museum's online collections, its library catalog, and its archives catalog. These databases serve as entry points for researchers, scholars, students, the media, and the public to locate pertinent material for their interests or projects.
Can I get to my materials again after I donate them?

Yes, you are welcome to make an appointment in advance with the museum's staff so that they can provide you access to items not on display.
Additional Information
To learn more about The National Archives of Game Show History, explore the history of games shows, and read full biographies of co-founders Howard Blumenthal and Bob Boden, please see the press kit.
For press inquiries, contact:
Shane Rhinewald
Senior Director of Public Relations
srhinewald@museumofplay.org
585-410-6365