Krystal Starke
PhD Student at The State University of New York at Buffalo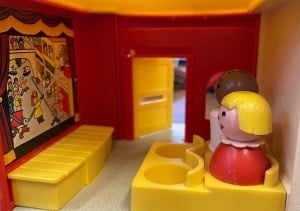 I came to The Strong with an open-ended mission: to soak up everything I could surrounding my research interests in early childhood autism and play as part of my dissertation research. Fortunately, The Strong's Brian Sutton-Smith Library and Archives of Play is filled with rich secondary materials that provided a lens to understand the primary sources within the museum's collections in a new way.
I began my studies at The Strong teasing through the plethora of texts on the study of play, as well as play in autism. Autism spectrum disorder (ASD) is a complex neurodevelopmental disorder characterized by deficits in socialization and communication, as well as a presence of restrictive, repetitive behaviors and interests. In my reading, I discovered previous research reporting that children with autism whose repertoires included play skills were projected to have improved prognoses in long-term follow-ups. While most children with autism show comparable functional play skills with typically developing peers, it is within the next natural progression of symbolic play that significant deficits emerge. Solitary-symbolic play involves one child using an object with one imaginative feature, such as using one object as a different object (e.g., a block as a car), giving an object an attribute that it does not have (e.g., a dry animal figure is wet), having an absent object imagined to be present, or having an imagined event occur (e.g., there was a tornado).
As I explored The Strong museum, I was able to visit the gallery for the National Toy Hall of Fame, which inducted Fisher-Price Little People in 2016. As a research fellow, I was able to investigate a multitude of physical playsets from the museum's collections, as well as archived concept sketches, design documents, and product proposals from Fisher-Price. What I pieced together during this experience is what seemed like a natural fit between the way young children with autism learn, and the unique attributes that Fisher-Price Little People offer. Below I summarize the foremost ideas from my research at The Strong that I will take with me as I continue to develop my dissertation study: the motivation to learn, the science of learning in autism, and the unique attributes of Fisher-Price Little People.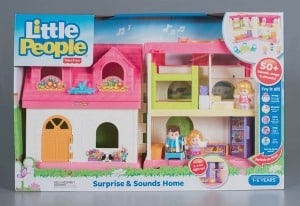 The Motivation to Learn: Young children with ASD are motivated by their preferred, often restrictive, interests and can show increased social abilities in the context of their preferred objects. Notably, Fisher-Price Little People come in a wide variety of themes and characters, ranging from life on the farm to Elsa's Ice Palace! I even got to check out some of these sets and press the buttons that elicited exciting lights and sounds. There is likely to be a Little People playset to match just about any interest that a young child may have.
The Science of Learning in Autism: I delved into Charlop, Lang, and Rispoli's Play and Social Skills for Children with Autism Spectrum Disorder (2018) early in my experience at The Strong. I learned that although there is limited research on the neural correlates of how young children with ASD learn differently, one derived observable behavior of the neurological activity is the tendency of those with autism to focus on certain components of a scenario, rather than to integrate all pieces and create larger meaning. Additionally, the literature consistently reports that those with ASD have higher non-verbal IQs, as compared to verbal IQ scores. Together, these processing differences are the root of best practices for teaching young children with ASD. For example, images with minimal distractible information are more efficacious than those with extraneous detail. Using these premises as a foundation for intervention, video modeling has evolved as an efficient way to teach social and play skills to young children with ASD, capitalizing on the ability of recorded videos to minimize distractions by editing and re-filming to be rid of any extraneous stimuli irrelevant to the target behavior or skill.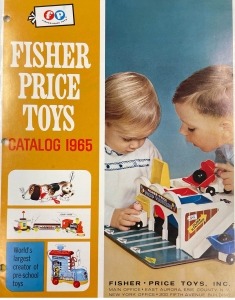 The Unique Attributes of Fisher-Price Little People: Little People playsets offer children a chance to create and experience a world removed from their own. What is unique about Fisher-Price Little People is that each playset is set up with placeholder spots that are visually evident for the characters to click into. As I reviewed archived catalogs advertising Little People, I realized that this attribute was intended as kids responded positively toward them! Moreover, these spots are ideally located to prompt symbolic play, such as on the seats of a vehicle or behind a bush in the jungle. Ideally, the characters and playsets are universal, all clicking-into each other to create infinite possibilities for stories and scenarios. There are also colorful buttons on some playsets that trigger sounds and lights, commensurate with the sensorimotor play that is often mastered and preferred by those with ASD. Given these attributes, Fisher-Price Little People offer a unique balance of preferred sensorimotor play opportunities, with naturally scaffolded, visually-cued opportunities for symbolic play.
Taken together, I leave The Strong Museum of Play and continue my dissertation journey with the goal of facilitating solitary-symbolic play for preschoolers with ASD using Fisher-Price Little People and video modeling.