The Japanese culture of kawaii—loosely meaning cute—emerged in the 1970s when teenage girls with extra money began to favor adorable accoutrements inspired by artists like Moto Hagio and Keiko Takemiya. More recently, Americans have also embraced the style. Kids collect figures like Totoro and Gudetama the Lazy Egg, play with doe-eyed fashion dolls, and use whimsical school supplies like Keroppi pencil cases. While these peachy keen aesthetics are pleasing to the eye, some argue that understanding Kawaii is not as simple.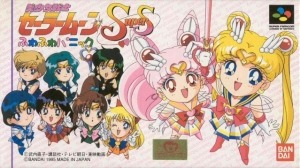 Shōjo is the term used for manga geared toward female readers and is heavily influenced by a long-standing history (since the Meiji era) of girls' magazines featuring girls with big eyes and slim bodies. The narrative is less about action and more about drama and emotions. Some attribute Shōjo and girl culture as the catalyst for the rise of Kawaii. Naoko Takeuchi's 1990s Pretty Guardian Sailor Moon is an important example. The series follows Usagi Tsukino, a 14-year-old girl, who discovers she is the reincarnated form of Sailor Moon, defender of love and justice. With her fellow Sailor Scouts, Usagi must shield the Earth from forces of evil. Tsukino used the platform to demonstrate that girls can be cute and sweet, but they are also strong, powerful, and independent. Pretty Guardian Sailor Moon also explored sexuality through the presentation of same-sex romances. While Japanese audiences embraced this theme, other countries censored it, such as when the U.S. version portrayed Sailor Neptune and Sailor Uranus as cousins rather than lovers. Despite the cultural differences, the merchandise related to the character and her friends still portray doe-eyed characters with cotton candy-like hair and sweet sentiments.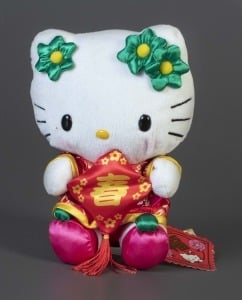 In 1974, the Japanese company Sanrio introduced Hello Kitty, a mouthless, cat-like character. Her simple lines gave her universal appeal and she quickly became a darling of Kawaii. Yuko Yamaguchi, Hello Kitty's designer, remarked "She's like a blank canvas, and her fans transcend generation and gender." Nearly 50 years later, Hello Kitty is beloved worldwide, appearing on everything from handbags to shoes to vegetable peelers and fashion dolls. Some women believe that Hello Kitty's popularity is a "wink on pink." Take for example, Faith Popcorn, founder of BrainReserve, who said "it's like saying women are complicated—that we can't be contained. We can wear monochromatic Armani suits and whip out a Hello Kitty notepad at a moment's notice…. It's a small but very public act of rebellion." Others have dug their claws into Kitty. Journalist Annalee Newitz wrote, "the natural craze for cuteness has turned the innocent optimism of Hello Kitty into a hollow, cynical commercialism. Many of the images and icons we call cute came from idealist, hopeful social movements and the exuberant subculture of the 1990s. But today, cuteness is starting to feel like a fake mall bought conformity." Perhaps Newitz has a point—it was reported that the Hello Kitty brand was worth $7 billion.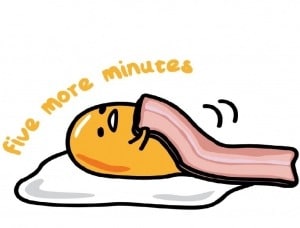 Another popular Sanrio Kawaii character, Gudetama, a cartoon egg yolk that shivers with sadness and uses a strip of bacon as a security blanket, has a higher purpose. There is a long history of personifying inanimate objects in Japan. Matt Alt, an expert on Japanese pop culture explains that "many Japanese mascots will express emotions that Western mascots would not. In the West, mascots are used almost exclusively to cheer people up. In Japan, they're often used to get a point across or act as mediators in situations where you wouldn't want to express yourself directly." People are often told that it is socially inappropriate to express their emotions. It requires a bit of finesse on the brand's part, but people are emotionally invested in this misanthropic egg.
If all this still gives you that tooth-aching-sweetness feeling, you're not alone. Many people feel that happiness and cuteness are culturally conditioned. In The Promise of Happiness, author Sara Ahmed describes affect alienation as a "gap between the promise of happiness and how we are affected by objects that promise happiness." Mainstream society finds Hello Kitty irresistible; you might consider Hello Kitty a feminist killjoy. People stand in line for hours to meet Mickey Mouse at Walt Disney World; Ed Big Daddy Roth despised Mickey Mouse so much so that he created Rat Fink. I am someone who likes cute things. Kewpies, Minnie Mouse, and Jellycat's plush fruits and vegetables get me every time. But I do understand why people reject it. I hope that people will respect the complexity that cute culture and Japanese Kawaii asks us to digest.