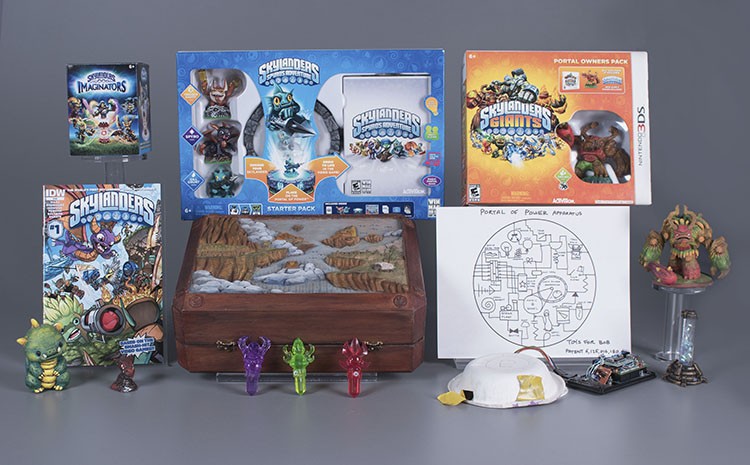 It began with a phone call from Paul Reiche III last summer.
I've known Paul since hearing him at the Game Developer's Conference in 2012 tell the story of the creation of the Skylanders line of toy-to-life video games. I loved his enthusiasm for video games, tabletop games, and toys, a passion that fueled pioneering work in those fields from his time at TSR in the 1970s working on Dungeons & Dragons to his many years in the video game business; he and Fred Ford founded the game design company Toys for Bob, which was later acquired by Activision. So after hearing him speak, I invited Paul to come to The Strong to deliver a keynote address at a conference we were hosting that year. Once he was here at the museum, we had a chance to show him our efforts to preserve the history of play. And, of course, I let him know that The Strong would love to preserve materials from his career.
I was particularly excited about Skylanders, because it was one of the most innovative products I had seen in a long time. For those not familiar with Skylanders, it's both a toy and a game. Players place miniature figures of fantastic creatures on a Portal of Power, and information from the statue is then zapped into the video game system, transporting the character onto the screen to join games such as Skylanders: Spyro's Adventures (2011). When players remove a figure, all that character's experiences in the game come with it and are reactivated when it rejoins the game by being placed on the portal again. The process is seamless, beautiful, and feels like magic. My two youngest kids loved it and would spend hours playing the game at home, then throw their figures into a backpack and walk down to their friend's house to play some more. Judging by the more than $3 billion in sales that the franchise achieved, plenty of other people loved it as well. Skylanders was having a major impact on both the video game and the toy industry, inspiring imitators such as Disney Infinity and LEGO Dimensions in a new category that became known as "toys to life."
That's why Paul's phone call was so exciting, because he called me to see if we wanted to come out to Toys for Bob's studio and preserve the history of Skylanders. Of course we did! As Paul described what they had, my excitement only grew. The earliest handmade versions of the characters, the prototypes of the Portal of Power, various iterations of packaging, molds used to manufacture the figurines in China…. these were all at Toys for Bob's offices. So my colleague Jeremy Saucier and I flew out to California to pack up the collection and ship it back to the museum.
What we found was even more amazing than we could have expected. An entire room was filled with materials that charted the development of the game. Toys for Bob designer I-Wei Huang, who dabbled in physical toy construction in his spare time, had drafted ideas for monsters and modeled them with computer software. Robert Leyland, a technical engineer at the company, channeled his side hobby of hacking electronics to cobble together a "portal" that could connect to a Wii. Then, using embedded radio-frequency identification (RFID) chips—the same technology used in electronic tolls and identification implants for pets—the monster figurines could be placed on the portal and appear virtually in a video game. Leyland's first working prototype was rather crude: a paper plate scribbled with the word "portal" rigged to an RFID sensor. But it worked—the program could determine which figurine was standing on the portal at any moment.
Of course coming up with the idea for a game and prototyping it is only half the battle. You also need to create a finished product that sells. With a game like Skylanders, which combined both digital play and physical toys, the challenge was doubly difficult. It helped that Activision had experience in making game-toy hybrids through previous products such as the Guitar Hero franchise, but still it was an unremitting challenge to bring something as lovingly crafted as Skylanders to life.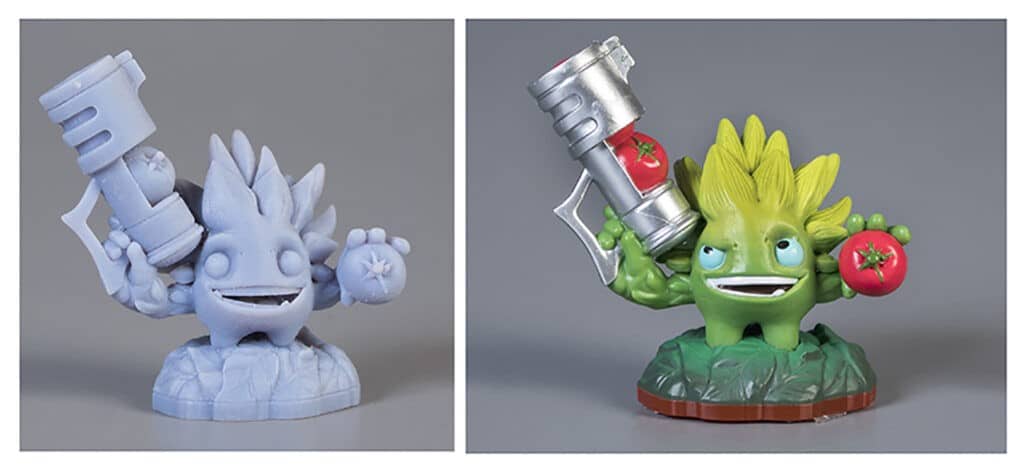 Many different artifacts documented this process, including hand-sculpted and hand-painted prototypes, 3D printed models, factory made pre-production models, and, of course, the working prototype portal. There were in-house figure molds, factory injection mold tooling, "paint masks" used to apply paint to figures at the factory, early packaging, and RFID (radio frequency identification) testers used for Q&A testing. There was even a hand-carved and hand-painted wooden box used to display "traps" in the 2014 Skylanders: Trap Team release trailer; prototype Skylanders: Imaginators personalized character trading cards, t-shirts, and a 3D printed figure; more than 175 games and figures in their original packaging; and nearly 1,000 pages of archival materials, including copies of character and portal concept artwork, production schedules, feedback on toy designs, packaging design, and a character design bible. In all there were 31 boxes of materials, with the bulk of the materials focused on the creation of the characters, figures, and portals for Toys for Bob's Skylanders: Spyro's Adventure. Skylanders: Giants (2012), Skylanders: Trap Team (2014), and Skylanders: Imaginators (2016).
As an added bonus, we recorded interviews with key staff members, including Paul Reiche and Fred Ford, I-Wei Huang and Robert Leyland, design director Toby Schadt, principal concept artist and associate creative director Paul Yan, art manager Amber Long, lead technical software engineer Dan Gerstin, senior technical artist Mike Ludlam, lead designer – characters Nat Loh, and lead concept artist Ron Kee.
As long as we've been doing our work at The Strong's International Center for the History of Electronic Games we've been motivated by a belief that the history of video games is important, that it needs to be preserved, and that scholars and the general public 100 years from now will be interested in the story of how video games developed. We will not be able to save the story of every game or every company, and thus we are extremely grateful to the folks at Activision's Toys for Bob for letting us work with them to preserve the story of Skylanders. The creation of Skylanders was an important moment in the history of video games that needs to be saved, and I'm grateful that Paul called and we had this unique opportunity to go deep in the preservation of video game history.
By Jon-Paul Dyson, Director, International Center for the History of Electronic Games and Vice President for Exhibits