In the beginning (or at least in the late 19th century), there was film. Capturing moving images and playing them back for astonished audiences at the cinema more than a century ago was magical. Though many people are still familiar with film, which has endured as a medium despite changing technologies, there are plenty of moving image formats which have been rendered obsolete over time and have found their way into the holdings of numerous libraries, archives, and museums.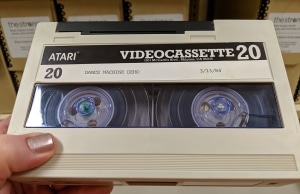 I previously wrote about our experience with endangered media formats here in the Brian Sutton-Smith Library and Archives of Play, specifically dealing with floppy disks in the archival collections. (Media types such as floppy disks, CD-ROMs, DVDs, audiocassettes, VHS tapes, BetaCam tapes, and U-matic tapes are all time-based storage which require specific hardware or players to access the information contained within the format.) In 2017, The Strong received a grant from the Rochester Regional Library Council (RRLC) to address the high volume of floppy disks found in archival collections. Soon after, the museum acquired another significant collection of videotapes documenting pinball and arcade game companies from the 1980s and 1990s, which compelled us to address the next largest quantity of endangered media in our collection: U-matic tapes.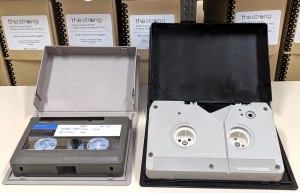 If you've never heard of U-matic tapes, you're not alone. U-matic is an analog video recording format developed by Sony and released in 1971. It is a cassette-based format, with some resemblance to a VHS cassette tape, but larger and bulkier. One huge difference is that the supply and take-up reels within the casing actually rotate in opposite directions (unlike a standard audiocassette or VHS tape), and the tape temporarily leaves the cassette to spool around a spinning drum which reads the video. The format is named after the path the tape takes when threaded around the video drum, resembling the letter U. Originally intended for the consumer market (so that people could record and play back U-matic tapes at home), the tapes instead found success with the commercial and industrial demographic due to the cost. Television networks loved the format, though—as did electronic gaming companies Atari, Midway, and Williams.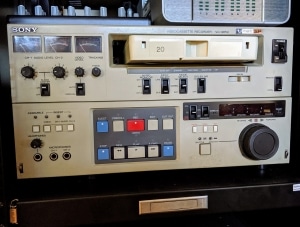 In 2018, The Strong applied for and received a second Technology Grant from RRLC to digitally convert a selection of the museum's U-matic tapes. We decided on a cap of 2,000 minutes of video footage, which would generate approximately two terabytes of data from the subsequent preservation copies of moving images; proper digital preservation requires high resolution images and large file sizes for posterity. The museum acquired the necessary equipment, including a U-matic player, CRT monitor, time base corrector, audio monitor, analog to digital converter card, and more. The unique aspect of U-matic tape players makes digitization with vintage players challenging, since constant cleaning and maintenance are required to keep U-matic players operational to archival standards. (Luckily for us, a U-matic tape consultant lives in our region and was able to expertly refurbish our U-matic player.) As the Archivist, I diligently selected more than 100 U-matic tapes from the Atari Coin-Op Division corporate records and Ken Fedesna papers for digitization based on the tape labels and existing knowledge of the companies represented in these collections. Our Director of Conservation, Digital Games Curator, and I helped to develop the digitization workflow along with our Digital Conversion Technician. Over the course of four months, our technician successfully digitized about 1,920 minutes (or 32 hours) of video from these U-matic tapes.
On these tapes, we found all sorts of documentation that had rarely been viewed outside the confines of these companies' offices. Along with promotional videos and commercials, the U-matic tapes contained focus group testing, manufacturing and assembly footage, news segments on the popularity and "dangers" of arcade games and pinball, and gameplay recordings. One tape of note included all facets of development for the World Video Game Hall of Fame inductee Mortal Kombat: concept art, stop-motion animation, sound design, and original recordings of actors performing the video game characters' moves, which would be digitized and animated for the video game. It was also a nice surprise to uncover tapes related to Atari's home video games division mixed in with their videos about arcade games.
At this time, the digitized videos are available to on-site researchers only, but we may be able to share portions of them online later. (For an excerpt from a 1981 promotional video about Atari, check out this recording on the museum's YouTube page!) With the new equipment and processes here at The Strong, we can access and view additional U-matic tapes within our archival collections upon request. We also plan to gradually work toward digitizing tapes which meet our criteria for digitization, denoted with the acronym RAVE: materials which are Rare (one-of-a-kind and unique), At-risk (on obsolete media or with significant physical access limitations), Valuable (meaning evidentiary or historic, not monetary), and Engaging (fun, interesting, and compelling). I assume that additional quantities of endangered media formats will eventually join our collections—along with even more fascinating video footage.