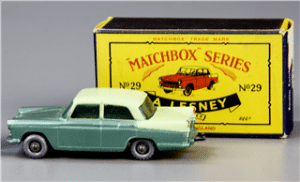 Parents understand the importance of having a trick up their sleeves to distract and entertain within a moment's notice. When I had to bring my toddler to a solemn family affair, I knew just what to slip into my pocket—a Matchbox car. It didn't require power, it was quiet, and it was inexpensive. On November 7, 2019, Matchbox cars rolled into their place of honor in The Strong's National Toy Hall of Fame.
It all began in a bombed-out pub, The Rifleman, in Tottenham, a district of North London, England. English die casters Leslie Smith and Rodney Smith (unrelated) founded Lesney Products in 1947 to produce industrial parts and, along with partner Jack Odell, began making small die-cast toys to fill slack demand during wintertime. In 1952, Odell was inspired by a rule at his daughter's school that permitted students to only bring toys that fit inside a matchbox. Story goes that his daughter had the mischievous habit of taking spiders to school in a matchbox. Odell scaled down Lesney's road roller toy, tucked it into a matchbox, and sent his daughter to school with it instead. The Matchbox car was born.
Plenty of toy cars existed in the 1950s, but when Lesney introduced Matchbox cars, they revolutionized the market. Lesney advertised that, with Matchboxes, children could buy for pennies "a toy that is a complete toy." Odell visited automakers to get the latest designs and conducted historical research. He designed a machine to spray-paint the headlights on the models and another machine to mold the interiors. The dashboard dials were accurately placed, the windshields had wipers, and the interiors had ceiling hooks. Some cars had more than 100 die-cast parts. Matchbox cars passed his inspections.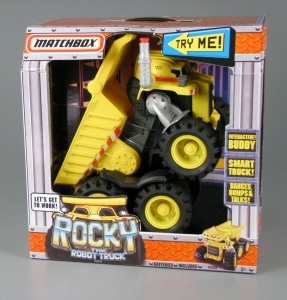 U.S. sales began a few years later, and Lesney added a Ford Customline Station Wagon to its formerly all-British fleet. In 1960, Lesney exported 70 million tiny vehicles. American kids became collectors, buying and taking 100 million Matchbox cars for a spin annually. Such success, achieved with little advertising, made Lesney Products one of England's most profitable companies.
In 1968, Mattel roared in with Hot Wheels. Kids traded in the British product for these flashier American muscle cars. Lesney countered with the Matchbox Superfast line of cars and pumped up its advertising campaign. Lesney also diversified the designs, introduced a line of fantasy cars, and produced Disney-themed vehicles. The company's innovations included the pressure-initiated "autosteer" and the "Rola-matics," whereby a pin in one of the wheels caused something in the vehicle to move up and down. Despite these efforts, Matchbox's high cost of manufacturing in England drove Lesney into bankruptcy. Universal Internal Ltd. acquired the product, formed Matchbox International, and moved most of the production to Asia.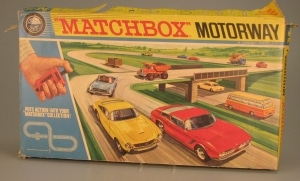 Today Matchbox cars still drive sales for Mattel, the brand's current owner, and continue to reach an eager corps of kid and adult collectors. Some of the most sought-after vehicles include an apple green Mercedes-Benz 230SL, a 1966 sea green Opel Diplomat, and a 1968  crane truck. In my role as the curator responsible for toys at The Strong, I would love to add the No. 19C green Aston Martin Racing Car, the No. 74 Mobile Refreshments Canteen, the No. 50 Ford Kennel Truck, the No. 36A Lambretta Scooter and Sidecar, and the earliest Matchbox Garage from the late 1950s. And, until my son turns 16, I will continue to appease his need for speed for less than a few dollars with new renditions of Matchbox cars.
A formula for high quality, impressive detail, and affordable prices set Matchbox apart from their competitors and fueled such an enduring success that some people continue to call a miniature car, no matter the maker, a "Matchbox."