Not long ago—1977, to be exact—in our very own galaxy, moviegoers witnessed the birth of a legend. Since its inception, the Star Wars franchise has generated billions of dollars in film, television, and merchandise, and is one of the most iconic titles in entertainment history. But while its popularity is undisputed today, that was not always the case. In fact, it was quite the opposite, which led to what could have easily become one of the biggest faux pas in toy history.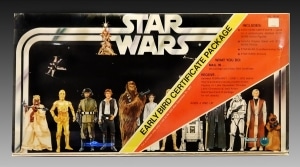 Kenner Products was no stranger to making popular toys. But when they obtained exclusive licensing rights for Lucasfilm's upcoming space opera, they predicted at best a modest interest in the movie. Kenner produced several puzzles, a board game, a watercolor paint book, and several posters, and called it a day. But when the film's popularity skyrocketed faster than the Millennium Falcon in hyperspace, they found themselves woefully unprepared to meet surging demands for holiday toys.
Kenner executives quickly decided they needed much more in the way of interactive toys for fans to fully engage with their favorite characters from the movie. They designed a line of 12 action figures, but there was no way they could be produced in time to be waiting under Christmas trees. Instead, Kenner sold possibly the most elaborate IOU in toy history—the Star Wars Early Bird Certificate Package. It included a three-dimensional cardboard display stand featuring spaces for all 12 upcoming action figures, a Star Wars Club member card, and a group of stickers. Most importantly, it came with a special certificate to be mailed back to Kenner as a proof of purchase. In return, all buyers were promised their 3.75" figures of Luke Skywalker, Princess Leia, Chewbacca, and Artoo-Detoo beginning in February 1978.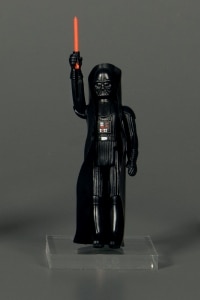 This tactic was unprecedented and a huge gamble. While preliminary market research proved that customers would be open to such a proposition, a positive response was by no means a certainty. Some toy stores even refused to carry the packages, claiming they weren't really toys and they didn't want to risk the ire of their customers should production fall through. But Star Wars itself was an equally unprecedented success, and Kenner's gamble paid off when they found themselves sold out of figures that hadn't even been produced. Early Birds received their four figures right on time, and Kenner completed the other eight in short order. By the end of 1978, they'd sold approximately 40 million toys.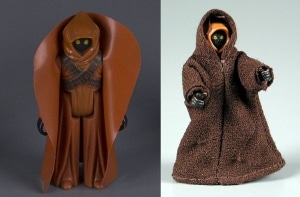 Today, these original 12 figures are highly sought-after collectors' items, especially since Kenner made modifications to several of them. Luke Skywalker, Obi-Wan Kenobi, and Darth Vader originally carried double-telescoping lightsabers, meaning they had two expandable segments instead of one, which Kenner altered to cut down manufacturing costs. The original Jawa figure came with a standard vinyl cape, similar to Obi-Wan and Vader, but since it was by far the smallest of the figures, customers expressed annoyance that it was sold for the same amount as larger ones, so Kenner altered it to a fabric cloak to make it more appealing.
Kenner, and later Hasbro, have since released dozens of new action figure lines, with many representing new characters from the latest films and television shows. They proved so popular and influential that The Strong inducted Star Wars action figures into the National Toy Hall of Fame in 2012. As fans around the globe celebrate Star Wars Day, we invite you to share photos of your own action figure collection on The Strong's Facebook page (@TheStrongMuseum) or Twitter account (@museumofplay). Have fun, and May the Fourth be with you!