Think about some of the "must-have" toys you've seen (or even procured) over the last few years. How about the playful robotic dog Zoomer? Or the small, colorful, hooked building balls called Bunchems? Or the great craze of 2016, Hatchimals (described by some as a cross between a Furby and a Tamagotchi)? These massively popular products are all from Canadian toy giant Spin Master, which has been developing fun, innovative toys for the past two decades. Founded in 1994, the company (which now employs more than 1,000 people globally) began with three pals, a unique idea, and lots of hard work.
While at the University of Western Ontario in the early 1990s, friends Anton Rabie and Ronnen Harary operated Seiger Marketing, a venture for selling posters on college campuses. In 1994, Rabie and Harary, joined by fellow business school alum Ben Varadi, saw the opportunity to develop a novelty concept they later renamed "Earth Buddy." With $10,000 in start-up funding, this hand-assembled product (crafted with pantyhose, sawdust, and grass seeds) eventually earned their growing company more than $2 million in sales. The following year, inspired by their latest creation (juggling batons called Devil Sticks), the company renamed itself Spin Master.
Over the next 20 years, Spin Master grew its in-house research & development division and partnered with independent inventors, licensed brands, and small firms. Among the company's greatest hits are Air Hogs, Mighty Beanz, Aquadoodle, Bakugan, Tech Deck, and Flutterbye. Along the way, Spin Master acquired the major brands Meccano, Spy Gear, Cardinal Games, and Etch A Sketch. The company's products have received numerous international awards, including the Toy Industry Association's prestigious Toy of the Year honor three times.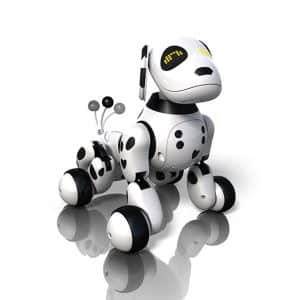 In 2015, The Strong and Spin Master announced a collaboration to ensure that the history and achievements of Spin Master are preserved and accessible to researchers, scholars, and museum guests. The Spin Master Ltd. records contain more than 500 digital files on the history of their first creation, Earth Buddy, and a more recent sensational product line, Zoomer (also highlighting the related hits Zoomer Dino and Zoomer Kitty, too). This archival collection includes images of prototypes, graphics, toy testing snapshots, packaging examples, in-store displays, videos of toy demonstrations, product commercials, awards, commemorative historical information, and more. (Have you ever wondered how a toy makes it from a sketch on a paper all the way through production? These archival materials may help you better understand the process.) Doing research on the history of successful products, like those of Spin Master, may help aspiring toy inventors to see things in a new light—so that they can put their own "spin" on play.