I was born and raised in a small rural town in Western New York. I lived near my mother's childhood home where I enjoyed many happy hours in the company of my grandparents, aunts, uncles, and cousins. Our families would often gather to play cards, bake, do laundry, or celebrate special occasions. I loved to sit quietly and listen to the grown-ups tell stories of times both present and past. The stories I recall don't feature faraway places or extraordinary events. They are of ordinary people, of mischief and mishap, often humorous and sometimes sad. They gave character to the people and places I loved.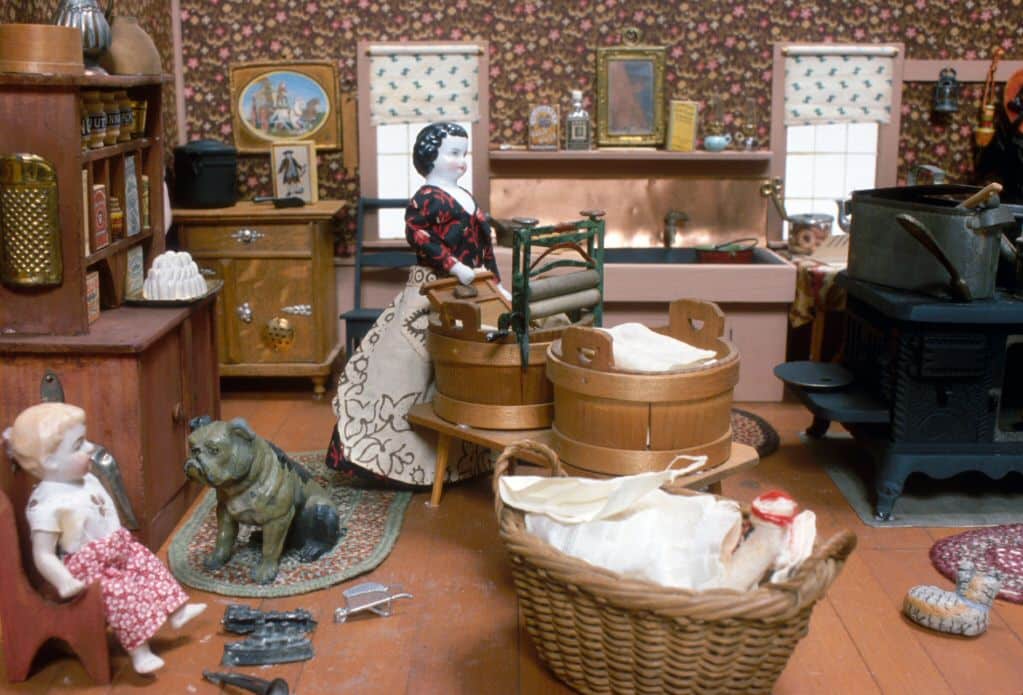 Stories such as these are common to all families, passing from generation to generation, embellished and argued over but rarely written down or recorded. A notable exception to this too familiar rule is Alice C. Steele (1893-1991), who chose to document and share her reservoir of family stories in a manner both artful and ingenious. And the objects and papers Mrs. Steele created to preserve those stories now hold an important place in The Strong's collections.
Born and raised on a farm in Worthington, Massachusetts, in a home she shared with her parents, grandparents, and siblings, Alice Steele absorbed the stories of her elders and had a starring role in many others. From 1930 to the late 1970s, Mrs. Steele drew upon these vivid memories to create more than 300 miniature rooms that replicate in minute detail the interior spaces of a rural New England that was rapidly changing. In 1959, Mrs. Steele and her husband opened Steele's Tiny Old New England to display "examples of everyday living from a life that is passed." For example, one of her rooms recreates a Masonic hall built in Cummington, Massachusetts, in 1810. After the lodge disbanded, her grandparents recalled dancing there prior to their marriage in 1847. Another room depicts a toy shop fashioned after one Mrs. Steele recalled visiting in about 1900 when she was a child. A third room hosts a quilting bee, a customary gathering where multiple generations shared useful skills and stories.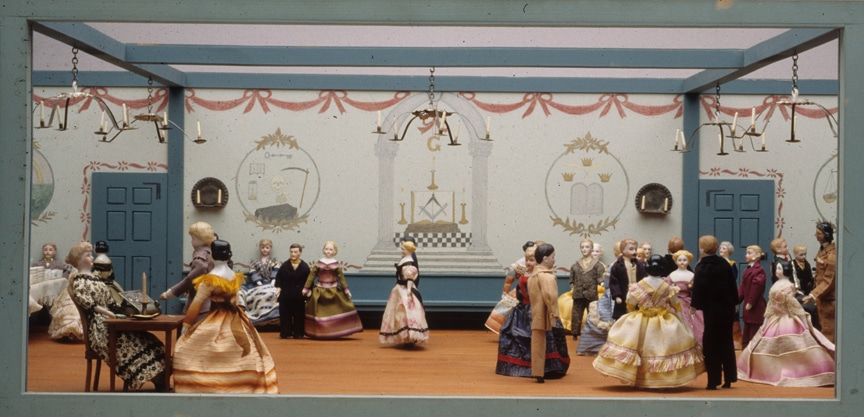 Mrs. Steele began collecting miniatures as a child and what she could not find she recreated using common items in creative and imaginative ways: candles made from cut and sharpened ivory knitting needles, a chandelier from a drop earring, and labels for household supplies from period newspapers and magazines. She copied stencils and wallpaper from old homes and buildings, duplicated hooked and braided rugs, and painted her own landscapes, still lifes, and miniature portraits, all signed A. C. S. Her husband, Frank Steele, used his cabinetmaking skills to produce furniture to her exact specifications. She was meticulous in every detail and when you look into her rooms you look into the past.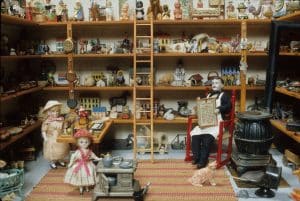 These miniature rooms come to life through the stories, recalled and recorded by Mrs. Steele, for which the rooms are only settings. In addition to the miniature rooms acquired by Margaret Strong in the late 1960s, the Brian Sutton-Smith Library and Archives of Play has copies of Aunt Teeks in Memory Land, a four-volume collection of Mrs. Steele's memories, an oral history recorded by museum staff members who visited her in 1989, and multiple articles written by and about Alice Steele.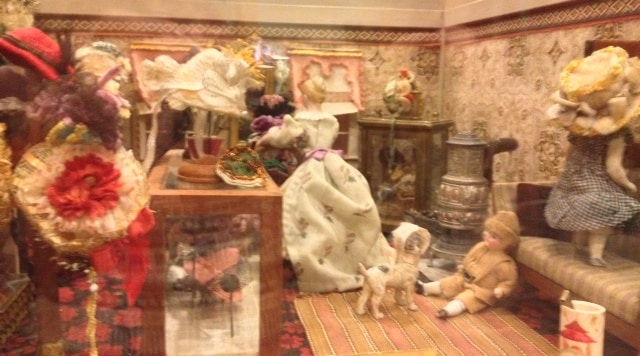 Of the many stories Mrs. Steele recounted, one of my favorites tells of her father going to a local millinery shop with his sister and mother. While his mother was trying on various hats for a special occasion, he decided to try "a very dainty white lace satin baby bonnet on his dog." Mrs. Steele's grandmother placated the shopkeeper by purchasing a very "beautiful and expensive fuchsia velvet hat costing two dollars and 95 cents." You can see the room depicting this story—dog, bonnet, and all—in the museum's One History Place exhibit. Careful observers can appreciate the feathers, ribbons, and minute bonnets replicated for the shop by Mrs. Steele.
In creating her miniature rooms and telling her stories, Mrs. Steele played with a place, a time, and people that she loved. "I am neither scholar nor historian, but the fascinating tales from older generations that came to me in my childhood, together with the bits I've uncovered while searching attics for miniature articles have encouraged me to continue this work which so enchants me." I'm grateful to Alice Steele for sharing her enchantment and for inspiring me to recall my own family's stories.