Staff at The Strong passed around several emails this week noting the passing of Gary Dahl, inventor of the Pet Rock, a wildly popular fad from the mid-1970s.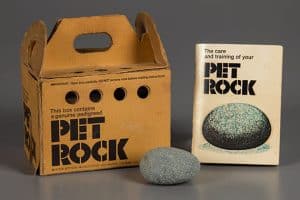 In 1975 Dahl, a California advertising man, dreamed up the notion of a Pet Rock and shipped it to a San Francisco gift show that August. His idea was so absurd, everyone had to have one. A Pet Rock was nothing more than a smooth stone from San Rosarita Beach in Mexico that cost Dahl a penny apiece at a local builders' supply store. Dahl packaged the Pet Rock in a bed of fine wood shavings and placed it and a little booklet in a small cardboard box made to look like a pet carrier. Dahl's silly "Pet Rock Training Manual" offered advice on turning the stone into a well-behaved pet. (The instructions for training the pet to play dead were particularly easy.) In a matter of months, Dahl's creation caught on in stores all across the country.
Newsweek magazine ran a story about Pet Rocks, so did three-quarters of the nation's newspapers. More than one million Pet Rocks sold by Christmas 1975, but by the time Dahl offered a Bicentennial Pet Rock the following year, the fad was over.
The Pet Rock is a particularly treasured and playfully appreciated fad at The Strong. Some years ago, the museum received an original, handmade prototype of a Pet Rock from Melanie DiLeo. In 1975 DiLeo served as a buyer for several chains of department stores in the Midwest. DiLeo recalled attending the summer trade show in San Francisco that introduced the Pet Rock. Her prototype was one of a few made available to major buyers prior to production. DiLeo remembered:
"It was a long time ago that I had the fun of finding the Pet Rock and planning the marketing for our stores (which at the time were the best in the U.S.). I had a gut feeling about the item. The Pet Rock made you laugh. You could spend $5.00 for it and still laugh. We needed that—as the economy at the time was not in great shape. This was a novelty that was only meant to be sold in the fall and up to Christmas.
"I used to have open days at AMC (Associated Merchandising Corporation) when vendors would bring in their items that they wanted our stores to buy. After the Pet Rock, I can't tell you how many people came to my office to show me their "pet rock" ideas, and, you know, I never saw another item that could ever match the Pet Rock."
The Strong's Pet Rock currently sits and stays very well on a shelf in What Were They Thinking?, a display that opened on the museum's first floor on April 1, 2015, featuring some of the oddest, wackiest, and most puzzling toys of all time. What was Dahl thinking when he created the Pet Rock? He probably wasn't anticipating that his novelty toy would go on to become an iconic plaything and part of The Strong's collection. But I'm guessing he'd be glad to know that, of all the toys in What Were They Thinking?, the Pet Rock is certainly the most successful and still promotes fond smiles, even 40 years later.