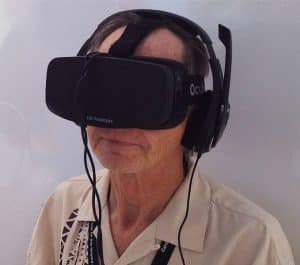 Last month, while attending the Game Developers Conference, I couldn't help but notice the giant booths advertising Oculus Rift, Sony Morpheus, Steam VR, and other new virtual reality headsets that are the hottest trend in gaming. While I didn't stand in any of the long lines to try these devices, like many people I'm curious about what impact these virtual reality devices will have on the future of gaming and entertainment. It got me thinking about earlier forms of virtual reality and wondering what insights these might yield into this contemporary trend.
People have been creating virtual reality experiences for millennia. At the performance theater, for example, the lights dim and the stage blazes with light to focus the attention of theatergoers on the production and minimize outside distractions. This physical setup lets audiences more easily slip into the suspension of disbelief that makes the experience compelling. Movie theaters similarly minimize distractions so as to further immerse the viewer into the action on screen.
Nineteenth-century inventors tried to create virtual reality devices that fully occupied the range of vision. Some, such as the mutascope, were coin-operated machines that people used in public arcades to watch animated sequences of still images. But even more widespread was the stereoscope, a handheld contraption that gave viewers three-dimensional images when they looked through it. Manufacturers produced millions of slides of natural wonders from around the world, pictures of battlefields of the Civil War, views of factories, and often more scandalous images of Victorian beauties in various stages of undress.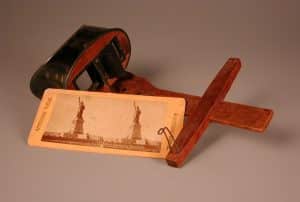 The most prominent booster of the stereoscope was the American physician and writer Oliver Wendell Holmes (and father of the Supreme Court justice of the same name). Holmes invented a simple version of the stereoscope that became very popular in the United States, and in an article in the Atlantic Monthly magazine in 1859 he noted:
"The first effect of looking at a good photograph through the stereoscope is a surprise such as no painting ever produced. The mind feels its way into the very depths of the picture. The scraggy branches of a tree in the foreground run out at us as if they would scratch our eyes out. The elbow of a figure stands forth so as to make us almost uncomfortable."
For Holmes, the immersive power of the device made it revolutionary and promised to upend how people chose to be entertained. In the end, however, although the device proved popular as a parlor pastime in the late 19th century, it flourished more as a novelty than as a serious entertainment device. Today, the stereoscope lives on as the child's toy View-Master, which debuted in 1939 and today is represented in The Strong's National Toy Hall of Fame.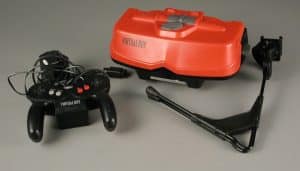 Over the years, manufacturers found other ways to bring 3D experiences to the public. During the 1950s, 3D movies brought a succession of B-movie monsters that seemed to jump into people's laps when they wore special glasses. The fad boomed and then faded almost as quickly as it had sprung up. In 1995, Nintendo's Virtual Boy invited gamers to peer into a device that rendered games in 3D, but it failed to ignite consumers' interest and flopped.  Other efforts in virtual reality at the time, including one I remember trying at Disney Quest in the late 1990s, also failed to take off. The success of the movie Avatar revived interest in 3D films in the new millennium, but when manufacturers tried to extend the experience to the home with 3D televisions consumers generally chose not to buy these expensive screens.
Today new virtual reality devices with much more advanced technology promise a revolution in virtual reality. In 2014, a writer for Wired reported that Oculus Rift "and its technology herald nothing less than the dawn of an entirely new era of communication." So does this latest spurt of interest in virtual reality mark the future or does it just represent a fad like the stereoscope?
It is, of course, impossible to predict what will happen, but based on the past we can gain some insights. There will be technological issues, especially in coordinating head and body movements with what is happening on screen so as not to cause motion sickness. Developers might solve that problem but determing how to match movement in a virtual space with physical movement in the real world is a harder nut to crack. One demonstration at GDC had a person walking on a circular treadmill with a bar around his waist that kept him from falling over. The setup seems impractical for your average living room. More likely uses will focus on games and other entertainment where the person would logically sit in a chair such as in a cockpit, a point the game developer John Romero made when he spoke at The Strong last summer.
But the bigger obstacle is social. Will people want to be segregated from the world around them and the people in their lives with a device that covers their eyes? I remember when I used the VR helmet at Disney Quest many years ago it was a fun experience until I took off the helmet and discovered my fellow employees on the trip laughing at the way I was waving my arms (seemingly) blindly in space. The stereoscope was popular as a parlor amusement, but it was something people looked into for seconds before handing it off to the next person and chatting about what they had seen. The 3D movies in the 1950s similarly offered a short-term experience that provided fodder for conversation afterwards. Nintendo could not convince people to spend much time with their Virtual Boys when they could be playing with others on their Super Nintendo or peering over each other's screen on a Game Boy.
So while I think there is a lot of potential for virtual reality devices to contribute to training such as flight and military simulations, the past history of such fully immersive devices leaves me skeptical about their success in the immediate future.
By Jon-Paul Dyson, Director, International Center for the History of Electronic Games and Vice President for Exhibits