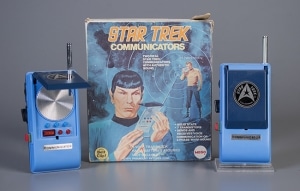 As the curator for The Strong's new Imagination Destination exhibit, I had a great time revisiting elements of my childhood and coming up with key artifacts related to pretend play. In my memory, pretending and telling stories with my toy cars, construction sets, and other kid gear formed a big part of the way I played. I could narrate a story and simultaneously cast myself as a ​character in the tale. I could leave off a story one day and pick it up again the next, carrying the plot forward on new pathways that were unexpected—even to me as I created them.
Creating the artifact display for an exhibit somewhat resembles my childhood pretend play. I assemble a group of objects from the museum's collection with an eye to the kind of story they will help us tell, doing my best to represent different time periods and experiences. Once again, I'm pulling a 1950s toy car off the shelf and envisioning how it will look under the overhang of a toy gas station, one that comes from the 1930s. To evoke science fiction and outer space play, I'd better be sure to include objects that represent Star Trek and Star Wars, along the generic rockets that came before those branded toys. And the faces in the exhibit cases need to reflect the varied facets of the American population, so a 1970s Muhammad Ali Halloween mask and an African American Barbie astronaut both find a place in the display.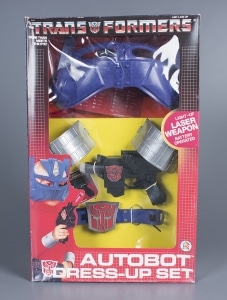 Based on my own experience, pretending to be someone you're not can be a big part of childhood play. My sister and I had a box of dress-up clothes—castoffs from our parents—that could serve as costumes for the roles we'd assume in the story we were spinning that day. Now I had the chance to put the exhibition's spotlight on a Wonder Woman costume, but felt a pang of regret as I discovered that a wonderful Transformers dress-up set was too big to fit in the exhibit case. Thank goodness a photo of it earned a spot in the interactive computer kiosk that allows guests to explore other objects, ideas, and photographs keyed to the exhibit's five primary sections.
Whether you're five or 75, I hope that a visit to Imagination Destination on the museum's first floor will transport you to remembering or playing out your own make-believe stories. And if you spot me talking to myself as I pilot the exhibit's rescue helicopter or install shingles on the two-story play house, please bear in mind that I'm just engaged in a little bit of pretend play as I get ready to help imagine the museum's next exhibit.