Plastic was invented in the late 19th century, but not until after World War II did advances in chemical technology make it malleable and affordable enough to meet the demands of toy manufacturers. The first plastic toys seemed crude—some toy companies combined plastic heads or hands with cloth or wooden bodies, while others made attempts at translating new concepts into tangible plastic toys. Soon plastic toys of all kinds—Mickey Mouse figures, moon men, ray guns, model kits, and Astro Boy products, among others—hit the market. For more than 60 years, plastic toys have continued to meet the desires of a high-consumption society. By the 1990s, artists such as Michael Lau, Rodney Greenblat, and Eric So started to create art-toys that reflected their individual style and consciously distorted and celebrated mass-marketed plastic toys.
Brian McCarty, contemporary artist and photographer, has donated to The Strong a collection of more than 100 toys featured in his book, Art-Toys, a compilation of photographs that integrate toy characters into real-life situations. His use of implied narratives and ironic juxtapositions often leads to associations with the art-toy movement, which blends personal sensibility with art, design, and toys to create original items. McCarty's donation presents a comprehensive representation of art-toys. Here are a just a few of the highlights: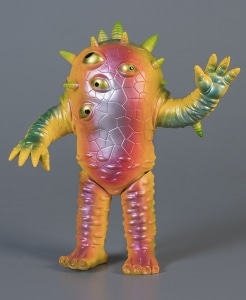 ​1. Eyezon
The early 1950s introduced the Kaiju genre (roughly translated from Japanese as "giant monster") to popular culture. Heroes and villains included Rodan, Godzilla, Baragon, Destoroyah, and Gigan, among others. The art-toy movement has seen a resurgence of the genre as many of the artists grew up playing with toy monsters. Mark Nagata, artist and owner of Max Toy Co., is at the forefront of the Kaiju movement. McCarty incorporated Nagata's Eyezon character into his photograph, "Business as Usual," intended as an observation of the financial crisis. Eyezon is quite beautiful, considering he is born from a mutant potato, and he demonstrates the connection between highbrow art and the emotions and thoughts rooted in childhood.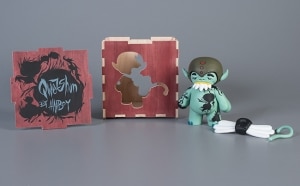 ​2. Qwezhun
Art-toys play with our expectations and conformities. In 2006, McCarty collaborated with Fisher-Price and Hi Fructose Magazine to create a View-Master reel magazine insert. The reel contained 3-D stereoscopic photos of art-toys. One of the images featured Attaboy's Qwezhun character. The character has been described as the "patron saint of unanswered questions and plots gone awry." With the View-Master reel, the magazine brought nostalgia and contemporary art to its readership. Douglas Rushkoff, media theorist and writer noted that "the merging of toy with art along with the self-conscious merging of commercial, synthetic production with highly personal vision brings the innocence of childhood back."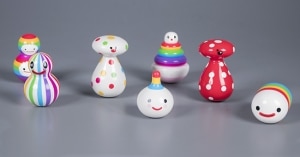 ​3. Wish Come True
FriendsWithYou, Sam Borkson and Arturo Sandoval III, created the Wish Come True series of mini figures to appeal to adults and children as young as 18-months. FriendsWithYou described the figures as wishing amulets that "empower individuals with the magic of ritual and wishing." The rainbow-colored figures come in six different forms with various patterns. Each figure has a weighted bottom and built-in chime that creates a playful rocking motion and a soothing sound. Toys like these brought the subculture of the art-toy movement into the homes of numerous Americans and encouraged toy manufactures to expand the uniqueness of their mass marketed characters.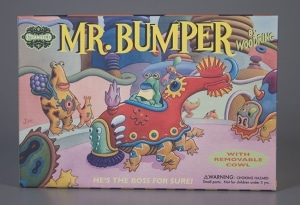 ​​Other highlights from McCarty's donation include Mr. Bumper, Axtrx, Devo Booji Boy Quee, Petit Lapin, Brass Knuckle Bob, and Mr. Spray. The donation builds the foundation for documenting the chronology of the art-toy movement, which is still very much in motion. Currently, many art-toy manufacturers depend on a mix of artistic and licensed properties to foster and maintain financial stability. Kidrobot and Funko dominate the market by merging pop culture favorites like The Simpsons, Rick & Morty, Marvel, Fraggle Rock, '90s Nickelodeon, and Teenage Mutant Ninja Turtles with unique toys. By adding these products to their repertoire, manufacturers are connecting with children and adults.