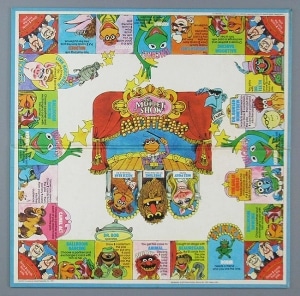 It's quite likely that you're already familiar with the creations of artist and designer Bonnie Erickson. If you've ever watched or played with the Muppets or if you've memorized all of the North American professional sports mascots, then you've already admired Erickson's handiwork. She is best known for creating the iconic Muppet characters Miss Piggy, Statler, and Waldorf, as well as professional league mascots Phillie Phanatic (MLB's Philadelphia Phillies) and Youppi! (currently with the NHL's Montréal Canadiens), among others.
In 1970, Bonnie Erickson joined Jim Henson's Muppet workshop as a costume designer. Within a few years, she had already designed and built several new Muppet characters, including Miss Piggy. Erickson and her husband Wayde Harrison launched their own production, design, and marketing company called Harrison/Erickson, Inc. in 1977. Together, Harrison and Erickson created
characters for commercials, theater, and sports mascots
. Erickson continued to consult on projects for the Jim Henson Company and Children's Television Workshop (later, Sesame Workshop). She also developed toy and other product design concepts for licensed brands, such as
Sesame Street
and
The Muppet Show
.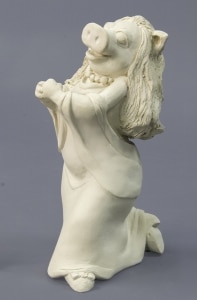 Two years after the passing of Jim Henson, his widow Jane and several of Jim's colleagues (Arthur Novell, Albert Gottesman, and Richard Wedemeyer) formed The Jim Henson Legacy. This organization dedicated itself to preserving and perpetuating Henson's contributions to the worlds of puppetry, television, motion pictures, special effects, and media technology. Erickson joined the foundation as a trustee, and later, president; she also served as the executive director of the organization from 2010-2014. In 2016, Erickson coordinated a large donation which established the Jim Henson Collection here at The Strong (a portion of which was exhibited for thousands of museum visitors to enjoy).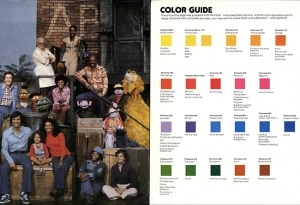 Erickson has also generously contributed a variety of materials from her own celebrated career to The Strong. The Strong's archives house the Bonnie Erickson papers, a compilation of design concepts, illustrations, style guides, product tear sheets, catalog pages, notes, publicity, and other information relating to licensed products created by Erickson. The museum's object collections include prototypes and production copies of her dolls, figurines, clothing, and collectibles. These materials encompass not only the Muppets and Sesame Street stars, but also characters from Maurice Sendak's Where the Wild Things Are and other original creations (such as a Bette Midler mermaid doll!). Viewing Erickson's papers and prototypes together is a great way to learn about the toy design process from start to finish. Next time you catch a glimpse of Miss Piggy (or the Phillie Phanatic) on television, take a minute to think about the woman behind these distinctive characters—her own career deserves some time in the spotlight!  ​