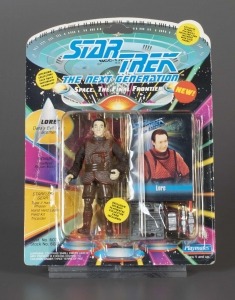 For three months during the summer of 2021, I had the privilege to work as an intern for the Collections team at The Strong museum. My primary project focused on researching and cataloging action and toy figures ranging from the 1970s to the 2000s. At the start of my internship, I also cataloged a collection consisting of 1940s cast iron lead figures from manufacturers such as Barclay, Auburn Rubber Company, and Manoil Mfg, Company. Highlights included The Happy Farm Series by Manoil Mfg, Company and Dogs' Band figures by All Nu Products. These figures were my introduction to cataloging, labeling, condition checks, and object research. Being able to catalog this donation was a great introduction to the larger collection of figures and play sets I helped catalog for the rest of my internship.
Over the course of those months, I concentrated on a donation of Star Wars, Star Trek, and other science fiction action figures, playsets and games. The most interesting part of working with this collection was the diversity of the artifacts that ranged from original Kenner Star Wars products from the 1970s and 1980s to more recent figures from Hasbro, Inc. Working with objects from different decades and manufacturers revealed how details and product packaging evolved over the years for different product launches, movie releases, and characters.
Some of the most noteworthy packaging changes occurred with the Star Trek action figures manufactured by Playmates. The packaging from the 1990s had brightly colored backgrounds with many text bubbles on the cardboard rack card. The 2009 figures came in a much more minimalistic packaging style, mostly black with the only text inscriptions on the packaging being the name and title of the character and the name of the show they were from. Seeing how object packaging changed to fit with the style of the time was a fun experience and something I had never considered before.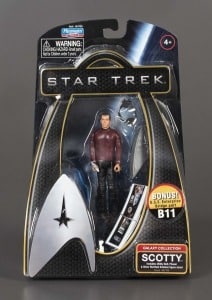 During my time at The Strong, I was also able to view how certain materials age. While I had learned about this process during my graduate studies, the pandemic prevented me from touching and seeing the materials. Plastics are subject to degradation by light, heat, moisture, and pollutants. I learned how to identify changes in plastics as some of the Star Wars figures were not in their original packaging. I could feel how some plastics get sticky and develop a sweaty look to them. This is likely caused by a migration of the plasticizers, which produces a sticky film on the surface. With the cast iron figures, I was also able to see how some of the paint had flaked off some objects. This personal, hands-on exposure to objects at various stages of aging was an amazing part of this internship.
Overall, my time at The Strong was an incredible learning experience and I am fortunate that I was able to gain knowledge from such an incredibly dedicated team.
By Mary Del Vecchio, 2021 Summer Intern