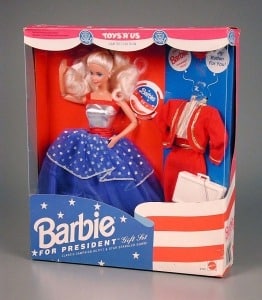 Dressed in her inaugural gown of red, blue, and silver, Barbie made her political debut with a presidential run in 1992. In 2000, Barbie's bid for president was part of the White House Project, a non-profit organization seeking to increase female representation in American institutions. In the 2004 presidential race, she donned a red power suit. In 2008, she added another run as presidential candidate to her storied resume. In 2012, Barbie sought to inspire girls. In 2016, Barbie ran on the first all-female ticket. Although she has yet to occupy the Oval Office, Barbie's obviously not discouraged because on July 28, 2020, Mattel announced its seventh presidential Barbie. So, what's different about her platform this time around?
Ever since her 1959 debut, Barbie has always been in the national gaze. Critics have flinched at a doll with centerfold dimensions with a 1963 Saturday Evening Post article blaming Barbie for mature sexuality among adolescents and noting that "girls today are spurning the traditional pudgy infant dolls for the very popular new doll, which boasts a ripe bosom." A year later, The Nation magazine warned that Barbie was threatening to create a "generation of vipers." The prime of Barbie's life coincided with the rise of second-wave feminism. During the 1972 Toy Fair in New York, protesters claimed Barbie encouraged girls to "see themselves solely as mannequins, sex objects, or housekeepers." Parents today still question if Barbie can be a positive role model.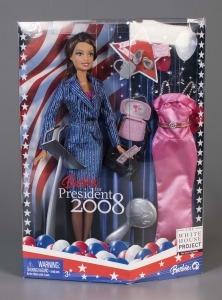 On the other hand, Mattel made a vote of confidence on Candidate Barbie 2020. She comes paired with a campaign manager, a fundraiser, and one voter. "With less than a third of elected leaders in the U.S. being women, and Black women being even less represented in these positions, we designed the Barbie Campaign Team with a diverse set of dolls to show all girls they can raise their voices," Lisa McKnight, Mattel's global head of Barbie and dolls, said in the press release. "Our goal is to remove barriers to leadership by giving girls the tools to imagine and play out their future roles." Mattel also provided tools on how to build political ambition in young girls.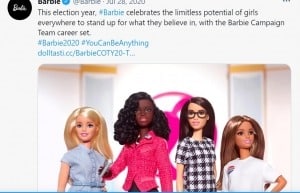 If I were playing pretend, I would cast a vote for Barbie. I'm mindful that Barbie had a mortgage before most American women could get a bank loan on their own, that Barbie made a choice to never marry (sorry Ken!), and that Barbie has held a multitude of responsible careers over the years. She has celebrated influential political activists and women who defied conventions. In recent years, Mattel has made concerted efforts to ramp up Barbie sales with inclusivity efforts, expanded racial diversity, and releases that encouraged female empowerment. Barbie reminds us we are accountable. We should be concerned with the messages our children receive, we should value people that lead by example, and having knowledge helps us to make informed decisions.