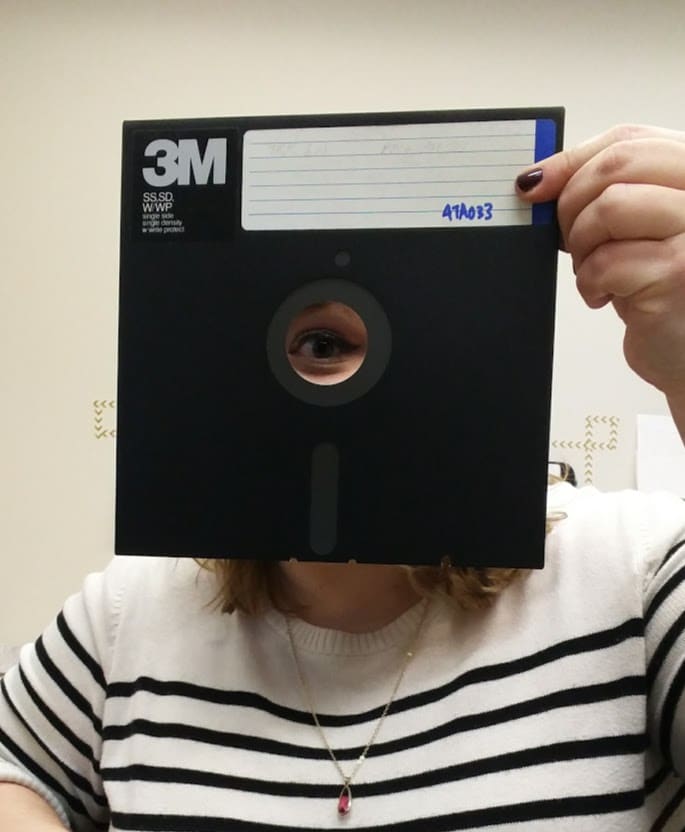 When's the last time you thought about everyone's favorite old-fashioned magnetic media storage device, the floppy disk? Has it been years? Decades? Or never? With our experience today backing up onto cloud storage, shared folders, and USB drives, people seem to have forgotten how difficult saving your digital files used to be. In the Brian Sutton-Smith Library and Archives of Play at The Strong, our archival collections contain hundreds of floppy disks which hold game design documentation, graphics, text drafts, and more. There are a variety of floppy disk sizes, each of which poses specific preservation issues.
A floppy disk consists of a polyester circle (or "cookie") coated with iron oxide particles. These particles are magnetized into the ones and zeroes that make up bits of data. The cookie is housed inside a flexible plastic sleeve sealed at outside, with a hole in center exposing a small amount of the cookie. In addition to dealing with the magnetic media actually shedding from the polyester circle, floppy disks can suffer from being bent, scratched, broken, and damaged by disk drives. Also alarming: failures in a data storage device can cause "bit rot," or data degradation.
In early 2017, museum conservator Hillary Ellis and I embarked on a project to determine the exact quantity of what we called "endangered media formats"—time-based storage that requires specific hardware or players to access the information. These include media types such as floppy disks, CD-ROMs, DVDs, audiocassettes, VHS tapes, BetaCam tapes, U-matic tapes, and other magnetic data and audiovisual formats. We were able to determine that, at the time, 41% of The Strong's fully processed archival collections contained at least one component that we considered endangered. It was time to take action to avert the ticking clock of technological obsolescence!
The Strong received a grant from the Rochester Regional Library Council (RRLC) in summer 2017 for a  yearlong pilot project to address the largest portion of our endangered media formats: 5¼"  and 3½" floppy disks. Since present-day computers aren't able to connect directly to older, obsolete formats, we needed to create a conversion lab. Hardware required included a non-network-connected PC, lightly used floppy disk drives, and a KryoFlux floppy controller. (KryoFlux is a device-side-driver that allows a 5¼-inch floppy disk drive to communicate to a more modern computer.) The Strong's Digital Games Curator Andrew Borman eagerly joined the project, and we hired a Digital Conversion Technician, whose job would be to image a selection of floppy disks—meaning creating a sector-by-sector copy of the source medium, replicating the structure and contents of the storage device. Later, we could identify the proper software to open the file for each imaged disk.
Originally, we converted the data from a sample of 100 disks—60 disks from the Atari Coin-Op Division corporate records and 10 each from the Penguin Software, Brøderbund Software, Tengen, Inc., and Brian Fargo collections in the archives. Out of the 100 disks in the pilot project, only one could not be imaged—that was a 99% success rate! Following that accomplishment, our Digital Conversion Technician continued to produce disk images of additional floppy disks in the archival collections—more than 1750 in all. Then, we worked on "reading" select disk images, where we uncovered some seriously exciting files that have been stuck on floppy disks for 20 to 30 years or more!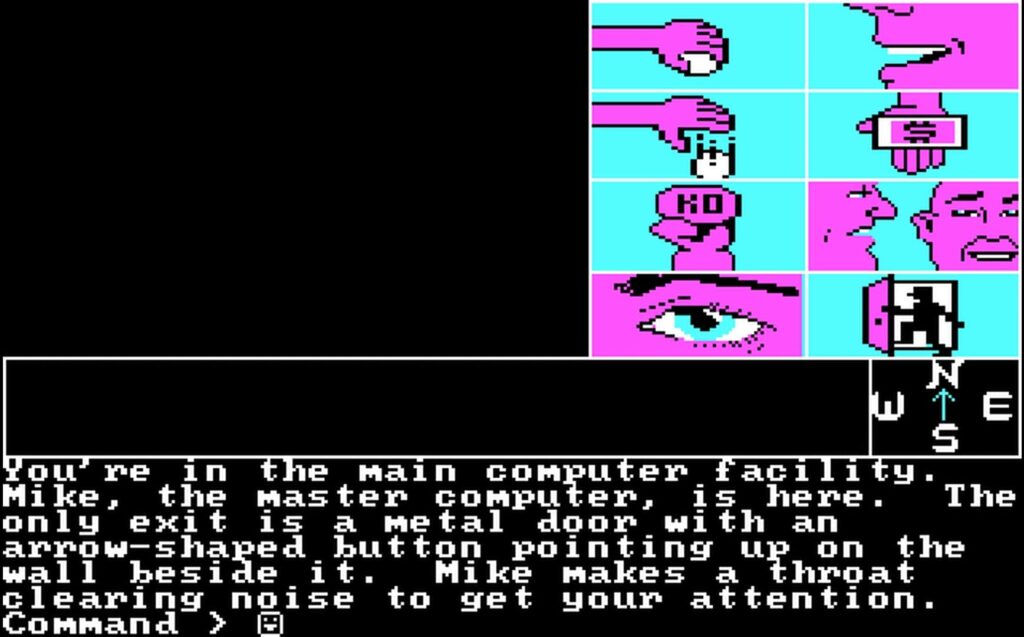 From Brian Fargo, a game designer and founder of Interplay Productions, we discovered an unreleased PC game called The Moon is a Harsh Mistress. Based on a 1966 science fiction book by Robert Heinlein, this game had been briefly mentioned in old computer magazines, but never published for the general public. With this project, we were able to save not only a playable version of the game, but also the source code for it—both of which are likely the only copies in the world. Andrew even covered this in a live stream on the museum's "Game Saves" at The Strong's Twitch channel.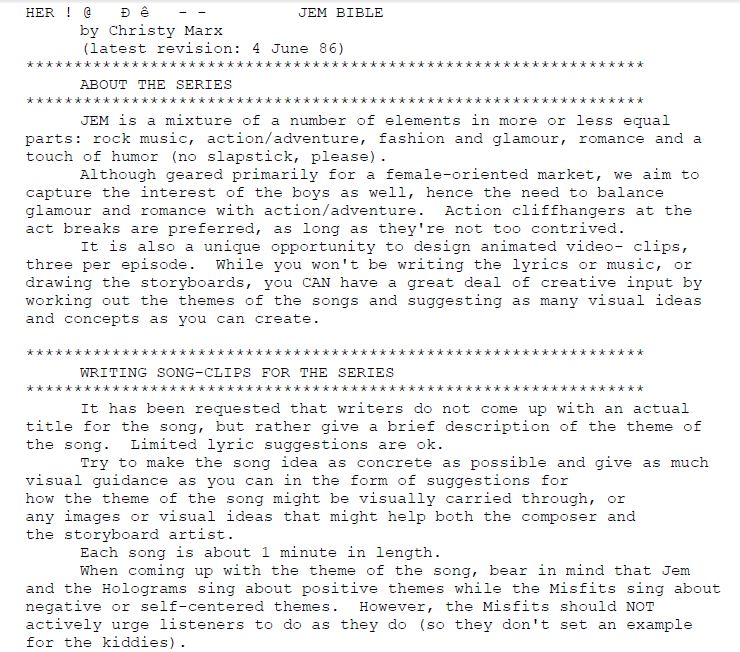 I was personally enchanted when, in the floppy disk files from the Christy Marx papers, we found the "bible" for the hit animated television series Jem. This document provided the show's writers with character descriptions, universe lore, and storylines. Marx, who wrote for several popular television shows in the 1980s and 1990s, also worked at the video game company  Sierra On-Line, where she created the games Conquests of Camelot (1990) and Conquests of the Longbow (1991).
Within the floppy disks imaged from the Atari Coin-Op Division corporate records, we uncovered interoffice communications, graphics, sound files, and other game design documentation. There are also loads of CAD drawings, including one that showed the size and dimensions of the physical arcade cabinet for Marble Madness II: Marble Man—an Atari game that was cancelled before it hit the market. Drawings such as this give us a good look at the design process and the chance to learn more about a game that was never played outside the Atari offices.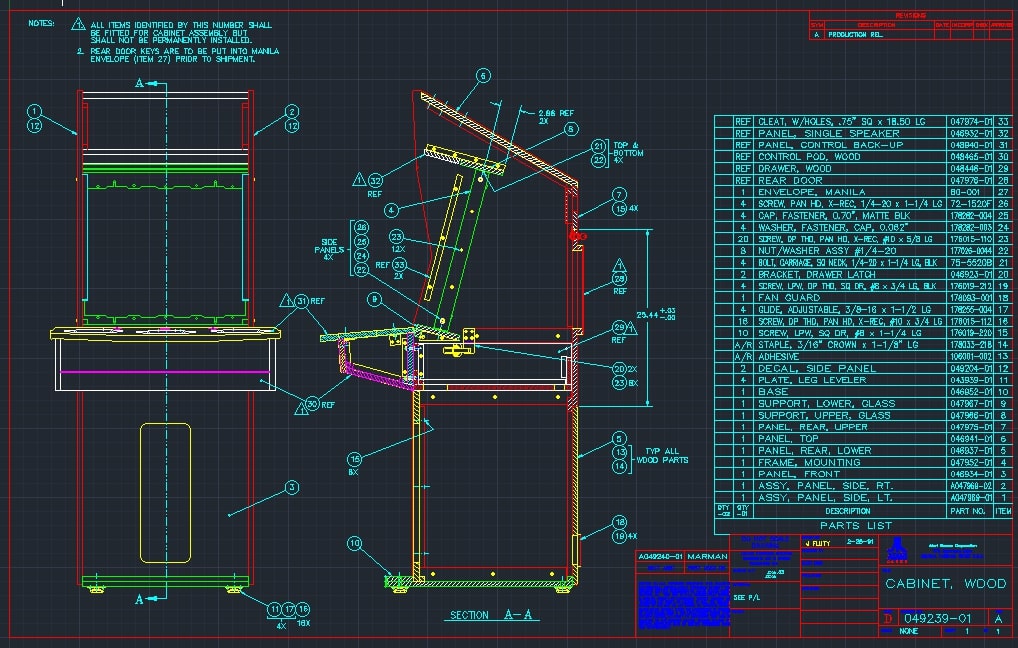 As a result of the floppy disk pilot project, we are embarking upon another endangered media formats project. This time, we will work on digitally converting a selection of our U-matic video tapes from Atari and the Bally/Midway and Williams pinball companies. We've all learned that endangered media formats aren't actually that "scary" after all. Who knows what we'll uncover next!
By Julia Novakovic, Archivist