StarCraft (1998)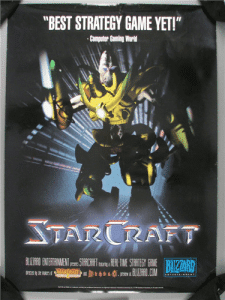 Released in March 1998, StarCraft was more than just "World of Warcraft in space." The game added a new twist to a real-time strategy formula while leading a revolution in multiplayer gaming. Set in the 25th century, StarCraft's campaign follows the Terrans, humans who have been exiled from Earth, as they colonize the far reaches of the Milky Way galaxy. StarCraft utilized Blizzard's online service Battle.net, one of the first online services to connect players across different multiplayer titles. In addition to the ability to chat with other players and join a multiplayer game, a ladder-ranking system allowed players to see how they stacked up in comparison to their opponents. StarCraft's nations each have vastly different abilities and strengths, requiring players to develop unique strategies depending on their chosen group and their opponents' selections. Different techniques emerged as players gained experience battling online. Millions were able to watch players compete, with South Korea even broadcasting games on cable networks. The game's popularity in South Korea led to the launch of the Korea e-Sports Association in 2000 to officially sanction and organize tournaments. 
StarCraft became the largest esports title of its time, bringing the real-time strategy genre to new heights and giving rise to professional esports of today. If you've spent any significant time watching video gamers play Fortnite on Twitch (or if you own merchandise supporting Team Liquid or Cloud9), you have StarCraft to thank for that.
Where in the World Is Carmen Sandiego? (1985)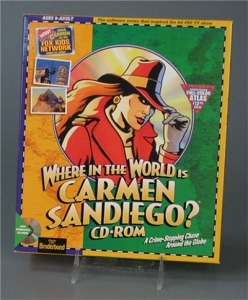 The final inductee of the 2021 class is personally my favorite game in the entire World Video Game Hall of Fame. It's one of the first computer games that I recall playing in an elementary school classroom (and this one didn't kill off my family members with cholera or dysentery!).
Gumshoes first began pursuing this particular master thief in the 1985 release of Brøderbund's Where in the World Is Carmen Sandiego? Developed as a game with a menu-driven interface (replacing the standard text-driven applications of early 1980s computer games), Carmen Sandiego evolved into an educational game that made learning geography fun for millions of school-aged students. First released on 5¼" floppy disk for play on graphic-enabled personal computers such as the Apple II, Carmen Sandiego introduced new audiences to celebrated world landmarks, exotic countries, and punny henchmen. Players, working their way up the ranks as agents of the ACME Detective Agency, hunted down crooks employed by V.I.L.E., an international group of thieves led by the mysterious Carmen Sandiego, who have stolen famous creations from around the globe. The player works one case at a time, beginning a game by first traveling to the country where a robbery has occurred and receiving hints about the thief's next destination. There is a limited amount of in-game time to travel, collect clues, and eventually arrest the thief. When only one suspect remains, an arrest warrant is issued, and the correct criminal may be apprehended at the final destination. (Case closed!) After solving enough assignments, the player becomes eligible for promotion within the ACME agency and earns the chance to capture Carmen Sandiego herself.
Where in the World Is Carmen Sandiego? is one of the best-selling edutainment games in history. It made learning world geography fun for millions of students and spawned a successful media franchise which endures more than three decades later. I credit the game's spin-off children's television game show (and its interminably catchy a capella theme song) with my lifelong obsession of getting rewarded for remembering trivia facts—whether at a family game night, pub quiz, or, well, on adult's television game shows. Do I watch the animated Netflix series even though it's rated TV-Y7? Sure do. Have I played the Google Earth tie-in game starring Carmen Sandiego? Yessir. (And could I still sing you the PBS show's theme song? Absolutely; do it, Rockapella.) The Carmen Sandiego series sneakily combines learning with gameplay, spotlights unique locations all around the globe, and gives you the satisfaction of neatly solving cases in a reasonable timeframe. The lady in red now finds herself celebrated as a member of the World Video Game Hall of Fame—and hopefully, she doesn't try to steal it!