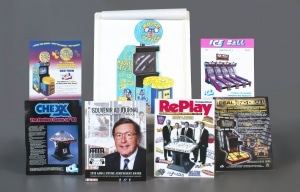 Have you ever played hockey with miniature stick-wielding players and a thumbnail-sized puck on a three-foot table covered by a plastic dome? If so, you have probably played Innovative Concepts in Entertainment's (ICE) Chexx (or later Super Chexx) "bubble hockey" arcade games. First released in 1982, the iconic game is, in part, the work of Ralph Coppola (1948–2018), who, along with business partner Jack Willert refined David M. Barcelou's initial invention and brought it to market. Over the course of Coppola's 36-year career in coin-op, he led the development and release of more 150 arcade games and built a one-product company into a coin-operated game industry leader.
Born in Buffalo, NY in 1948, Coppola was one of six children whose family ran a local grocery store. He studied accounting as an undergraduate at Canisius College and earned a law degree from the University of Buffalo in 1974. Instead of practicing law, Coppola chose to follow in his family's entrepreneurial footsteps. He served as an executive at two companies before becoming ICE's president in 1982.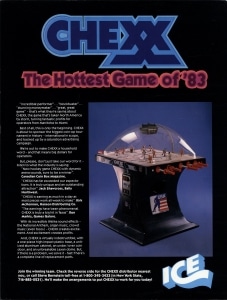 ICE's first product, Chexx, drew on earlier mechanical table hockey games like the kind Coppola played in law school. Chexx added new elements to the game, such as a virtually unbreakable Lexan dome; an electronic scoreboard; and immersive sounds effects, including cheering and booing crowds, organ music, and the U.S. national anthem. The game became a hit, selling more than 5,000 units in its first year while it rivaled and often exceeded the on-location earnings of many coin-operated video games.
But as many arcades closed amid a deep video game industry recession in 1983–1984, it was hard for Coppola's company to match Chexx's success. A 1984 soccer version of Chexx titled Kixx followed Fire Escape, a game in which players scored points by guiding a steel ball down a burning building's metal "fire escape." Neither were hits, but Kixx helped keep ICE going. These early industry struggles encouraged Coppola to diversify his product line. As Coppola told RePlay magazine in 2003, "It's scary when you only make a few games. I like making a lot of different ones. At some point in the development of the company, I decided to become a 'one stop supplier' offering different types of things like sports games, redemption machines, kiddie products … all kinds of things."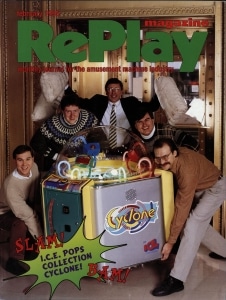 In the early 1990s, ICE introduced its first ticket redemption game, a larger-than-life, licensed Hungry Hungry Hippos (1991)—an arcade version of the classic tabletop game. As family entertainment centers (FECs) with ticket-spitting games and prize redemption counters grew in number and size, ICE released an array of new products. Beginning in 1991, the company helped revive the basketball shooting game market with Full Court Frenzy (1991), Full Court Fever (1995), and Street Fever (1995). They released the innovative, oversized Flintstones pinball machine (1994); the rodent-squashing video redemption game Mouse Attack (1995); the alley rolling game ICE Ball (1997); and a series of crane games. But it was the company's 1995 light tracking game Cyclone that took the industry by storm. Coppola licensed the game concept from a Japanese developer before modifying and redesigning it. The result: an addictive one to three-player game that challenged players to trap a fast-moving light to score tickets. Cyclone became one of the most popular and highest-earning ticket redemption games of all time, remaining on RePlay magazine's list of top "Quick Coin Games" for years to come.
In the 2000s, the company continued to expand its portfolio with the light tracking game Wheel of Fortune (2001), a string of coin-pusher games, a best-selling video redemption game based on the hit gameshow Deal or No Deal (2007), and the firm's first touch screen video redemption game Buster Bubbles (2009). Coppola's strategy to diversify proved particularly important when the market for arcade games slowed in the wake of the 2008 global financial crisis.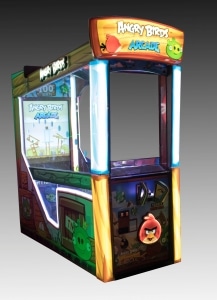 The company's investments in in-house research and development, outside game development partnerships, and upgrades to its manufacturing capabilities all laid the foundations for a string of popular games. ICE's massive Angry Birds Arcade (2015) tasked players with firing "angry bird" balls at a video screen modeled after the hit mobile game. Milk Jug Toss (2013), Down the Clown (2014), Whack N' Win (2014), and other successful carnival-themed tossing, throwing, and pounding games all helped fuel the growth the company and FECs in the 2010s.
Today, ICE maintains a leading role in the industry through its commitment to quality, aggressive expansion into foreign markets, and diversification into the "one-stop shop" for redemption games, sports games, air hockey tables, alley bowlers, coin pushers, skill cranes, merchandisers, video games, (and now even home arcade games), that Coppola began building nearly 40 years ago.
Coppola's papers are a significant addition to The Strong's archival collections. The business documentation, conceptual artwork, engineering drawings, photographs, marketing materials, and news stories related to ICE enhance the museum's holdings of coin-op company documentation related to key companies such as Atari, Williams, and Midway. They will undoubtedly prove invaluable for researchers interested in charting the growth of this significant company and the ticket redemption game business.