Eva Nwokah, 2019 G. Rollie Adams Research Fellow
Professor, Our Lady of the Lake University, San Antonio, Texas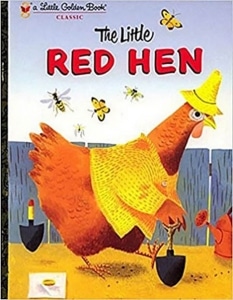 My current research is focused on how animals in children's literature are portrayed with human characteristics through what they wear and what they say—in other words, animals that are anthropomorphized. Why do children find that animals speak and behave like humans appealing? This playful aspect of stories encourages children's imagination, holds their attention with silly images, and has been used by authors to share information in a humorous and lighthearted way. The experience of being immersed in a playful, imaginative world provides children with an escape from the real everyday routines and activities of their lives and transports them into a realm of unlimited possibilities. We know real animals don't speak and certainly don't dress themselves in clothes as if human, but in children's stories such animals also portray a variety of emotions, and participate in activities such as driving a car or tractor or going to market. In some cases, illustrators include baby animals that are visually endearing to children. I have always had an interest in play connected to language and literature, specifically imaginary play as a precursor to more advanced language development.
I applied to The Strong museum for a research fellowship specifically to explore what types of animals are popular in children's literature and how authors and illustrators make them human-like. While we know about different kinds of children's books and their illustrations, we know less about the visual appearance and speech of animals in many of these books, especially those from the mid to later part of the 20th century.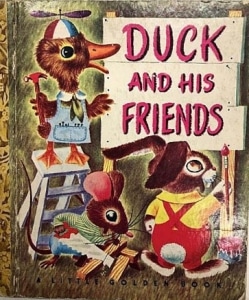 I spent two weeks delving into more than 90 Little Golden Books containing animal characters that were published from 1942 to 1970, and examining the Berenstain Bears series and its artwork. I observed a trend in the Little Golden Books from books with animals that did not talk, to books with animals that did not wear clothes but did talk to each other or to humans, to books where the animals wore minimal clothing and talked, and finally those in which the animals wore elaborate and varied clothing and talked. Surprisingly, I found more than 90 different types of animals populating the books, with the most common being rabbits, followed by pigs, cats, and mice. Bears, dogs, foxes, owls, and ducks also appeared frequently. Whereas some of these animals might be appealing because they are soft and endearing in appearance like rabbits and cats, other animal characters are common because of associated personalities like the owl being wise or the fox being cunning. A more detailed analysis of types of clothing revealed that most dressed animals did not wear shoes and the classic clothing was dress and pinafore for the mother figure, and shirt and pants for father figure, with a variety of accessories such as a pipe. I have been expanding this research to further explore the what the authors of these books had the animals say and how the words they used are suitable to children's reading levels. Additional research moving forward will include exploring the cultural and social aspects of these animal characters and their behaviors.
The Strong provided me with a quiet setting, staff support and resources, and the opportunity to meet other research fellows. I was delighted to find far more materials and holdings than I had expected and the research fellowship program at The Strong is an amazing opportunity any play researcher should consider. I am honored and grateful to have had this opportunity to further my research.