In 1972, a crack commando unit was sent to prison by a military court for a crime they didn't commit. These men promptly escaped from a maximum security stockade to the Los Angeles underground. Today, still wanted by the government, they survive as soldiers of fortune. If you have a problem, if no one else can help, and if you can find them, maybe you can hire… the A-Team.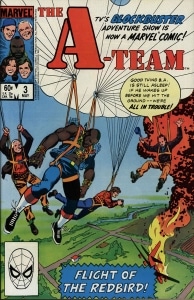 America first heard these words, spoken in a gravelly voice over grainy footage of soldiers disembarking from a helicopter in the jungles of Southeast Asia, after Super Bowl XVII on January 3, 1983. For the next four yea  ​rs, what has been described as a combination of The Dirty Dozen, Mad Max, Hill Street Blues, Rocky III, One Flew Over the Cuckoo's Nest, M.A.S.H., and Dallas held the status of must-see-TV for millions of viewers worldwide.
The brainchild of NBC executive Brandon Tartikoff, The A-Team television series came to life through the work of writers Stephen J. Cannell and Frank Lupo. They created comically mismatched outlaws—Colonel John "Hannibal" Smith, Captain H. M. "Howling Mad" Murdock, Lieutenant Templeton "Faceman" Peck, and Sergeant B. A. "Bad Attitude" Baracus—who sought justice for the oppressed, righted wrongs, and turned everyday objects into armored tanks with a little welding and some elbow grease (with a funky welding montage soundtrack to boot). The result was absurd, amazing, and the ultimate 1980s pop culture phenomenon.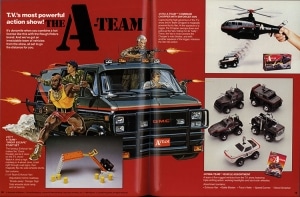 The show was also a licensing dream. Action figures, vans, helicopters—even comic books, board games, and crossword puzzle books—hit the shelves to quench consumers' thirst for the loveable con-men with hearts of gold.
​The A-Team proved a boon to the toy weapon industry as well. In 2012, The American Rifleman gave The A-Team the top spot on their "Guns on TV: Top 12 Shows" list. Nearly 30 years after the series ended, it still out-guns classics such as The Rifleman and The Lone Ranger, as well as more recent programs such as Miami Vice, NCIS, and 24, in the variety and volume of firearms on display. However, The A-Team's signature brand of sanitized, cartoon-like violence—extras routinely walked away from car explosions, slightly dusty but very much alive—insured that only one person was killed on-screen throughout the show's four-year run.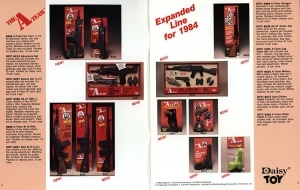 Mr. T, who played B. A., had previously made a name for himself as Clubber Lang opposite Sylvester Stalone in Rocky III with his intense portrayal of a boxer from the streets and his famous line, "I pity the fool." He quickly became a fan favorite as the A-Team's prickly driver and strong man.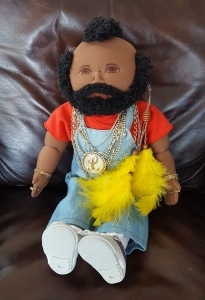 He coined catchphrases such as, "I ain't got time for your jibber jabber," and "I ain't goin' on no airplane!" B.A. was certainly a beloved character in my house, as evidenced by the handmade Mr. T doll that my mother secretly crafted for my father and gave to him on a very memorable Christmas morning.
The A-Team's popular run came to an end in 1987, but syndication and nostalgia keep the show and its memorable characters in the pop culture canon. If anyone disagrees, you can tell them B.A. says, "Shut up, fool." ​