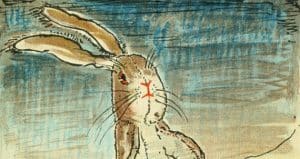 When I leave The Strong this week after almost seven years, a shiny, new collections manager will take the helm. I feel like the well-worn toy Margery Williams describes in The Velveteen Rabbit who becomes Real when the Boy loves him and when the nursery magic Fairy sets him free. Except for the trials of becoming Real, the Rabbit's greatest anxiety is being forgotten or replaced. And here I am, undergoing the process willingly when so many toys are not able to choose when their time in the spotlight may end.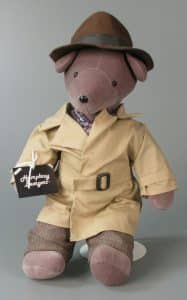 In the Full House episode "Goodbye, Mr. Bear" (ABC, 1989), Stephanie panics when she can't find her favorite stuffed animal. Fans of the series spot Mr. Bear in many episodes, and in this particular one we learn that Steph's late mother gave her the teddy as a gift when she brought baby Michelle home from the hospital. Mr. Bear is one of Stephanie's last ties to Pam. Fortunately the dapper fellow isn't lost forever; Michelle has only hidden him from her sister. Cue the sentimental music.
Poor wubby. You can tell just by its name (probably a variation on "lovey") this security blanket is at the center of Kenny's world. In the movie Mr. Mom (1983), it has seen better days. Jack has to pry it away from his son with some deft rhetoric. It breaks Kenny's heart… and mine.
In Jim Henson's television film The Christmas Toy (ABC, 1986), Rugby the plush tiger feels disappointed and betrayed when he discovers that even though he was last year's favorite holiday present, he won't be under the tree again. A brash, futuristic doll named Meteora will replace him in the shiny gift box—and worse still, in the heart of his owner. Rugby's wise comrades, who have been in his position before, help him understand the playroom is in a continual state of transition, and that all of its citizens have value.
The early Pixar short Tin Toy (1988) takes a darker look at children's fickle relationships with playthings. An anthropomorphized mechanical toy alternately woos and flees from a baby who mistreats everything he handles. Unlike Rugby, the mechanical toy realizes with bittersweet gratitude that the baby's attention span is limited, and he does not envy the brat's next victim.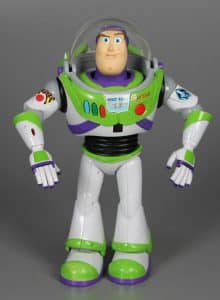 After the short film's success (including an Academy Award win), Pixar toyed with the story and developed a feature-length animated film called, well, Toy Story (1995). The movie sets up a rivalry between traditional cowboy doll Woody and high-tech action figure Buzz Lightyear, a newcomer to Andy's collection. Though Woody and Buzz find common ground, they have reason to fear the next Christmas present to enter the picture. Anyone remember what Andy received at the end of the movie?
Off I go. I will not share the fate of the shabby, cast-off wubby. I won't wallow in the shadow of each year's Christmas tree, nursing regret and self-pity. Nor will I be tormented by the looming threat of a sadistic, capricious toddler or sharp-toothed puppy. Instead, I will accept the gifts of the nursery magic Fairy, stretch my hind legs, and bound off into the wood to frolic with the wild collections managers. And if I creep out of the bracken to peep at The Strong that loved me and first helped me to be Real, I'm sure they'll recognize something familiar.
This post is Part Nine in Lauren Sodano's Screen-Play series.