Community is one of the most playful shows on television. The comedy about a study group at dysfunctional Greendale Community College not only features unconventional storytelling methods and an innovative visual style, but its characters actually play—all the time. And either its writers have been looking to The Strong for episode ideas, or the toys and games featured on the show are simply as iconic as our experts say they are. In honor of the show's fifth-season premiere on January 2, I present this list of my favorite appearances of National Toy Hall of Fame inductees in episodes of Community. Cardboard Box: "Basic Rocket Science" College buds Troy and Abed's vivid imaginations transport them out of Earth's atmosphere, where they pilot cardboard space ships equipped with a flux capacitor (hello, Back to the Future) and various high-tech controls. For two impressively uninhibited college students and countless other kids, a cardboard box is at least as good as the real thing, which is why the National Toy Hall of Fame honored this creativity toy in 2005.
Chess and Roller Skates: "Modern Warfare" A campus-wide paintball war pits the show's main characters against members of the chess club wearing Viking-esque helmets studded with chess pieces. Chess games appear frequently in television and film as metaphors for situations requiring skillful tactics and strategic forethought (see also The Wire and The West Wing). In this episode, the chess club unsuccessfully attempts to draw out its opponents by sending a "pawn" into the line of fire. Team Study Group employs patience and cunning to trap and destroy the chess nerds. Straight aim is all they need to disarm a roving band of disco-loving roller-skaters, however.
Blanket: "Conspiracy Theories and Interior Design," "Digital Exploration of Interior Design," and "Pillows and Blankets" Troy and Abed build a blanket fort that expands to host dozens of students, a civil rights museum, a game room, and a parade. In keeping with most types of imaginative play, the guys negotiate rules of conduct for their new society. But this isn't your typical game of make-believe. While blanket forts usually provide safe spaces for children to revel in their imaginations with limited raw materials, Troy and Abed's special blanket fort actually brings their whimsy to life. And where many kids' blanket forts give them a private space away from adults or siblings, the Greendale fort cultivates an inclusive atmosphere. The bonhomie is short-lived, however—in the following season, the best friends feud over blanket forts versus pillow forts.
Jack-in-the-Box, Baby Doll, and Teddy Bear: "Abed's Uncontrollable Christmas" In a twist on familiar children's stories of toys coming to life, Abed's stop-motion fantasy scenes depict his friends as a jack-in-the-box (exaggerating Jeff's already large head), a baby doll (a nod to Shirley's cloying sweetness), and a diminutive teddy bear (a sure way to deflate Pierce's ego). Although Teddy Pierce remains as intractable as Human Pierce, the real teddy bear earned top Toy Hall honors for being a good companion.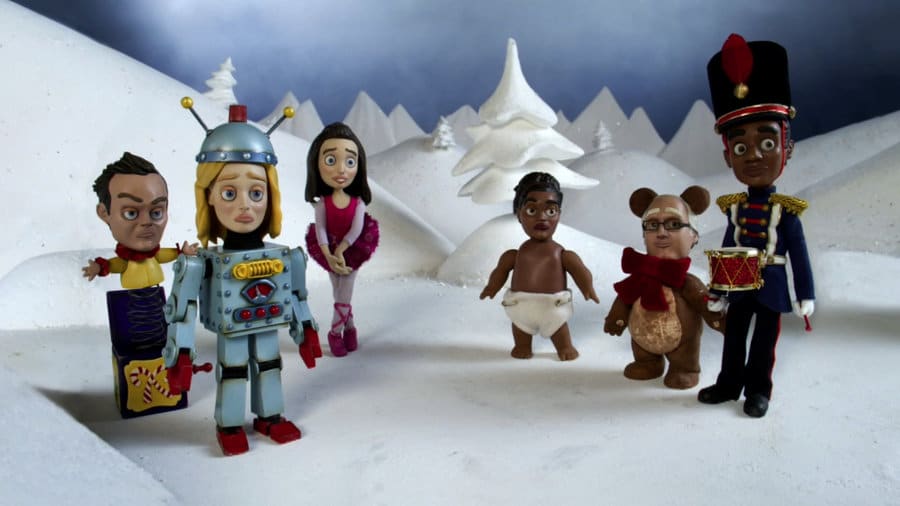 Best Also-Ran: Dungeons & Dragons: "Advanced Dungeons & Dragons" A National Toy Hall of Fame finalist but not yet an inductee, the original role-playing game (RPG) makes an unforgettable appearance in season two of Community. For a round-up of RPGs as seen on television, look for the next post in my Screen-Play series here on Play Stuff blog. Community earns laughs for being quirky, but its humor stems from universal experiences, so it's no surprise the characters find fun in classic toys. Where in pop culture have you noticed the National Toy Hall of Fame's iconic inductees? Which television characters would you like to see putting their own spin on your childhood playthings?
This post is Part One in Lauren Sodano's Screen-Play series.