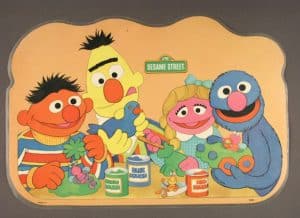 Well, paint me blue and call me Grover—Sesame Street premiered 45 years ago today, on November 10, 1969. With more than 4,300 episodes to date, it is one of the longest-running shows in television history. My colleague Scott Eberle has written about the series' cultural and educational impact. And as The Strong inducts three new playthings into its National Toy Hall of Fame, it's worth mentioning that the Toy Hall's honorees abound throughout Sesame Street's run. (Big Bird alone offers a treasure-trove, from his cherished teddy bear, Radar, to his mildly worrisome ability to roller skate.*) If the National Toy Hall of Fame inductees weren't already emblazoned in our hearts for their ability to foster learning and creativity, then their endearing appearances on Sesame Street may do the trick.
Dollhouse: Episode 0131 (1970)
The first episode of Sesame Street's second season is sponsored, appropriately, by the number two. The segment, "Doll House," emphasizes the theme ad infinitum: two happy girls set up tea for two little dolls before tucking them into two tiny beds. The final 20 seconds of the clip demonstrate why people who have two kittens can't own anything as nice as a dollhouse.**
Checkers: Episode 1227 (1979)
Ernie happens upon Bert playing checkers with his pigeon, Bernice, who pecks at the pieces aimlessly as she learns the game. Bernice makes for a more challenging opponent than Ernie, but Bert seems a little impatient nevertheless.
Bubbles: Episode 2403 (1988)
The two-headed monster demonstrates good teamwork and a range of nonverbal emotions as he tries to blow soap bubbles. Viewers are able to follow along and help solve the problem without understanding the monster's language. It's a shared victory! (But seriously, how does a Muppet blow bubbles?)
Ball: Episode 2481 (1988)
Teeny Little Super Guy can't bear to see Alice excluded from the baseball game. He encourages her to ask the other kids if she can participate. Let's just say this segment is brought to you by the letters M, V, and P. And the animation earns a solid A.***
Jump Rope: Episode 2596 (1989)
How dedicated are these girls who train for an international double-Dutch contest? And how proud is their coach when they nail the routine? The team member who narrates the story emphasizes the importance of having fun despite the pressure of competition—an important takeaway for kids in any sport.
Rubber Duck: Episode 4421 (2014)
Though the rubber duck has performed about the same since the 1940s, its appearance on Sesame Street in 1970 elevated its status to Water Toy Extraordinaire. Sure, I could point you toward any number of iconic scenes with Ernie and his favorite bathtub pal, but how about something current? American a cappella group Pentatonix appeared on Sesame Street last season to sing about the number five. Backstage, the group recorded a mashup of "Rubber Duckie" and "C Is for Cookie"—a squeaky-sweet tribute to songs from the performers' childhood. I'm sure they always dreamed of being punked by Cookie Monster.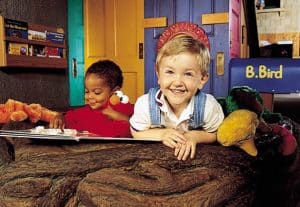 These scenes emphasize cooperation, imagination, and discovery—themes that resonate with the National Toy Hall of Fame's criteria for inductees. They also have served as living lessons for 45 years' worth of viewers whose earliest peers were the friends they made on Sesame Street, long before they were old enough to attend school. How have you or the little ones in your life connected with the residents of television's most beloved neighborhood?
This post is Part Seven in Lauren Sodano's Screen-Play series.
*Carol Spinney is exceptionally graceful, given the awkwardness of his costume. And Jim Henson must have had a thing for Muppets on skates. Miss Piggy borrowed a pair from Gregory Hines to chase a purse thief through Central Park in The Muppets Take Manhattan (1984).
**According to the Muppet Wiki, Henson built the dollhouse for his daughters and filmed this segment in their bedroom using his own cats.
***Runner up: "Sluggo the Great" (Episode 0672, 1974), whose "Let me have it!" inspired the "Big Ping Pong Game" segment I've written about previously.