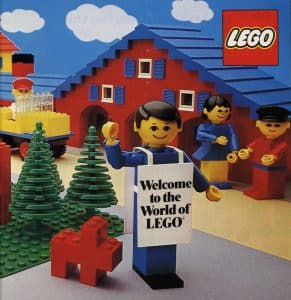 When Danish carpenter Ole Christiansen sensed a demand for inexpensive, quality playthings in the 1930s, he crafted wooden blocks and other toys and soon founded LEGO. In 1949, the company produced a set of red and white interlocking plastic bricks entitled "Automatic Building Blocks." For decades, LEGO sets have provided children and adults with hours of creative play. In 1997, electronic game developer and publisher Mindscape introduced the construction toy to virtual play with LEGO Island.
LEGO Island became the first of many LEGO-themed electronic games. This non-linear action-adventure game allows players to explore and customize their island, as well as build vehicles and carry out missions such as delivering pizza. The game's critical acclaim persuaded LEGO executives to authorize the release of more brick-centric games, and the franchise grew rapidly.
Early LEGO virtual games used the company's existing intellectual property. Its second game, LEGO Chess, allowed players to simulate the traditional strategy game using LEGO minifigures dressed in either Wild West or pirate-themed attire. In 1998, LEGO found inspiration in its origins and introduced LEGO Creator. Players manipulated a pile of virtual bricks to construct anything they wished. Racing-themed LEGO games also became popular with LEGO Racers and LEGO Stunt Rally, published in 1999 and 2000 respectively.
In 2001, LEGO teamed-up with the Harry Potter franchise to produce LEGO Creator: Harry Potter, a construction and management simulation. Published in conjunction with the feature film Harry Potter and the Sorcerer's Stone, the game provides players with a chance to create their own Harry Potter-themed minifigures, drive the Hogwarts Express, fly on a broomstick, cast spells, and roam favorite Hogwarts haunts like Professor Snape's potions lab. The game's popularity led to LEGO relationships with many other franchises.
LEGO video games now take place in the iconic worlds of Star Wars, Batman, Indiana Jones, Pirates of the Caribbean, The Lord of the Rings, and many more. LEGO also continues to produce games based on its own brand, including the Bionicle and Ninjago sets. Most recently, the company released The LEGO Movie Videogame, an action-adventure game based on the 2014 LEGO movie.
ICHEG enjoys a close connection to LEGO bricks. The iconic toys earned a spot in the The Strong's National Toy Hall of Fame, in recognition of their longevity and the creative play they inspire. In 2012, ICHEG members worked directly with the Royal Library of Denmark to capture video of the massively-multiplayer online game LEGO Universe, in order to accurately preserve its gameplay before the game went offline. Currently, guests of The Strong can enjoy LEGO Castle Adventure, a traveling exhibit on display until February 2015. The exhibit includes LEGO construction bricks—both traditional and oversized for the youngest builders—as well as examples of professionally-built castles, a jousting field, a game allowing for the building of virtual fortresses and a catapult to knock them down, and a life-sized castle to explore, complete with secret treasure room. LEGO provides hours of immersive play.