Adrienne Shaw, Director, Cultural Analytics Certificate
Associate Professor, Department of Media Studies and Production
Lew Klein College of Media and Communication Graduate Faculty
Temple University  
This fall I donated three digital collections to The Strong museum: the LGBTQ Video Game Archive Source Files, the Rainbow Arcade Collection, and the Joshua D. Savage Digital Game Documents Archive. These are part of my ongoing project documenting the history of LGBTQ content in (primarily) digital games. By donating these files, I hope to encourage future researchers to consider how their research "data" can be used to contribute to archived knowledge. Further, I hope this project emphasizes the collective work needed to preserve gaming and play histories, particularly for marginalized communities.
When I first made the LGBTQ Game Archive website public in May 2016, I described it as an "archive" rather than Archive. This was because it was and is more a "curated collection of information about LGBTQ and queerly read game content" than it is a repository of primary materials. Capital "A" Archives require the space, resources, and ongoing staffing I am simply unable to provide. However, shortly after the launch of the site one of the key points of reference I used—GayGamer.Net—went offline forever. It was in this moment that I decided it was imperative for me to find a way to save the primary and secondary sources (websites, articles, blogs, forums, videos, screenshots) I consulted along the way.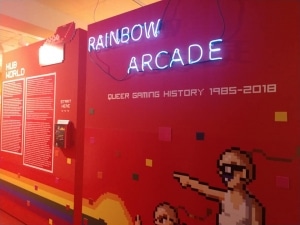 As part of an inaugural Faculty Fellowship program at Temple's Digital Scholarship Center, I worked with Aja Binette (a Temple University Sociology PhD Candidate at the time) and Head of the Digital Scholarship Center Matt Shoemaker, to identify best practices to save the files, as well as how to bulk add item information and metadata to an Omeka site. Omeka is an open-source platform for organizing and displaying archival, library, and museum collections and had been used in many similar projects from people associated with the Digital Scholarship Center. Later, Cody Mejeur, via a Digital Humanities Fellowship project at Michigan State University where they were then a graduate student, was able to devise an automated process to download and save copies of the various digital materials. This whole process took three years, and while nowhere near complete in terms of all of the research that has gone into the LGBTQ game archive since, it represents a substantial body (nearly 1,500 files) of material for future games' researchers.
I have also donated my files for an exhibit I co-curated at the Schwules Museum in Berlin, Germany in December 2018–May 2019: Rainbow Arcade. It was the first exhibit of LGBTQ video game history, covering 1985–2019. A running theme of the exhibit was preserving fleeting histories of queer games, texts, makers, and players, and it seemed necessary to ensure that documentation of the exhibit was saved for posterity. Moreover, as it has not yet been possible to make Rainbow Arcade a travelling exhibit, it is my hope that these records can at least aid in the planning of similar future exhibits.
Finally, I have included a collection of files donated to me by Joshua D. Savage in 2018. In his own words, Joshua:
has had a lifelong interest in video games and began collecting documents about games in earnest as an elementary school student. When he began studying games academically in 2001, he found that he could draw heavily upon this collection of reference material and sought out additional physical and digital sources to supplement his work. When his return to the United States after seven years in Japan entailed shipping 36 boxes of video game books and documents, Joshua realized that a less space-intensive solution was necessary and had the majority of his physical collection digitized. Joshua's collection of English and Japanese source material proved especially useful when he was preparing material for the LGBTQ Game Archive, and therefore he decided to donate his collection to The Strong so that it may be of use to other researchers. As a personal collection, this archive does not represent the entire history of digital gaming, but rather provides an intimate look at one queer game player's interests, preferences, and experiences with video games and related media throughout the first three-and-a-half decades of his life.
The files donated by Joshua are extensive (nearly 35,000 files) and include game manuals, comics, advertisements, guidebooks, and more. I endeavored to offer as much metadata on the Omeka site as was possible to produce with limited resources. I hope future researchers can add to this to metadata as there is so much game history represented in these files.
Although these collections are digital, for copyright purposes they will only be accessible on site to researchers visiting The Strong. Information on their contents can be found on the related Omeka site. Altogether, these collections represent the labor of dozens of people, not to mention hundreds of fans who have created wikis, videos, walkthroughs, and more about these games. Documenting history is always a communal process, but for marginalized communities whose contributions to this medium are often overlooked it is vital we make such records accessible to future generations.