When I think of the 4th of July (what my calendar more formally calls Independence Day), I conjure up images of parades featuring plenty of red, white, and blue crepe paper. I smell the aroma of burgers on the grill. And I envision fireworks exploding into colorful sprays of light across an inky nighttime sky. But I don't often think of toys and other playful products for the holiday. Still, it didn't take much time for my investigation of The Strong's extensive collections to turn up an interesting array of patriotic items to suit 4th of July celebrations over the years.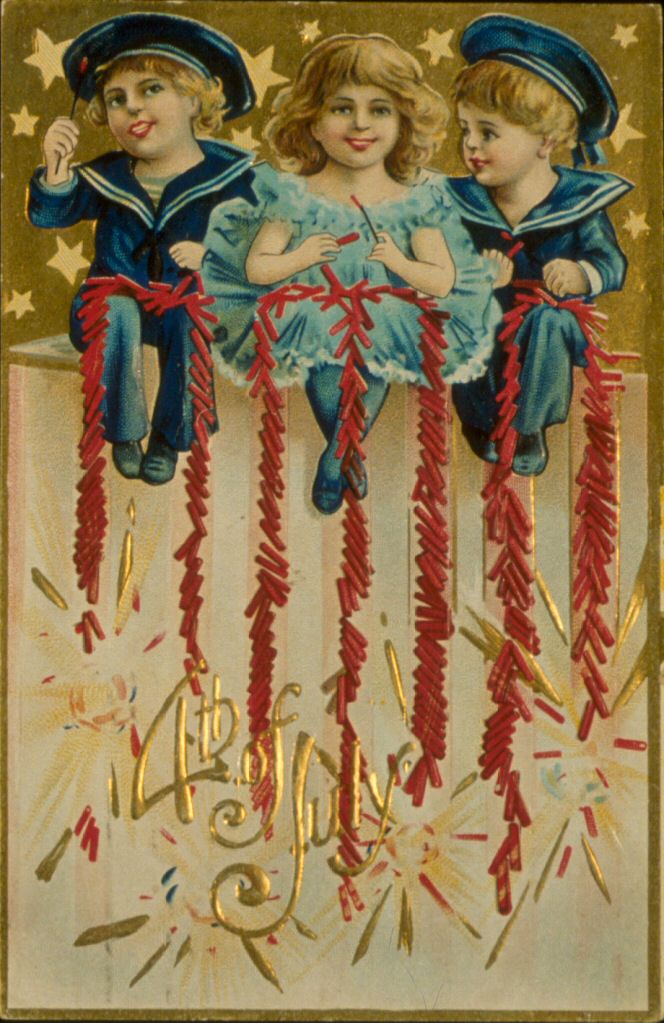 Let's start with the Independence Day postcards. I'm willing to bet that you didn't build time into your summer plans for sending patriotic greeting cards to your friends and family. But 100 years ago, during the peak years of the postcard craze in the early 20th century, you might have been busy mailing off wishes for a Glorious Fourth, complete with illustrations of an eagle, a shield, and Roman candles. On the other hand, this postcard makes me want to warn the smiling children, casually festooned with strings of firecrackers, that they obviously need more adult supervision and a better awareness of the hazards of explosives, lest they spend their 4th of July at the urgent care center or worse.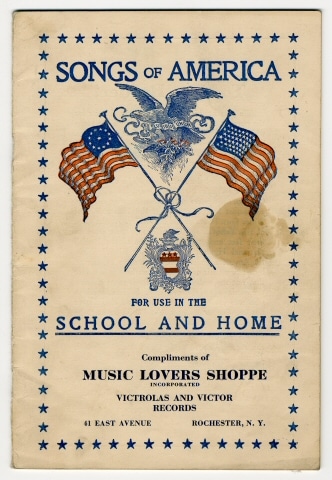 On a happier note, how about a patriotic song or two for the occasion? A round of "The Star Spangled Banner" will undoubtedly add a little variety to the standard roster of summertime campfire songs and challenge the vocal range of anyone involved. In honor of the holiday, I could probably lead a group in the singing of "You're a Grand Old Flag," but I'm most familiar with a parody version of that tune from my grade school years that involved lyrics about an unfortunate woman named Thelma Lou whose "complexion is red, white, and blue." Perhaps it's best not to go there…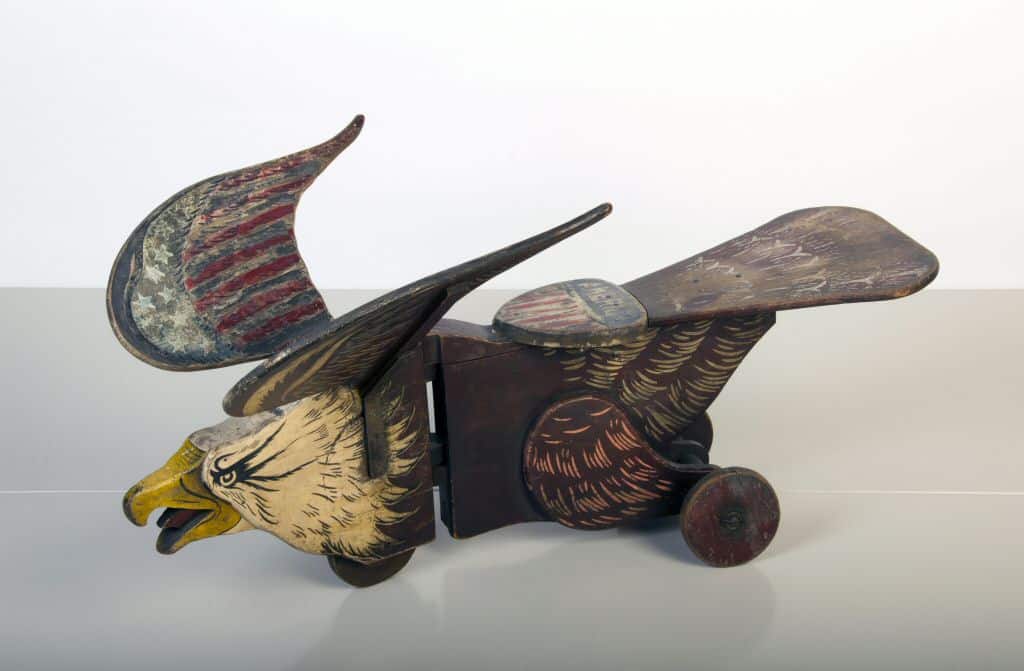 Our national bird, the bald eagle, takes center stage on a number of playthings that would be great for the 4th of July. In my tween years, I decorated my bike to ride in a couple neighborhood Independence Day parades, but my crepe paper streamers couldn't compare for patriotic fervor with an eagle-shaped ride-on toy from about 1915. And what better way to take your American pride to the skies than with an eagle-shaped kite, complete with flapping wing action? If you prefer your eagle to be a little cuddlier, you could opt for a Beanie Baby named Soar.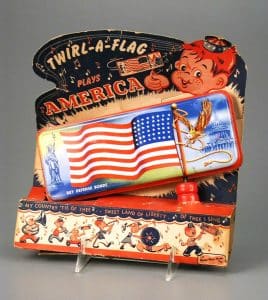 Soar's red, white, and blue wings took me to other toys that display American flags. You can save your pennies for a summer splurge in your Betsy Ross mechanical bank. Historic and current versions of the American flag ornament the cover of a United States of America Bicentennial Coloring Book. And I'm especially fond of a 1951 Mattel novelty toy called Twirl a Flag. When you crank the toy on its wooden spindle, it plays "America," often known as "My Country 'Tis of Thee." A flag, a tune, and a clever mechanism, it's a triple play by my standards.
However you choose to spend this 4th of July holiday, I hope you'll find ways to blend a patriotic celebration with a little play. That's a well-established national tradition that deserves to be carried on into years to come.