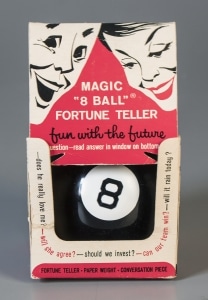 Our lives are complicated and expectations for the future lie between idle longing and fervent wishing. As I entered the angst of middle school, I often wondered "what might happen?" and "what should I do about it." I sought an oracle that could illuminate the future for me and Magic 8 Ball proved an intriguing way to harmlessly flirt with the future. On November 8, 2018, Magic 8 Ball took its place of honor in the National Toy Hall of Fame.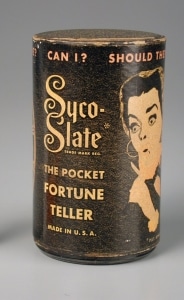 The first stage in Magic 8 Ball's history occurred when Cincinnati clairvoyant Mary Carter created the Syco-Slate, a small chalkboard that she placed in a sealed container. She would then ask her clients a question and they would hear the sound of chalk scratching across a board. When she opened the container, Mary revealed the magical message on the chalkboard. Mary's son, Albert, predicted that his future lay in advancing his mother's creation.
Without a doubt, the pair turned to family member Abe Bookman, a business-savvy man who had graduated from the Ohio Mechanics Institute in 1921, to handle the logistics. Bookman and Carter formed Alabe Crafts Company of Cincinnati and sought to introduce a novelty that would provide answers emerging randomly out of its inky depths. Carter applied for a patent, but sources say that he died soon after from his eccentric lifestyle and alcoholism. But Bookman proceeded with the project on his own.
The size of an overgrown softball with a flat spot that let it stand as a desktop paperweight, Magic 8 Ball would respond to questions with one phrase framed in a triangle in the round window. What's the mysterious secret to this toy? The black ball holds a 20-sided polyhedron that floats in diluted dark blue propylene glycol. Inscribed on each of its facets is a different answer to any yes-or-no question.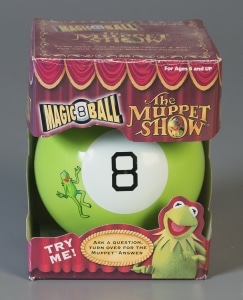 When I played with Magic 8 Ball, I found that if you pose a question, one out of four times Magic 8 Ball puts you off, offering only "ask again later," "better not to tell you now," "reply hazy, try again," or something similar, which to many 12-year-olds is much more reassuring then a definite "no" or a hedged negative like "outlook not so good." What I liked most about Magic 8 Ball was that it served as a confidant. Any uncertainty, secret romance, or hope could be confessed, and it responded. It's this versatility that appeals to children and adults.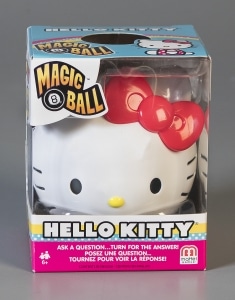 Magic 8 Ball has endured for more than a half-century. In the process it became an icon of popular culture. First appearing on The Dick Van Dyke Show in the 1960s, the toy showed up over the years on Friends, Seinfeld, Murphy Brown, and The Daily Show. Variations of the original seem almost as popular as the real thing. Fortune-telling Magic 8 Balls feature Homer Simpson, the Muppets, Hello Kitty, and Japan's Gudetama, among others. Individuals can commission a customized version, and online editions respond to typed questions.
Millions of Americans have purchased their Magic 8 Balls during the last seven decades, yet the toy is still statistically gaining in popularity. According to one Internet survey, Magic 8 Ball ranks among America's 20 favorite toys from the 20th century. One humorist called it the "best decision-making model of the millennium." So, Magic 8 Ball, will you still be providing a fun glimpse of the future a hundred years from now? My guess is the answer floating to the surface might be "You may rely on it."