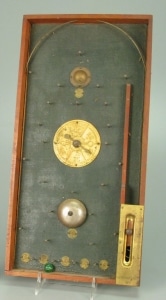 Pinheads (or pinball enthusiasts, to the uninformed) rejoice! On November 8, 2018, pinball joined the 67 other iconic toys and games inducted into The Strong's National Toy Hall of Fame. At its most basic level, pinball challenges players to use plastic flippers to control, aim, and fire a 1 1/16-inch stainless steel ball around a wooden playfield covered with objects and obstacles. It's no surprise then, that pinball descended from centuries-old bowling, marble, billiard, and bagatelle games that all required players to roll (or forcefully strike) a ball into objects across a playing field. The first modern pinball machines originated during the Great Depression of the 1930s. These glass-covered, countertop "pin games," which often featured fixed pins and scoring holes, were simple by today's standards. But these games nevertheless entertained millions of people and paved the way for today's dynamic, sensory-saturating pinball machines. But why does pinball deserve a place in the pantheon of playthings?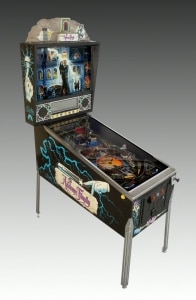 Pinball is iconic. A product of America's industrial past, pinball symbolizes the nation's technological ingenuity. In 1930s and 1940s pinball machines were mechanical marvels. Today, their thousands of individual mechanical and electronic parts work together in a symphony of physical and digital play. Even if you've never played pinball, the game's rectangular cabinet, sloped playfield, flippers, and metal balls are instantly recognizable. And to generations of people who grew up playing pinball, the sight of a game's eye-catching vertical "backglass"—often decorated with beloved superheroes, celebrities, or monsters—or the sound of a familiar "call out" (or sound clip) such as Gomez's voice from The Addams Family (1992) pinball shouting "Keep the ball I have a whole bucket full!" are invitations to play.
Pinball has enjoyed popularity over time and in various forms. Over the past nine decades, Americans played pinball in bars, amusement parks, arcades, restaurants, family fun centers, and other public places. Although, beginning in the 1930s, moral guardians fearing the spread of gambling and juvenile delinquency instituted pinball bans in major United States cities and the video game revolution of the 1970s and 1980s nudged pinball out of the public eye, the game never entirely disappeared. In fact, in the economic boom years following World War II, pinball machines remained staples of college dorms, bars, and home game rooms. Today, "barcades" run local and regional pinball leagues and tournaments and the International Flipper Pinball Association (IFPA) attracts more than 100,000 people to its events. But pinball has also thrived in other forms as nearly every home video game console since the 1970s has included a digital pinball game and one of the first computer games to allow players to create and customize their own in-game content was Bill Budge's Pinball Construction Set (1983). Child-sized pinball games made to fit into tiny hands or on tabletops also remain popular toys for licensers.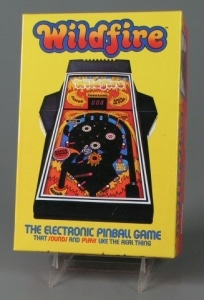 Pinball fosters learning and discovery. The game offers players the opportunity to enhance spatial awareness and sharpen their eye-hand coordination by shooting and tracking a steel ball through a miniature playground of ramps, pop bumpers, and interactive toys. Playing pinball requires quick thinking and reflexes, but it also rewards patience, persistence, and following and analyzing sophisticated rules and complex orders of operation. Although many players are happy to just keep the ball in play, the most skilled players strive to master an individual pinball machine, attempting to experience all the modes, levels, mini-games, and novelties the game has to offer. The Cardboard Teck Institute's PinBox 3000 has even turned designing, building, and customizing a cardboard tabletop pinball games into a fun way to learn math, science, engineering, and physics.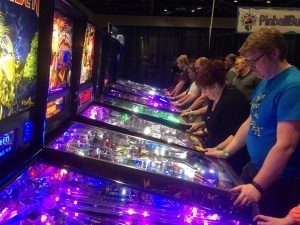 Pinball changed the way we play.  There's no doubt that pinball offered people new and exciting ways to play, but it also helped lay a foundation for video games. Steve Russell, a co-creator of Spacewar! (1962), one of the earliest computer games, described the dueling spaceship shooter game as "the most advanced, imaginative, expensive pinball machine the world has seen." Many early arcade video games such as Pong (1972), Pin Pong (1974), TV Flipper (1975), Breakout (1976), and Video Pinball (1978) asked players to hit digital balls with virtual paddles or flippers, much like pinball. Video game designers even borrowed from pinball's basic game structure of three balls and accumulating extra balls, translating it to "three lives" and "extra lives."
Today pinball enjoys renewed interest as a new generation of digital natives appreciates the physical, tactile, and kinetic game play that's easy to learn but difficult to master. In a digital age, Americans are just as likely to play pinball on their mobile phones or tablets as they are on a full-sized, mechanical-action machine that delights and immerses players with thundering sounds, electrifying light shows, and fast-paced play.