Mary Valentine, 
The Strong Museum Trustee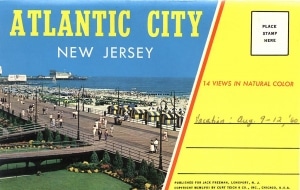 Most of us know the connection that Monopoly has to Atlantic City, but for me there's more to the story than just the board game. Now that June has officially kicked off the summer—and in some ways, it may not be the kind of summer we expected—this might be a good time to share some memories.
We didn't have Disneyland or Hershey Park or Six Flags when I was growing up in the late '50s in New York's Hudson Valley; but there was a place where my family and I would spend our summer vacation for two weeks by the sea.
Atlantic City was originally conceived as a health resort. Visitors were encouraged to take the railroad from the congested cities to the seashore, breathe in the fresh air, and bathe in the salt water. From the time I was about six years old, we would drive south on the Garden State Parkway, stopping at a Howard Johnson's on the way for fried clams, and arrive in Atlantic City a few hours later. Since we didn't have a lot of money to stay at a hotel, we stayed at Potts' Carolina Guest House, a large Victorian structure on South North Carolina Avenue which housed seasonal apartments. My mother, father, brother, and I, along with my Aunt Rene, always had the apartment in the back where every day my mom would cook breakfast. About noon, she would make lunches, pack them in our scotch plaid cooler, and we'd walk the several blocks to the beach, with me swinging my pail and shovel, so I could play in the sand once we reached our destination.
As we made our way down South North Carolina Avenue and got closer to the beach, we walked past large hotels facing the Atlantic. I remember seeing the Hotel Dennis, which started out as a two-room guesthouse in 1867. Chalfonte House was originally built in 1868, and Haddon House opened in 1869. Most of the old hotels and rooming houses were built in the 1860s. The Chalfonte and Haddon Hall Hotels were Quaker-owned and did not allow alcoholic beverages. All these great hotels with wonderful histories had one thing in common in addition to being gracious and stately. On each hotel's porch were high-backed rocking chairs in colors of green and white. Often there were guests gently rocking and their movement seemed almost to be in tune with the ocean waves crashing nearby. When I asked about them, my mother told me that was where rich people stayed.
In order to get to the ocean's sandy beach, pedestrians took a tunnel under the Boardwalk. Overlooking the beach, the iconic Atlantic City Boardwalk was originally introduced as a way to keep sand from being tracked into hotel lobbies. Several hoteliers and businessmen petitioned the city to construct a foot walk and the council members approved $5,000. The seaside walkway was made of boards and opened to the public on June 26, 1870. Twenty-five years later, Boardwalk was made an official street name in Atlantic City, and as such, Boardwalk is always capitalized when referring to the street in Atlantic City. The original boardwalk was eight feet wide, one mile long, and stood approximately one foot above the sand, and was removed and stored at the end of each year.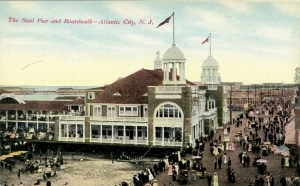 Later versions of the Boardwalk were more permanent, with the last one constructed and dedicated in 1896. In the years since, parts of it have been destroyed by hurricanes, including the one in 1944 that destroyed more than half the Boardwalk. Over the years, the Boardwalk has been reconstructed to provide better access and stability. The herringbone pattern dates from 1916 and its deck is made of specially treated yellow Southern pine with Douglas fir joists. Since 2001, Brazilian wood has been used to replace damaged planks. The present-day Boardwalk is more than four miles long, 60 feet wide at its widest, and 12 feet above sea level at the highest point. 
Some mornings, my dad and I would walk to the Boardwalk, rent bicycles for 50 cents an hour, and ride the entire length. It was quiet at 6 a.m. and you could enjoy the salty sea breeze as you peddled for about 3 hours before people began strolling the Boardwalk.
At the beach my brother and I would play in the sand and stick our toes in the water with a parent nearby, and then race back to our chosen place on the sand which my father had carefully covered with an old vintage chenille bedspread my mother had brought from home. After hours of digging in the sand and "wading," we would gather up our belongings and head back under the Boardwalk to Potts', where we would rinse off all the sand we'd accumulated at the outdoor shower. Then it was rest time before the evening activities began.
About 5 p.m. we would venture back to the Boardwalk where we would see Mr. Peanut, the mascot of Planters Peanuts, who stood outside with a cane, motioning folks to come in to sample the flavorful freshly roasted nuts (still warm!) which sold for five cents a bag. We passed Fralinger's where they were making salt water taffy and lingered in front of the glass window to watch the sweet, sticky candy take shape (they began offering the sweet treat in 1885). We'd continue on until we came to a shop where we'd buy a Taylor Pork Roll sandwich. The company was founded in the mid-1850s and had several shops along the Boardwalk. This delicious processed pork product was made with a mixture of spices, salt, sugar cure, and preservatives and smoked before being packaged. It was served on a fresh, soft roll that resembled a hamburger bun. This was usually our dinner of choice, served up with a side of coleslaw—pure heaven.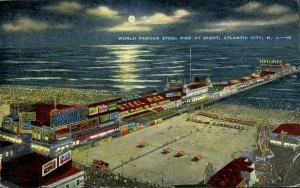 After our supper, we would walk the Boardwalk, headed to the Steel Pier. Built by the Steel Pier Company and opened to the public on June 18, 1898, the structure rested on iron pilings, using a concrete understructure with steel girders. Originally constructed as a theater, the Steel Pier expanded over the years to include attractions, rides, and exhibits, earning its name as the "Showplace of the Nation." Among those attractions were the Diving Bell, the Water Circus, and perhaps the most famous, the Diving Horses.
Rolling chairs, which were introduced in 1876 and in continuous use since 1887, have been a Boardwalk fixture to this day. While powered carts appeared in the 1960s, the original and most common were made of wicker. The wicker canopied chairs-on-wheels were manually pushed the length of the Boardwalk by attendants, much like a rickshaw. It was always a dream of Mom's to ride in a rolling chair, but we couldn't afford it.
At least once or twice during our stay, however, we would go to a real restaurant on the Boardwalk that served great seafood. Hackney's, which opened in 1912 and held 3,000 patrons, was quite impressive. The menus all had the same message at the bottom: "This is your menu. You may take it with you." It offered an assorted seafood platter (fried shrimp, oysters, scallops, fish, deviled crab, with French fries, biscuits, and a beverage) for $2.25. At Capt. Starn's, which opened in 1940 and in its heyday served 2,000 meals a day, you could get French onion soup for four cents a cup and huge platters of seafood. A fried scallop platter with French fries and coleslaw was $2.50, deviled clams were $2.45 and a fried fresh shrimp jumbo platter was $2.50.
After a lovely evening on the shore, we would walk back to Potts' and I would turn in for the night, exhausted but with dreams dancing in my head of returning to the joys of Atlantic City the next day.
Updates/Epilogue:
The Hotel Dennis is still an active hotel and is part of Bally's.
The Chalfonte and Haddon Hall Hotels underwent many reconstructions during their lifetimes. Both properties were bought by Resorts International and turned into the Resorts Casino Hotel, the first legal casino outside of Nevada in the United States when it opened on May 26, 1978.
Taylor Pork Roll shops on the Boardwalk have all closed, but the original Taylor Pork Roll is available on Amazon, still sold in the old-time canvas sacks!
Capt. Starn's closed in 1979, during the heyday of casino building and was bulldozed in 1992.
Hackney's was sold to outside owners who operated the restaurant into the early 1980s, shut it down, then sold it in 1993. The new owners announced an ambitious renovation, but it never reopened and was demolished in the late 1990s.
Fralinger's still operates on the Boardwalk.
The Steel Pier continues to operate as an amusement park today.
In 1970 shortly before her death, my mother, brother, and I returned to Atlantic City and my mother finally got to ride in a rolling chair.