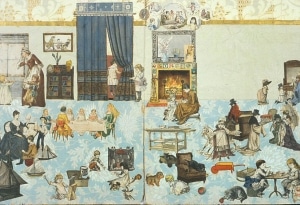 Today, with the plethora of home improvement shows and lifestyle blogs, many of us want to create stylish rooms, but we do not always have the necessary resources to revamp our living spaces. While many of us are still practicing the art of social distancing, it might be fun to pull old catalogs from the bin, collect some scraps of fabric or textured paper, and grab an old notebook to make into scrapbook doll house.
At the end of the 19th century, children and adults used scrapbooks to design paper doll houses. The first page of many scrapbook houses served as front doors. The adjoining pages often presented the front hall, kitchen, living room, and bedrooms. Crafters cut tiny windows in the pages to provide a glimpse into the following room. A paper doll's house scrapbook in the museum's collections is inscribed Emilie P. Hickey. The scrapbook contains six double-page spreads of room interiors including two parlors, a bedroom, a dressing room, a man's room, a trunk room, and a nursery. Elaborate window treatments, ornate wallpapers, and overstuffed chairs are made with the help of glue, scissors, pencils, textured papers, pictorial scraps, and catalogues.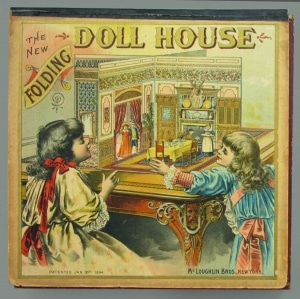 Scrapbook dollhouses soon inspired publishers. The McLoughlin Bros. published The New Folding Doll House around 1875. The cardboard folding dollhouse is covered with chromolithographed paper to resemble various rooms including a parlor, dining room, bedroom, and kitchen.  Directions for opening and closing the house are printed on its exterior. In 1905, Frederick. A Stokes published The House That Glue Built by Clara Andrews Williams and illustrated by George Alfred Williams. Paper dollhouses proved inexpensive to produce, lightweight, and easy to store.
Paper dollhouses foster an understanding of geometry and spatial environment. Paper engineer Margaret Bateson recently created the Pop-up Dollhouse Book, an illustrated dollhouse that flaunts two stories and eight rooms. It includes paper dolls and antiquarian decorations, including an extravagant grand piano, tufted settee, chandeliers, and an armoire. Artist Nathalie Lété's Dollhouse for Mon Petit Art unfolds into a spectacular space of brilliant colors, floral designs, and charming details. It provides an opportunity to aesthetically train the eye.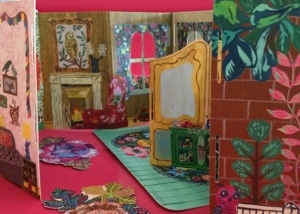 I often wonder if the interior of a home matches the period presented on the exterior. Or how a storefront would look if they added a striped awning, used a washed-out paint finish against a mostly glass door, or put an unexpected pop of color in a window display. Scrapbook dollhouses provide a glimpse into a private life and a different time in history. As interior designer Charlotte Moss observed, "There are two things that make a room timeless: a sense of history and a piece of the future." It's certainly an interesting time to preserve our history.