Steven Dashiell, 2019 Mary Valentine-Andrew Cosman Research Fellow
PhD candidate, University of Maryland Baltimore County
My dissertation concerns the discourses of male student veterans, examining their discourses concerning their perceptions of marginalization on campus. However, I have always had an interest in research surrounding gaming, specifically the newer games of strategy that fall into the categories of role-playing games (RPGs) and collectible card games. I am fascinated by how players interact and interface with each other while they are engaged in the game. My fervent desire is to continue my gaming research after completion of my PhD, and further sociological research into the nature of analog games.
My research centers around a sociological analysis of the space where language and gender meet. What are the ways we socialize men and women to use language differently, and how does that come out in how they express themselves? While language researchers such as Deborah Tannen, Robin Lakoff, and Scott Kiesling have theorized about the different ways men and women use language, research hasn't yet drilled down what those differences in language expression can look like and what type of effect these differences might have. Moreover, when we look at language in subcultures dominated by one gender, how are individuals affected? The lion's share of my research examines language in specifically male dominated subcultures, and I've been interested in how these subcultures, as they become more diverse with the inclusion of larger numbers of women and other populations, shift their language patterns or demonstrate resilience, requiring the new groups to adapt.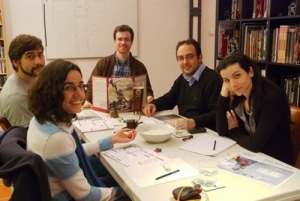 One area of particular interest for me centers on role playing games such as Dungeons & Dragons. For more than 40 years, role playing games have been a popular gaming space that many have considered a "male preserve," a space where men dominate and the cultural practices match expectations of behavior by men. I've been interested in how people communicate at the game table and how what Scott Kiesling calls "masculine discourse" dominates. While ethnographic research is an excellent way to get information on the nature of language in the game, I was interested in alternate ways to look at original texts surrounding the game and whether the discourse we hear at the table permeate game writings.
Almost since its founding, the game Dungeons & Dragons has benefited from the existence of Dragon magazine. Originally started by the games' creators as a newsletter to clear up rules issues and provide more information on upcoming products, Dragon evolved into a full-color glossy magazine with articles, artwork, and original columns by men and women who grew to be some of the bigger names in the role playing world. Given that the magazine survived for nearly 30 years (and 350 issues), Dragon represented conversations going on in the gaming world and could elucidate some of the discussions that occurred in the voice of the participants at all levels.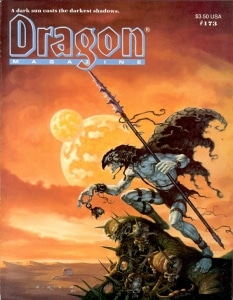 I applied to the Strong for a fellowship specifically to look at issues of Dragon. My research question is ambitious: to what degree do aspects of masculine discourse exist in Dragon articles specifically designed as "advice" to players and game leaders (referred to as Dungeon Masters or DMs)? I wanted to focus on advice because, unlike fiction or discussions of rules, there is more likely to be a colloquial nature to the articles which would reveal more of the author's (or editor's) voice. Moreover, a host of research indicates that men engage with advice sources and columns differently than women do, and so I wanted to see if there was a more authoritative sense (which I refer to as a paternalism) to these articles.
My week of research exceeded my wildest dreams. I was given access to the dozens of issues of Dragon, and the librarians supplemented my request with other sources they thought could be useful. There was a rather emotional moment when I realized I had requested issue 130 of Dragon; I didn't realize when I requested it that it was the first issue of Dragon I ever read as a young role player. I experienced a wave of nostalgia as I remembered my shaky hands holding that magazine as a pre-teen, now holding the same magazine—decades later—as a doctoral student and researcher.
My experience at The Strong proved extremely worthwhile. My goal was to use this research for my presentation at the Midwest Popular Culture Association's 2019 meeting in Cincinnati, and to eventually turn my findings into a paper for publishing in Games & Culture. I am thrilled to say thanks to the Strong. Not only did I complete all the necessary research during the week, but I was also able to finish 75 percent of my journal draft. The motivation I received from being at such an amazing resource surrounded by fellow researchers was intoxicating, and I found myself driven to put idea to paper.
The research fellowship program at The Strong is a fantastic resource that any games researcher should consider. The holdings create an opportunity unmatched by any other museum in the world, and I am honored to have this opportunity to further my research. I will remember my time here fondly, and as a distinct point at which my research acumen grew.