Born in racially segregated South Carolina in 1948, Louvenia (Kitty) Black Perkins grew up playing with white dolls gifted by her mother's employers. In the 1960s, Black Perkins attended an all-black school, Carver High School, where she excelled in art. Upon graduation, she received the gift of a trip to visit her aunt and uncle in California. There Black Perkins put her name on a wait list for commercial art classes at Los Angeles Trade Technical College and, in the meantime, took a fashion design course. The class proved a good fit for the budding designer—she had sewn many of her own outfits as a teenager.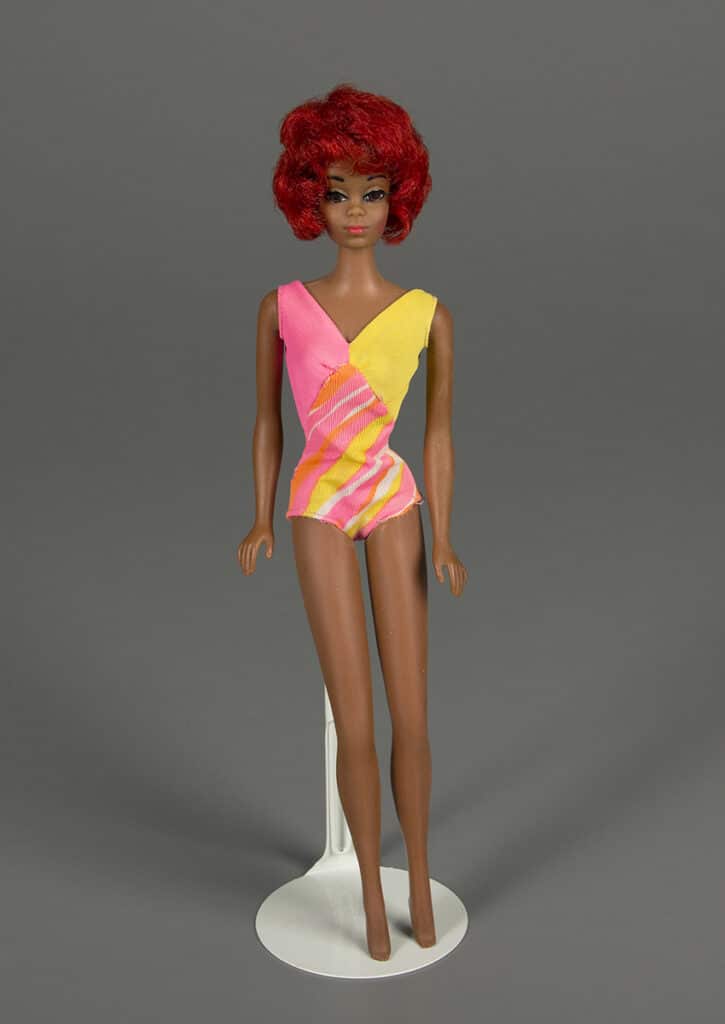 Graduating in 1971 with an associate degree in fashion design, Black Perkins worked in the fashion industry designing children's clothing and sportswear that could be purchased at major retailers such as Bloomingdale's, J. C. Penney, and Sears. While living paycheck to paycheck with little opportunity to break into the industry, she responded to a blind newspaper ad for a clothes designer in the summer of 1976. In actuality, the ad had been placed by Mattel and Black Perkins was called back for an interview.
In preparation for her interview, Black Perkins, now in her late 20s, purchased her first Barbie doll. During the interview, Mattel asked her to take a Barbie home and to bring the doll back in a week with a new wardrobe. Black Perkins hand-sewed a floral print voile jumpsuit with tiered legs and puff sleeves, and a matching wide-brimmed hat. Mattel found the outfit too elaborate and expensive for mass production, but Black Perkins persuaded them to give her an opportunity. Within a month, she was a permanent employee, creating classic silhouettes and haute couture for Barbie.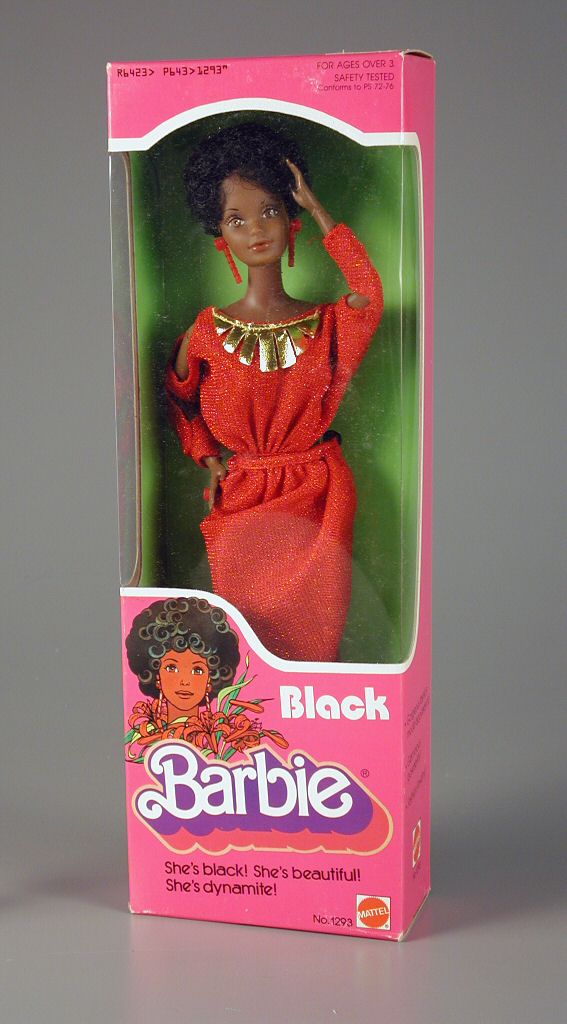 From the outset, Barbie played the role of fashion trendsetter, but she lagged behind the times in reflecting the diversity of the American population. When introduced in 1959, Barbie became an instant best-seller with Baby Boom girls. However, she initially only came in fair-colored skin tones. As civil rights protests roiled the country, critics chided Mattel for not representing the way more Americans looked. It took until 1969 for Barbie to get an African American friend, Talking Christie. But it would take another decade for a black Barbie to reach consumers.
At Mattel, Black Perkins's earned an assignment in 1979 to create an outfit for the first black doll to be named "Barbie." Black Perkins created an outfit for "Black Barbie" that was meant for the spotlight. Barbie wore stud hoop and dangle earrings, a bold modernist necklace, and a fabulous red bodysuit with a wrap-and-snap disco skirt. On the doll's box, Mattel touted, "She's black! She's beautiful! She's dynamite!" This new Barbie incarnation met with mixed reviews, but she represented one of the first attempts of a major toy company to reflect black pride.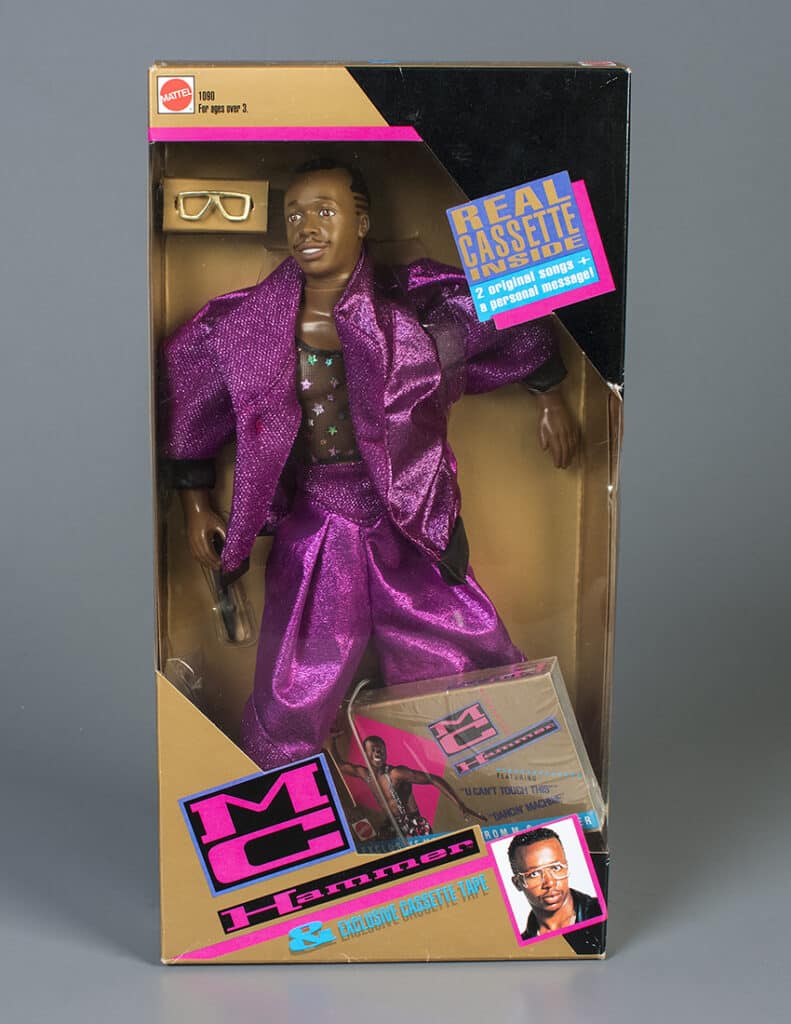 Black Perkins soon became chief designer of fashions and doll concepts for Mattel's entire Barbie line. She was responsible for creating more than 100 designs a year for more than a quarter century. Some of her other notable designs included the Brandy doll, Fashion Savvy Collection, Bath Time Barbie, Tangerine Twist Barbie, Uptown Chic, and Dance with Me. Aside from Barbie dolls, she worked on Shani & Friends, Mattel's first exclusive line of black dolls, and MC Hammer, among others.
Like many females, Barbie is often subjected to a critical eye. Black Perkins understood that Barbie was a fashion doll with clothes she described as "designed to have a lot of play value." As revealed throughout her career, Black Perkins not only possessed a sharp sense of fashion, she also demonstrated a keen understanding of fantasy and pretend play. Want to see for yourself? The first black doll to be named Barbie is now on display in The Strong's Play Pals exhibit.
By Michelle Parnett-Dwyer, Curator