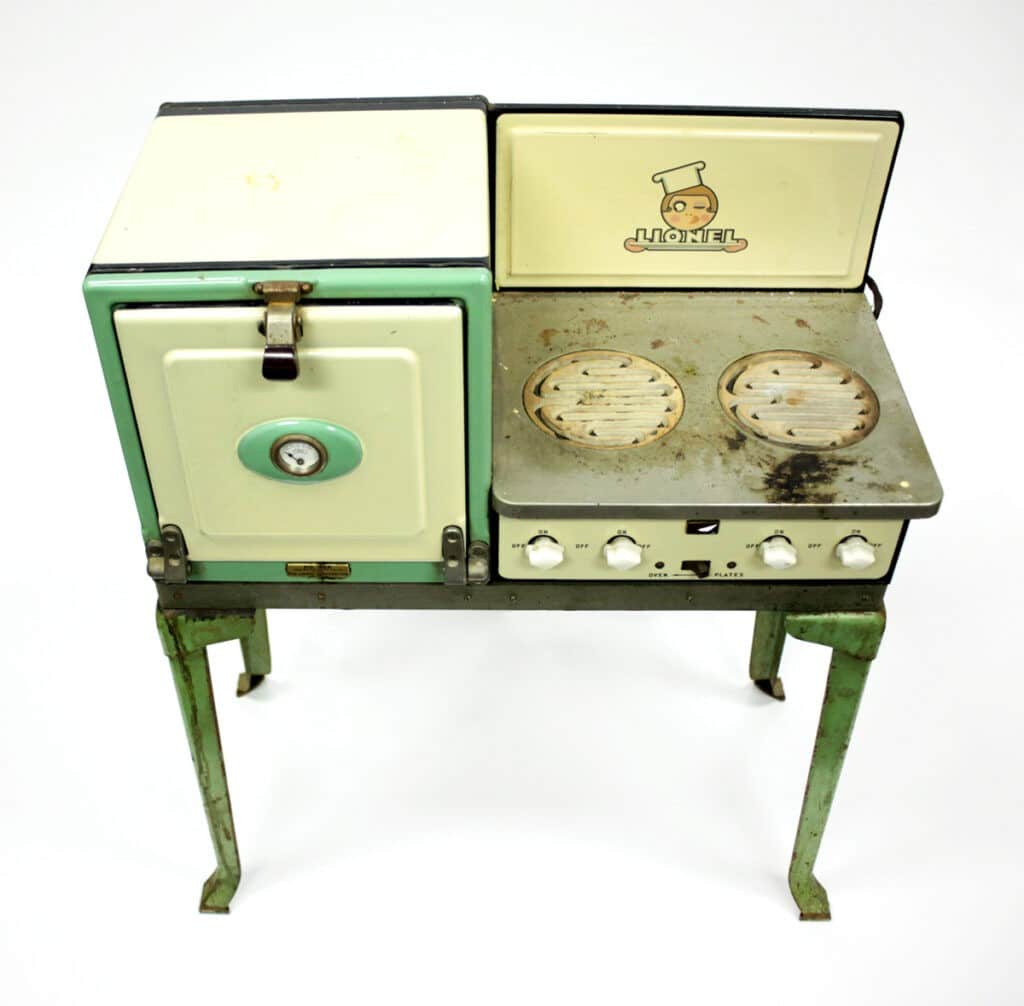 Recently, my six-year-old son has taken an interest in learning to cook. For years, he played happily with his toy kitchen, concocting elaborate and dire sounding dishes (broccoli and pineapple soup, anyone?). Now he wants to cook like Daddy. Perched on his stool next to my chopping block, he's been learning how to use a chef's knife safely—fingertips curled under, thumb tucked behind the fingers. Watching the little guy carefully chopping potatoes and carrots makes me inordinately proud, and makes his mother very nervous. But it's not like I'm letting him do something really dangerous—like cooking on the stove. There are, after all, limits.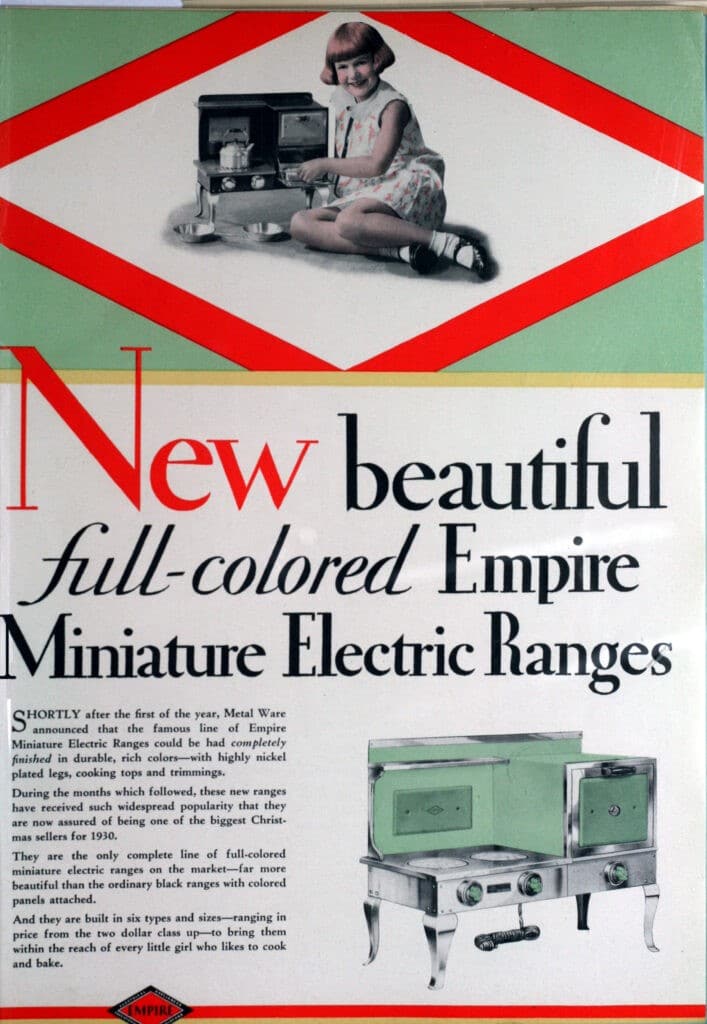 Parents have been giving their kids toy stoves—many of which may look a bit dubious to a hyper-vigilant 21st-century parent—for more than a century. Cast iron toy stoves allowed kids to cook with coal and alcohol burners before electric toy stoves appeared around 1924. Marketed under trade names such as Little Lady and sold as "just right for tiny girls," the basic design of electric toy stoves remained the same until World War II tin and steel shortages put a temporary end to the trade.
Like their cast iron ancestors, electric toy stoves were typically small—not much more than a foot high with ovens five or six inches square. They featured wire coil burners hot enough to cook pancakes on diminutive griddles. Some of the earliest, produced by Empire Metal Ware of Two Rivers, Wisconsin, had oven thermometers calibrated up to 500° F. Later versions sported only "cool, BAKE, hot" dials, but these stoves could still "really cook." In 1930, Empire introduced an enameled stove that resisted the tendency "to crack and peel when subjected to high temperatures."
Few toy ranges can rival the one produced by Lionel (better known for its electric trains) in 1930. Twice the size of others in its class, the Lionel range stood two feet tall with a cooking surface just the right height for six- to nine-year-olds. It had a ten-by-ten-inch oven; four electric-coil burners similar to those on modern, grownup electric stoves; and was constructed "as substantially as the one Mother uses." Perhaps it proved a little too substantial. By 1931, shortly before Lionel discontinued it, an advertisement proclaimed the stove as ideal for apartments or kitchenettes—the company wasn't selling it as a toy anymore.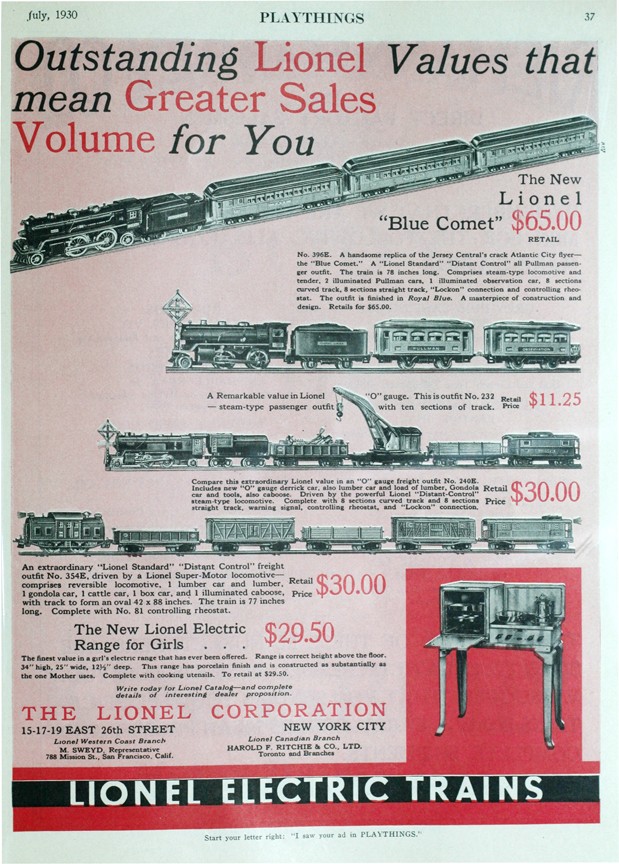 In the 1950s, a new generation of mini stoves hit the market. These toys came with an array of prepackaged cake, cookie, and pancake mixes in tiny boxes suitable for little hands. They resembled modern stoves and still got hot enough to bake cakes in their fiberglass-insulated ovens. But the postwar Little Ladies and Suzy Homemakers had plastic cabinets and less robust burners than their prewar cousins. They looked positively tame compared to the stoves of the 1930s, but apparently not tame enough. In 1963, toymaker Kenner rolled out the Easy-Bake (née Safety-Bake) Oven.
The Easy-Bake, with its 100-watt light bulb and sealed cooking chamber, changed the way children played with food and cooking. Although its turquoise plastic cabinet resembled a stove top-oven combination, its construction required junior cooks to send pans of cake batter into the oven via a side-mounted rack and push them out the other side when they were done. Safer than its predecessors, the Easy-Bake Oven inspired several generations of imitators which tried to top its safety claims. Promising "hands off" cooking, competitors added thermostatic locks and paddles to push the cooking pans in and out of their versions. Within five years of its introduction, the Easy-Bake Oven and its lookalike competitors supplanted all other toy stoves in Christmas catalogs.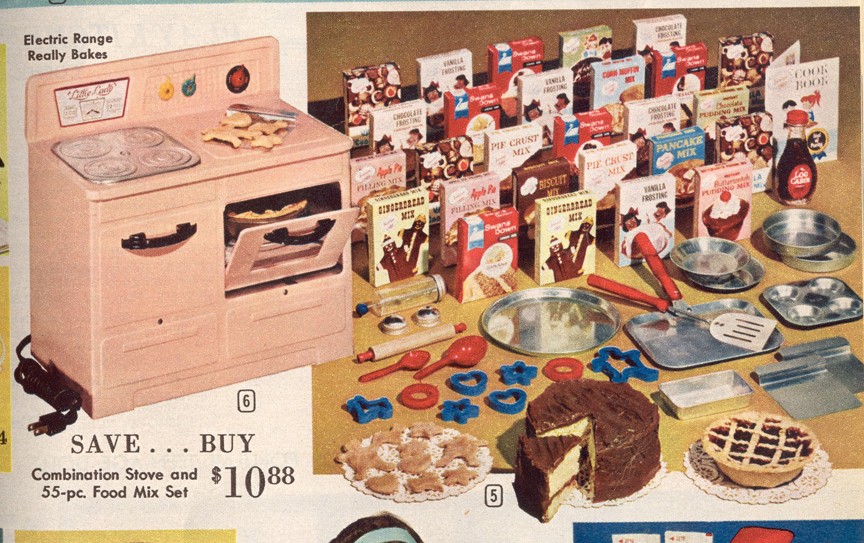 Hasbro recently discontinued the current version of the Easy-Bake Oven since Federal energy conservation regulations will phase out the 100-watt bulb in 2012. The fact that incandescent bulbs generate more heat than light made them perfect for the Easy-Bake, but not so great for energy efficiency. Something will undoubtedly replace the Easy-Bake Oven, but it's worth asking what that will be and what parents will do in the interim to satisfy their kids' desire to cook. Me, I'm going to carry on with my son's kitchen training, watching him like a hawk whenever he has that chef's knife in hand. And when he's ready, I'll teach him how to sauté.
By James Leach, Archivist