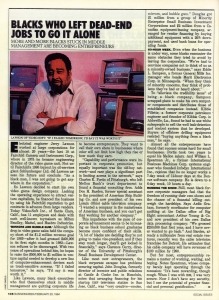 By 1980, Jerry Lawson was ready for a change. The 40-year-old electrical engineer had spent most of the 1970s working for Fairchild Camera and Instrument Corporation in Silicon Valley. In 1976, he led a team of talented engineers who took an Alpex Computer Corporation prototype and developed it into the Fairchild Channel F, the first home video game console to use interchangeable game cartridges. Although revolutionary in concept, the Channel F was quickly eclipsed by another cartridge-based console in 1977, Atari's Video Computer System (VCS, renamed the 2600 in 1982). In 1979, oilfield services company Schlumberger bought Fairchild, sold the rights to the Channel F to Zircon International, and closed the game division. Following this company upheaval, Lawson considered his options with Fairchild. Reflecting on this period later, he told Business Week in February 1984, that he realized that, "As a black man I was not going to get anywhere in the corporation." In May 1982, Lawson created his own opportunity, founding and incorporating Video Soft in Santa Clara, CA—likely the earliest Black-owned game development company. Because the company's games were canceled in the wake of the video game market crash and recession of 1983–1985 and it ultimately shut its doors in the middle 1980s, Video Soft remains a footnote in video game history. But its all too brief story is an important part of a history that has often privileged the stories of companies that survived or emerged from this industry downturn.
In the 1970s, Fairchild, Atari, Magnavox, and other companies that manufactured home video game consoles also created all the games played on their systems. Third-party developers (or independent game development companies) did not exist for the console market until a group of ex-Atari designers founded Activision in 1979. In order to create games for the 2600, Activision had to reverse engineer the system. They also hired Howard Mullin, the same plastics expert who worked on Atari's cartridges and former Fairchild engineers Ron Smith and Nick Talesfore to design Activision's cartridge in a way that carefully bypassed Atari's patents. Nevertheless, in May 1980, Atari accused Activision of stealing trade secrets and sued the company for $20 million. During the lawsuit Activision tapped Lawson as a potential expert witness to show that he could reverse engineer the 2600 and write games for the system. In December 1981, the companies settled the lawsuit with Activision agreeing to pay royalties to Atari. By that time, Activision had already released several popular games, but the agreement opened the floodgates to other third-party game developers like Lawson, who took what he learned about Atari's console and applied it to a new venture, Video Soft.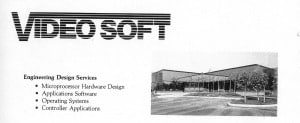 The home video game market exploded in the early 1980s. Video Soft joined dozens of independent game companies, including Activision, Data Age, Games by Apollo Inc., Hi-Toro (later renamed Amiga Corporation), Imagic, Tigervision, and US Games, in developing games for Atari's popular system. Lawson moved quickly to form his company, hiring former Fairchild colleague Stephen M. Yeung as Vice President and Chief Engineer and Daniel F. McElroy as Director of Programming and Senior Designer. McElroy worked closely with Lawson and Yeung on new product development while he also managed the company's small group of fulltime and freelance designers and programmers. Unable to attract venture capitalists to invest in Video Soft, Lawson leveraged his reputation from Fairchild to secure initial game design contracts that helped the company gross $400,000 in 1982. But competition continued to grow. As Lawson told Black Enterprise magazine in December 1982, the "home videogame field is already crowded and may soon be saturated."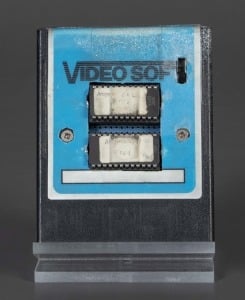 In 1982 and 1983, Video Soft worked on nearly a dozen Atari 2600 game projects—most for publisher Amiga, who sold Atari peripherals and games to raise money for a not-yet-public home computer project. Video Soft's first game, Atom Smasher, challenged one or two players to shoot atomic particles out an arena's doors while dodging the moving particles themselves. The object of another game, Scavenger Hunt, was to run from house to house collecting items while avoiding tripping hazards and angry dogs. The company designed the first-person jet shooting game S.A.C. Alert and the sound and color matching game Off Your Rocker to be played on Amiga's Joyboard foot controller. The submarine shooting game, Depth Charge, was to be played through modems connecting one player as submarine captain with another player who commanded an enemy destroyer. The company produced the game for Amiga's planned, but never released Power Module. Video Soft also developed a series of innovative 3D games designed to be played with traditional blue and red-colored 3D glasses. Players hunted ghosts in 3D Ghost Attack, blasted asteroids in the space shooter 3D Havoc, and controlled a giant scorpion in the insect shooter 3D Genesis. These 3D titles were all to be published on a single cartridge as part of Amiga's planned Power Play Arcade. Unfortunately for Video Soft, none of these games—nor the other games they developed—made it to retailers.
As the market for console video games plummeted in 1983, so did Video Soft's fortunes. As McElroy told me, when you factored in the custom plastic cartridge case, circuit board, and PROM (Programmable Read Only Memory) and EPROM (Erasable Programmable Only Memory) chips, production costs stood at nearly $10.00 per game. When the retail price of games dropped to $10.00 or even $5.00 each, there was no way to make a profit. In 1984, the ailing company released the novel Atari 2600 Color Bar Generator utility cartridge to a limited audience of television repair shops and electronics enthusiasts. They also crafted a new business plan and continued to develop ideas for computer hardware, applications, and electronic products, including an exercise bike game for the Atari 2600, an electronic car mileage tracker to use for tax purposes, and a touch screen computer workstation. But Video Soft had invested much of its game development efforts into Amiga, who was focused on the home computer market and had their own financial struggles. They would become a subsidiary of Commodore in 1984 and release the Amiga computer in 1985. Lawson, as he suggested in his 1984 Business Week interview, also underestimated the lack of access to capital for a Black-owned technology firm. As potential investors tightened or closed their wallets, it proved difficult for his company to raise the money needed to pivot from video games or to weather the recession. Lawson ultimately shut down his business in the middle 1980s and worked as a consultant engineer for the rest of his career.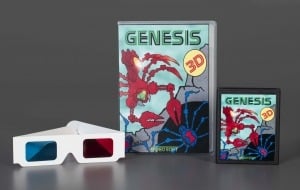 Although Lawson is most often remembered for his significant achievements at Fairchild, his work at Video Soft requires more careful consideration by game historians and others committed to a more inclusive history of video games. Luckily for us, in December 2010, Scott Stilphen at Digital Press, released six of Video Soft's finished and unfinished prototype games, including Atom Smasher, Depth Charge, S.A.C. Alert, 3D Genesis, 3D Ghost Attack, and 3D Havoc in a small batch of 100 cartridges each. The Strong cares for copies of these games as well as original Video Soft company documentation as part of the Gerald A. "Jerry" Lawson Papers.
Interested in learning more about the history of Black game developers? Check out: "Video Game History is Black History."