I previously blogged about some Japanese Super Nintendo video games I had cataloged during my first few months as Curator of Electronic Games. Reflecting on my own memories of playing Super Nintendo and other systems of that generation and seeing the Japanese games I was cataloging, I recognized that many genres popular overseas often did not make it stateside.
The Sega Saturn was immensely popular in Japan, its library totaling more than one thousand games. By contrast, the American Saturn library saw fewer than a fourth of those titles. Most of the games released in America were Sega arcade port titles, while many of the more unique games never left Japan.
One of the biggest selling genres for the Sega Saturn were simulation games, more specifically, dating simulators. While simulation games have long had a place in Western gaming, it wasn't really until The Sims that "daily life" simulators became mainstream. In Japan however, this subgenre as well as the more love genre enjoyed a reign of popularity long before the early 2000s boom.
These games typically followed one of two patterns: one in which you are the playable main character attempting to win the heart of one of many NPCs (non-playable characters), or the other scenario in which the main focus is not spread across a group of potential love interests, but is instead solely placed on a singular central character. The latter style is more typically story driven, while the former games are more about resource management. Time is crucial to these games, as usually you're a student who is managing schoolwork, part-time work, family life, friends, and your own physical health, as well as winning the affection of various girls or a singular girl.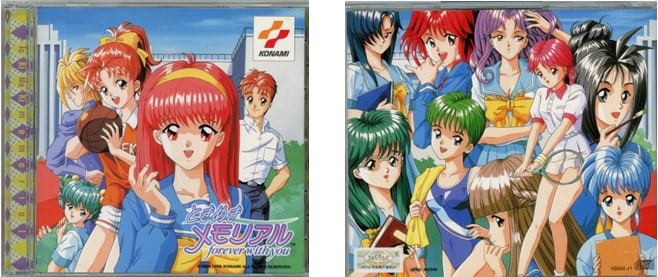 Originally sold on the PC Engine video game system in Japan, Tokimeki Memorial remains one of the foundational games of the genre, with influence that still lives on today. The Sega Saturn and PlayStation versions sold exceptionally well in Japan, and by 1996 more than a million copies had been sold. By the mid-1990s, the dating sim genre was already well established in Japan, especially by PC gamers, but what Tokimeki Memorial managed to do was allow a highly niche genre to cross over into casual gaming and introduce the dating sim to thousands of new players. Included with the game was a calendar which allowed players to plan out well in advance how to manage school life with dating life. The non-linear gameplay Tokimeki Memorial offered, in an age where most story driven games were on rails (with brief recesses, if that, for sub quests), made the game endlessly replayable, as well as the quintessential gateway dating simulator game.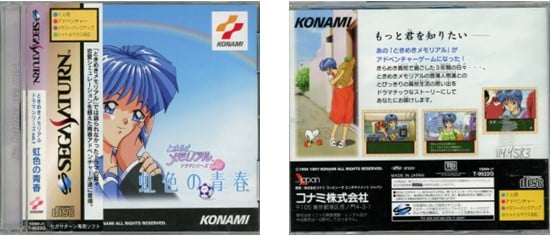 Spinoff games that focused on a single girl became more popular during this time, as can be seen by the Tokimeki series spinoff focusing on Saki Nijino, the high school's soccer club manager. These spinoff games take a character from the original game and expand the focus to be solely on her. Popular side characters would get featured. Nijino was the second most popular character of the original Tokimeki Memorial game, second only to the "main girl," Shiori Fusjisaki (the redhead on the original game's cover).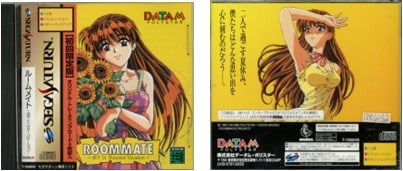 Another game following this trend of focusing on a single woman is Roommate ~Ryouko in Summer Vacation~. The game takes place during summer 1997, when Ryouko is returning from abroad to spend her summer vacation in Japan. The gameplay is a mix of the visual novel genre with choices present along the way that can strengthen your relationship with Ryouko.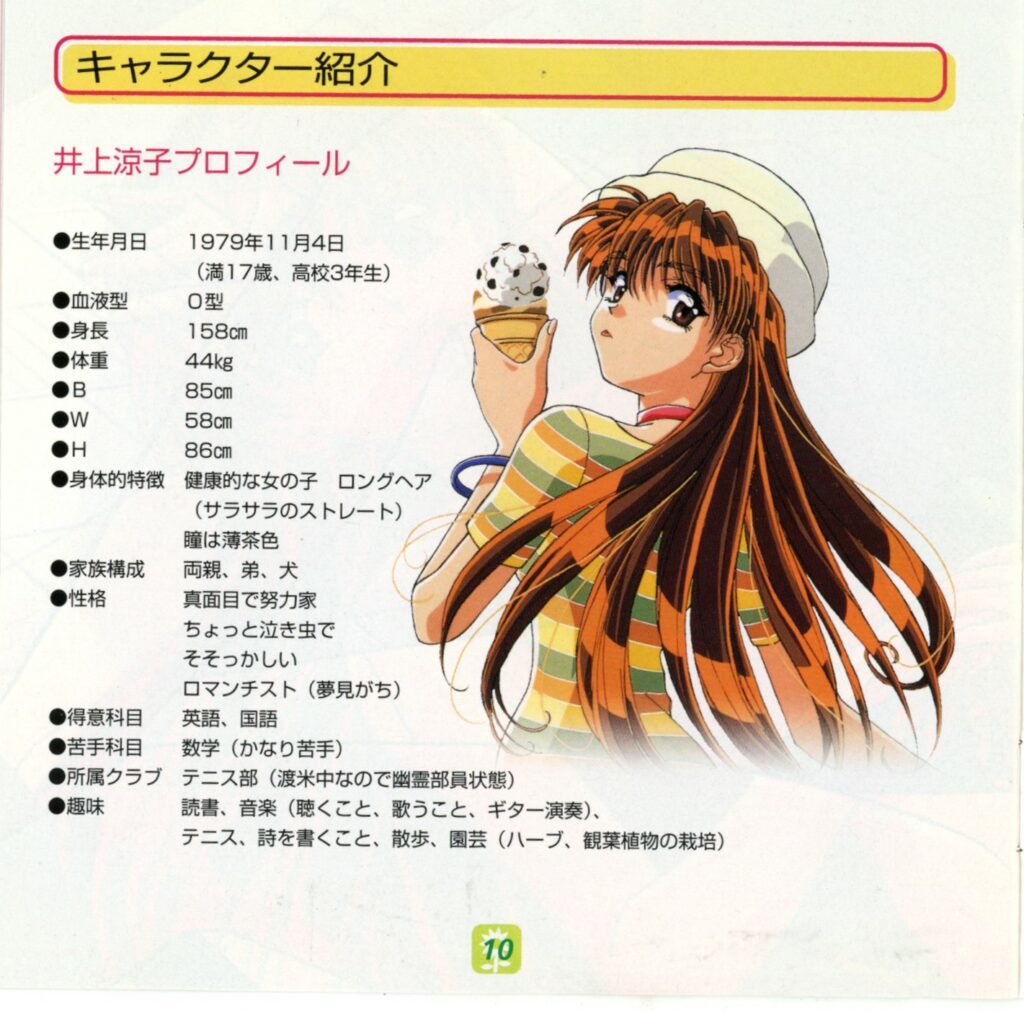 The standard flavor of dating sim, where multiple options of pursuable women exist often require planning to get the result you want. In Tokimeki Memorial, each girl has set criteria—having a high athletics score, looks, artistic skills, and the like—that you need to meet to be able to officially date her at the game's end. Much of this is intuitive because, through interactions with the different girls, you learn what is important to them and, if you want to pursue them, it's easy enough to focus on those areas. For gamers that want more pointed advice, guides were sold alongside the game that informed gamers of the optimal choices to get the desired ending.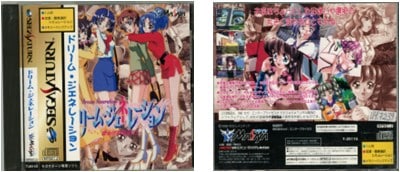 Games like Dream Generation Koi ka?! Shigoto Ka?! (Dream Generation, Is it Love? Is it Work?) took this resource management aspect to another level. In addition to the dating sim aspect, there is a job system in place. Balancing work life with dating life, as well as managing stamina (your health bar) adds another level of complexity, and it also changes up the usual school setting that dominates this subgenre of games. In Dream Generation, through the right set of actions, you can become a film director, professional golfer, gambler, waiter, or lecturer, for instance.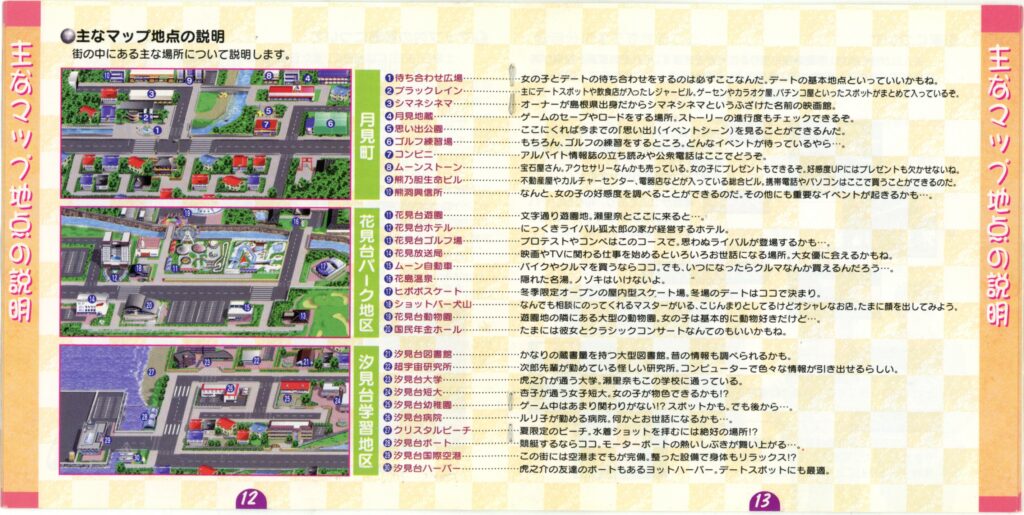 All of the shops in the game have set open/close times. To unlock certain job trees, you'll need to activate events present in those areas. Dates take place across town as well. A date at the burger shop costs 2,000 yen, while sushi runs 14,000 yen. Cheaper options include the tea shop or the park, both of which run under 800 yen. Eventually, with a good job, you can even afford better housing which in turn can give you better passive abilities and overall health. Housing options range from a box (yes, really), which has no electricity, no phone, and -100 health penalty per day, to an apartment which gives you a phone, and +2 health, to a high class mansion which is a booster +6 health.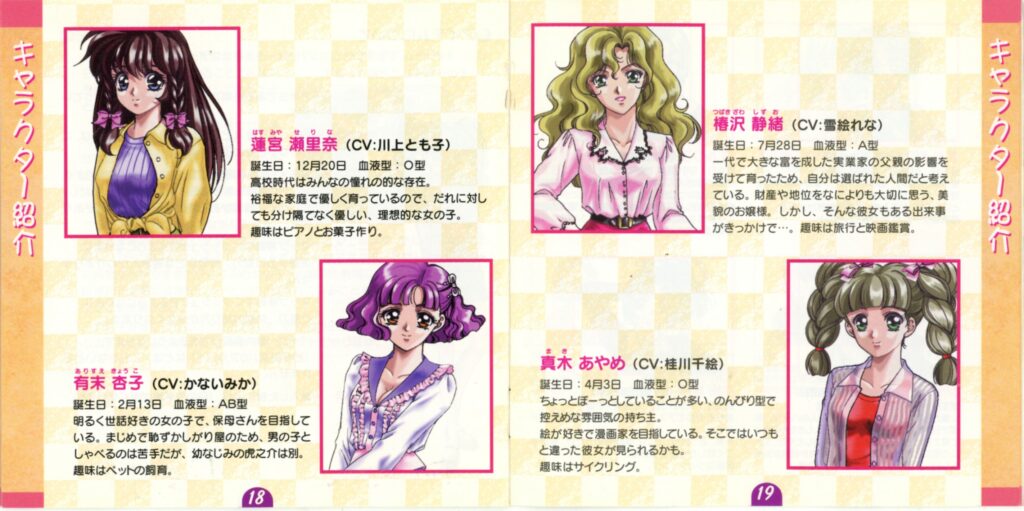 Another common inclusion to character bios is the listing of the voice actor, as can be seen above (in the bolded text next to the pink text with the character's name). Of course, birthdays and blood types as well as general information on personality is included here as well.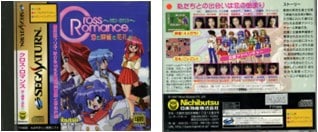 As the dating sim genre grew, more crossover games were made. Cross Romance: Koi to Mahjong to Hanafuda to (1997), features a cast of pretty mahjong players who you can get to know in one-on-one talks in between mahjong games and tournaments.
As the genre proliferated, the cast of wooable characters often became the selling point that differentiated between titles. For example, in Ayakashi Ninden Kunoichiban, the girls in question are ninjas.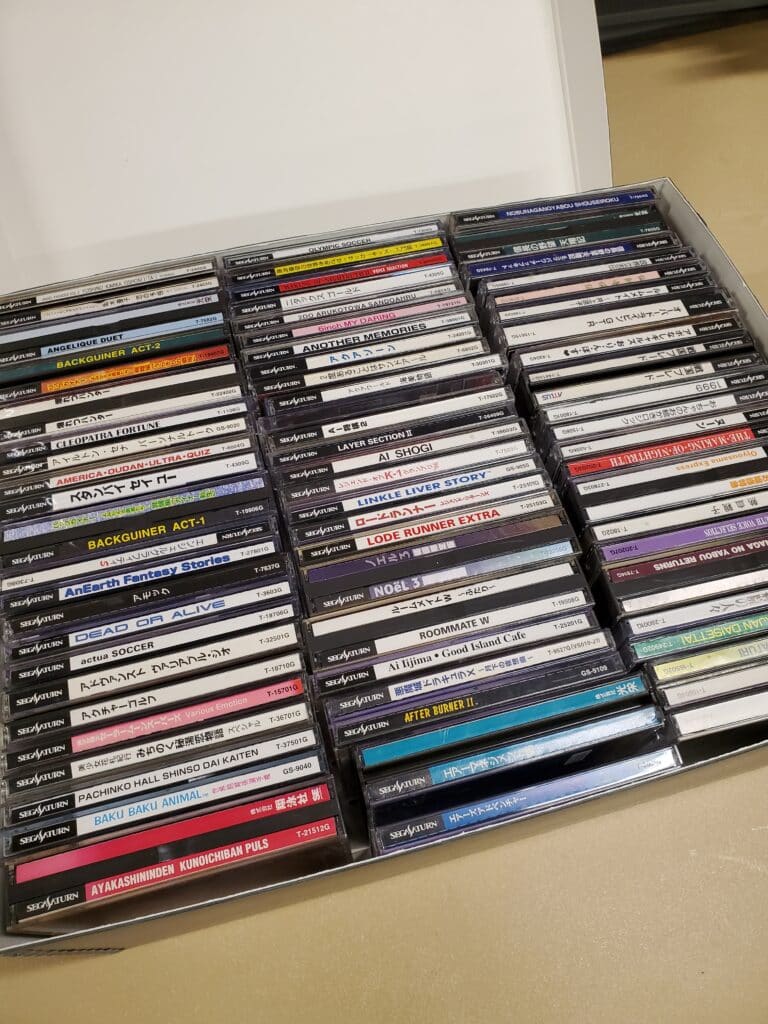 These games only scratch the surface of what the dating genre has to offer. The games can be surprisingly complex and no two are quite the same, despite the plethora of options present, especially in Japanese Sega Saturn, PlayStation, and PC catalogs. However, shockingly few were ever translated in English officially, much less by fans. However, I'm pleased to recognize that, at The Strong Museum, we have a complete collection of Japanese Sega Saturn games, including all the ones mentioned here.