By Adam Nedeff, researcher for the National Archives of Game Show History
The Strong's latest expansion—opening June 30, 2023—includes the world's largest, playable Donkey Kong arcade game. Using a motherboard from an original Donkey Kong cabinet, this monolithic version stands nearly 20 feet tall. In honor of this new addition to The Strong, the National Archives of Game Show History is flashing back 40 years to a short-lived but much-loved game show that starred Donkey Kong, Pac-Man, the Mario Brothers, and other popular characters.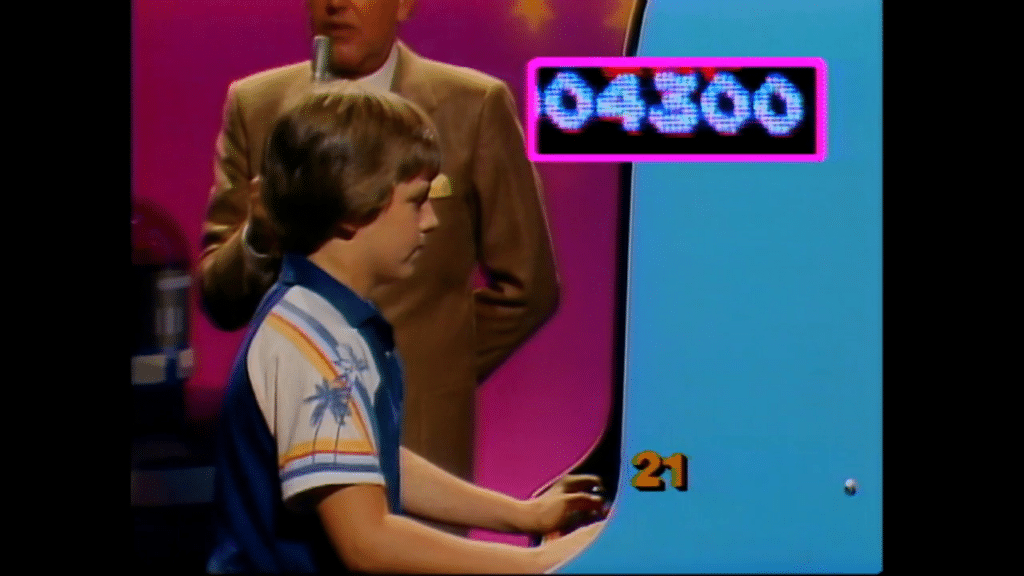 "Starcade" was the brainchild of James Caruso and Mavis Arthur. Originally, they formed JM Productions to create multimedia marketing materials for corporations, but by the early 1980s, they started moving into television production. With the arcade and video game market booming, a game show based on video games seemed like just the thing. Though the idea was met with resistance (a few people in the TV business felt that video games were competition, and a few others felt that video games were bad for kids), JM Productions found enough support to produce a pilot.
Atari founder Nolan Bushnell personally helped recruit 24 contestants to play the pilot game. Those 24 contestants were gradually whittled down to one, who would compete against celebrity guest Larry Wilcox (of TV's "CHiPs") in a game of Donkey Kong for the chance to win a grand prize. The host of the pilot was Mike Eruzione, captain of the gold medal-winning 1980 U.S. Olympic Hockey Team (the "Miracle on Ice" crew).
Three more pilot episodes were shot with a streamlined format and a more traditional host: Alex Trebek. By the time Ted Turner agreed to buy the series for his superstation, WTBS in Atlanta, Trebek was no longer available, so Mark Richards became the host. Richards, a veteran contestant who had appeared on multiple game shows, was offered the job after Caruso and Arthur saw him on the talk show "Donahue" discussing how to become a game show contestant. Oddly enough, after "Starcade," Richards got a job at "Jeopardy!" with Alex Trebek, the host he had been hired to replace. Richards recruited contestants for several years at that show.
"Starcade," touted as "TV's first video arcade game show," pitted contestants against each other in a series of arcade games. The players' scores for each game were added together to determine the winner. Along the way, the contestants also had to answer trivia questions about arcade games, and a chance to win bonus prizes by playing the Name Game, a rapid-fire round that offered prizes for identifying video games just by looking at the screens for a few seconds. The winner of the day played a bonus round for a chance to win the perfect grand prize: a full-size video arcade cabinet for their home.
The arcade games showcased on "Starcade" included: Q*Bert, Dragon's Lair, Space Invaders, Star Wars, Tron, Dig Dug, Mappy, Elevator Action, and Track & Field, among dozens of beloved titles seen on the two seasons of the series.
The best-remembered host of "Starcade" was Richards' replacement, Geoff Edwards, a Los Angeles disc jockey and expert prank-caller who had made his name as a game show host in the 1970s with two hits, "Jackpot" and "The New Treasure Hunt." While he always brought charm and wit to the games he hosted, his performance on "Starcade" was distinctive for the unexpected passion he brought to the role. Edwards, wanting to appear knowledgeable about the games that surrounded him, began reading video game magazines and playing the games himself, and surprised himself by becoming a bit of an addict. He grew to know the games so well that he preceded each game by giving the contestants a how-to tip to earn more points. These were never scripted—Geoff was giving the tips off the top of his head.
A regular feature on each episode was "Starcade Hotline," a short news feature about new developments in the world of video games. In hindsight, these segments are a fascinating look at concepts that came to fruition—LaserDisc games that allowed traditional cel animation to be incorporated into games, or the use of digitized photographs to incorporate the faces of actual celebrities into some games—and some concepts that fell through. One segment reported on the creation of "reusable game cartridges." The idea was you would own a blank cartridge and rent a game by taking the cartridge to a retailer and having a game loaded onto it. When you wanted to play something else, the game would be erased so you could load another game onto the cartridge.
"Starcade" ended production in 1984, but it emerged in 21st-century cable reruns, and if you ever want to do a binge-watch, it's as easy as going to Starcade.TV, where JM Productions has uploaded nearly the entire series.
DO YOU REMEMBER…THESE OTHER VIDEO GAME GAME SHOWS?
"BATTLE OF THE VIDEO GAMES" (1983, syndication) Celebrities like Lou Ferrigno, Scott Baio, Heather Locklear, and Lynn Redgrave clashed in a series of arcade games, including "Ms. Pac-Man" and "Burger Time."
THE VIDEO GAME (1984, syndication) Another JM Production that began production almost immediately after "Starcade" wrapped. Contestants competed in a game structured somewhat like "The Price is Right": the contestants would battle head-to-head in an arcade game, with the best scorer advancing to play one of several mini-games
"NICK ARCADE" (1991, Nickelodeon) Phil Moore hosted the classic game show in which kids contended with the "Four Ps"–Points, Puzzles, Pop Quizzes, and Prizes—while navigating Mikey the Video Game Adventurer from one end of the game board to the other. In the unforgettable bonus round, the winning team was inserted into a video game, to try to defeat the final boss.