As an extremely active collecting museum, The Strong National Museum of Play is home to the world's largest and most comprehensive collection of historical materials related to play. While it's our mission to collect and preserve artifacts, sometimes the items we collect have the potential to cause harm, whether that's from the inherent materials that were used during production, materials that were added to the artifact later, or artifacts that pose risks from handling. While some obvious collection items that may be considered hazardous might come to mind such as taxidermy, the potential for the presence of hazardous materials in museums is more prevalent than one might think. The Strong National Museum of Play has an active Hazardous Materials Policy, which helps in identifying, flagging, handling, and properly storing potential hazardous materials in our collection which aids in keeping our collections and staff safe.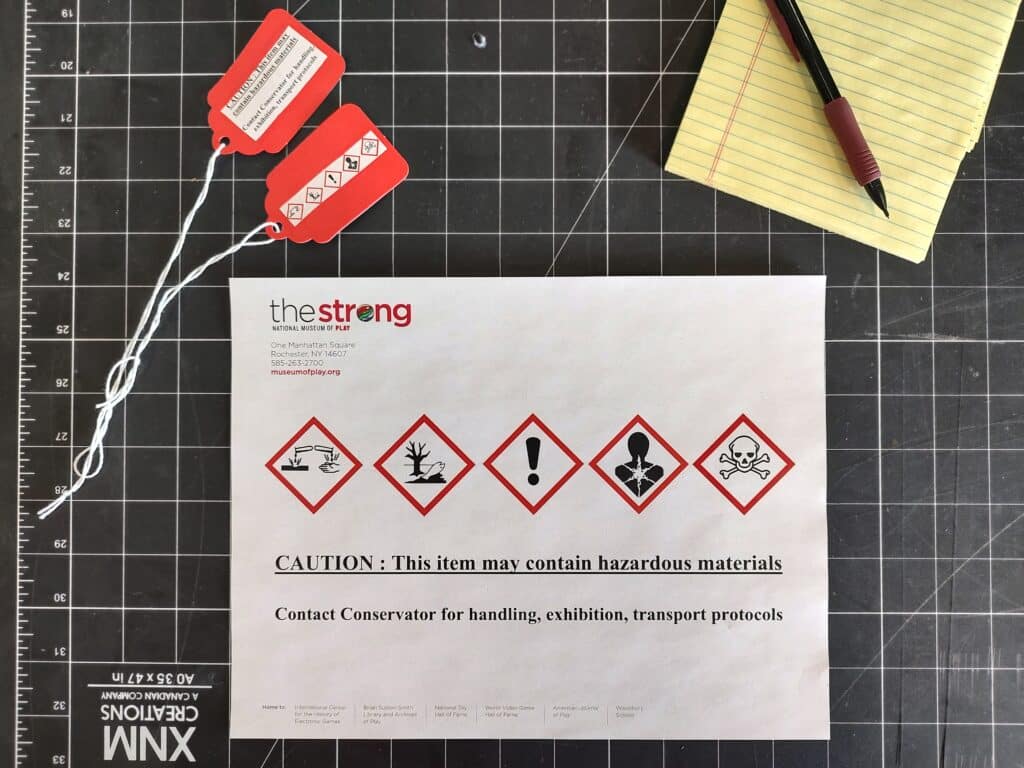 Where to begin in identifying a potential hazardous material…
While it might seem overwhelming to determine where to start with identifying potentially hazardous materials in a museum's collection, a simple visual assessment is a great place to begin. Knowing the basic history or time period of an artifact will also help narrow down potential candidates. While the only method to truly confirm/deny the presence of a hazardous material is to perform scientific analysis, when in doubt it is always best practice to take precautions and handle/treat the artifact as if it contains hazardous substances. Keeping staff safe, as well as assuring the safety of the artifact, is always the best policy. Let's begin with some more obvious places to start….
Pesticides
Early on in museums, historic collections were sometimes treated with pesticides to prevent pest infestations from occurring while items were in storage. Additionally, some products are typically treated with pesticides during the manufacturing process. For both scenarios, items to look for could include furniture, furs, wigs, textiles, insect specimens, and ethnographic collections.
Heavy Metals
Some historic pigments for artist's materials contained heavy metals (such as lead white and cadmium red). Colorants in more modern plastics and rubbers could also contain these types of pigments. Historically, taxidermy was often prepared with lead soaps. Other items to look for could include geological specimens, mercury thermometers, mercury mirrors, lead-tin toys, some items associated with 19th century dyes (cloth-covered books might have copper arsenic), mercury felted hats, and lead-weighted silk fabrics.
Cellulose Nitrate & Celluloid
Early plastics such as celluloid, were made from cellulose nitrate, which upon degradation produces nitric acid which can be highly unstable and combustible. Celluloid was also used as a less expensive substitute for tortoiseshell or ivory. Other celluloid items to look for could include combs, fans, hairbrushes, toys, animation cels, and photographic film made before 1951.
Asbestos & Fiberglass
Both asbestos and fiberglass are more modern materials, but they were popular and widely used in construction and in artist materials in the 1940s and 1950s. Both have also been used industrially since the mid 1800s. Other items to look for could include electrical wires or components, flame retardant materials, gas mask filters from World War II to the 1960s , and brake pads.
Pharmaceuticals, Patent Medicines, & Household Items
Items like makeup, medical-based collections, soaps, and perfumes may have been produced with materials that would be harmful if touched or ingested, or may produce noxious chemicals upon degradation. Other items to look for could include batteries of any type, household cleaning products, and electrical condensers.
Radioactive Objects & Specimens
Items produced during certain periods could contain radioactive elements that were widely popular for common items. During World War I, "'Radium Girls" painted luminous watch faces with uranium-based paint and uranium glass was used for for cups and bowls. Other items to look for could include geological specimens, clocks, watches, glass, ceramics, and cloisonné jewelry.
Explosive & Pressurized Objects
Possibly more straightforward to identify, firearms and ammunition of any sort should be handled with caution. Pressurized objects run the risk of exploding, especially if artifacts are not kept in environmentally controlled conditions. Other items to look for could include firecrackers, fire extinguishers, and any type of pressurized container (shaving cream, soda, spray paint,).
How to Handle the Object Once It Is Identified as Hazardous…
This may include the use of proper personal protective equipment (PPE) such as a Tyvek suit, half-face respirator with HEPA particulate filter, Nitrile gloves, and protective eyewear. Strategies may need to be adapted on a case-by-case basis, in order to apply the appropriate methods for handling, transport, and storage of the artifact. One basic step involves placing hazardous artifacts in boxes or containers with easy-to-read labels and directions while they are in storage.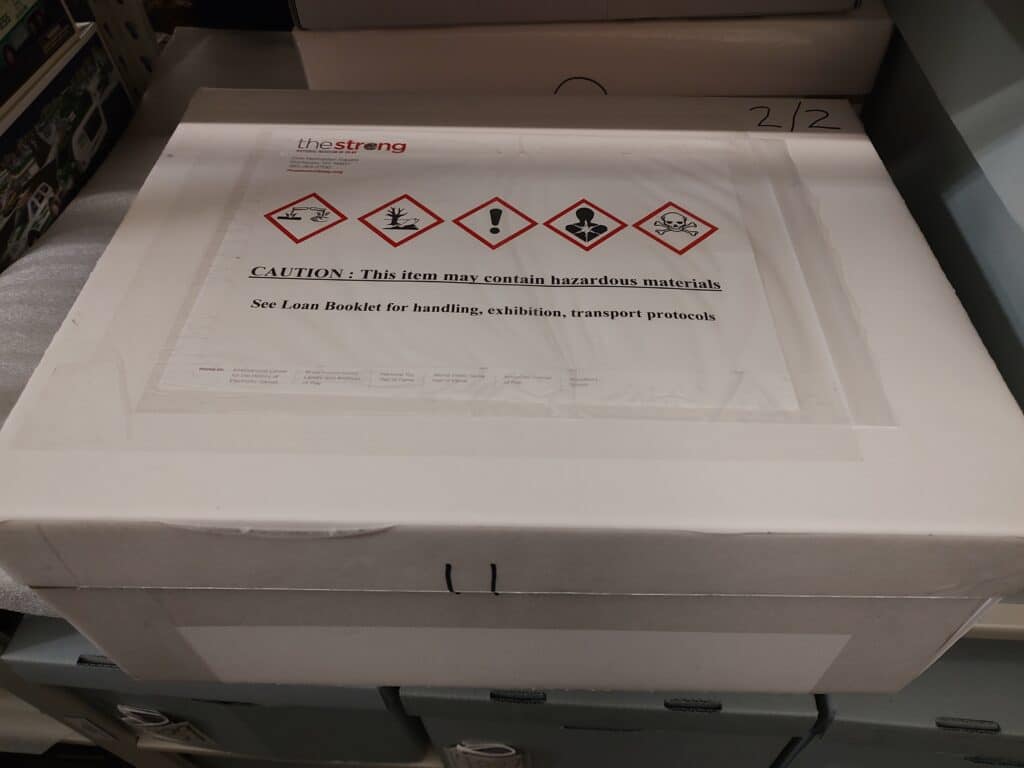 Museums that use collection management software to track and catalog their collections can add in a section to flag an item as hazardous so that anyone working with the collection in the future will have easy access to that information. Thinking about how the artifact should be used going forward is likewise important. Perhaps it no longer can be loaned, is used only for in-house exhibitions where it would need an enclosed vitrine for display, or maybe it's only used as a study piece. Appropriate handling of objects with hazardous materials always calls for applying best judgement and, when necessary, contacting a Hazardous Materials Specialist or a local Conservator to answer any questions you may have. Keep an active list of hazardous materials in the collection in case of an emergency situation. Be sure to prepare for the worst-when damages, leaks, or another immediate issues may arise to the artifact, have a plan of action in how to deal with it. In some cases, a Hazardous Material Company may need to be contacted to come safely pick up and dispose of the material.
With foresight to identify hazardous materials in their collections, thoughtful storage strategies, and suitable procedures in place, museums can have confidence that they are doing their utmost to maintain their collections in ways that assure the safety of both the objects and their staff members.