Although I sometimes roll my eyes at the new commemorative "holidays" that get added to the calendar, I'm actually delighted to see that November 4, 2017 has been declared the first annual National Easy-Bake Oven Day. I can't promise that I'll be sending greeting cards to my friends and family to honor the occasion, but it's good to know that one of the classic toys in the National Toy Hall of Fame is drawing renewed attention—naturally by way of Twitter, Facebook, and Instagram.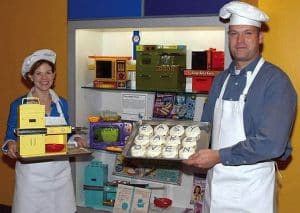 Personally, some of my favorite Easy-Bake Oven memories come from the autumn of 2006 when The Strong was preparing to induct the toy into its National Toy Hall of Fame. Growing up, I'd never had the opportunity to use an Easy-Bake Oven, so I announced to my Collections Team colleagues that we were going to dedicate a Friday afternoon to cooking with a couple of them in my office and eating our creations, so that we could speak with authority on the topic whenever the media asked. And I learned a lot in the process. First of all, cooking with an Easy-Bake Oven taught me patience. It took about 15 minutes for the oven to warm up, another 15 minutes for a cake to bake, and then 10 minutes for the cake and pan to cool down sufficiently enough to touch. That's 40 minutes to wind up with a dessert the size of a hockey puck! In that same amount of time, I could have whipped up a batch of brownies the size of a car hood in a regular oven. But that's not really the point of the Easy-Bake, is it? The Easy-Bake Oven offers kids their very own appliance, one that isn't controlled by parents. The time it took to produce each Easy-Bake cake persuaded me that, when I needed to make a dozen Easy-Bake cakes for a photo shoot as part of the 2006 induction, I faked it by baking a yellow cake in a cookie sheet and then extracting suitably-sized disks using a large biscuit cutter.
I also learned that the yellow cake and sugar cookie mixes for the Easy-Bake turn out products that are almost as tasty as the full-size versions. Least favorite output? That would have to be the Blue's Clues Muffins, which I thought had a color not normally associated with food products (perhaps excepting Gatorade) and a flavor that was memorable—though not in a good way.
Years later, I offered to demonstrate the Easy-Bake as part of a bake-off by museum staff. I carefully pretested my concept—crustless apple tarts with a crumb topping—at home using a borrowed Easy-Bake Oven. Yum. However, when I got to The Strong's demonstration station, I discovered that I was working with a newer Easy-Bake that had less overhead clearance in the oven slot. And of course I didn't realize the problem until I shoved in my tart and wound up scraping most of the delicious crumb topping off the top of the pan onto the interior of the oven. So much for advance testing!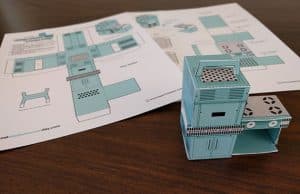 Even though the Easy-Bake Oven wasn't part of my own childhood, I've enjoyed exploring the fun it still has to offer. At the moment, I'm feeling justifiably proud of the cut-and-assemble cardstock Easy-Bake Oven that I produced from a design on the National Easy-Bake Oven Day website. It won't produce any desserts, but it still looks pretty cool and retro, harkening back to the oven's debut in 1963. So cheers to the Easy-Bake Oven as it celebrates 54 years of cooking up fun for kids (and a few dedicated grownups).