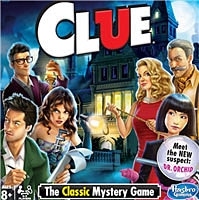 ​Today people find themselves bombarded with ideas, images, and characters from every kind of media. Game manufacturers quickly capitalize on that phenomenon by producing classic games licensed for popular themes. For Yankees fans, New York Yankees Monopoly makes a great gift. Instead of properties, gamers buy and trade team players while circling the game board as a catcher's mask or a World Series trophy. Tired of the classic Game of Life? Try Game of Life: My Little Pony. What about card games? Play Pirates of the Caribbean or Sock Monkey Uno. But in my opinion, the board game Clue lends itself best to licensed board game variants, because players take on the roles of Clue's own cast of characters. And these characters, it turns out, are easily layered with other roles from popular media.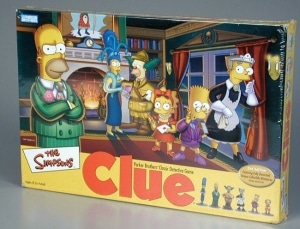 Part of Clue's fun is assuming the identities of Professor Plum, Miss Scarlet, Mrs. Peacock, and the rest, all the while suspecting—in the spirit of the game—that one of your group has committed a murder. But imagine you're a fan of Alfred Hitchcock films. In the licensed 1999 version you can play Miss Scarlet as Melanie Daniels from The Birds, and kill with a necktie, as in Frenzy, at the Bates Motel from Psycho. Today you can play as Link in Legend of Zelda Clue, kill with a poisoned doughnut or a slingshot in The Simpsons Clue, or discover a murder in the cantina while playing Clue: Star Wars.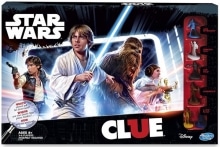 This 2016 version features a detailed 3-D Death Star game board, praised by fans of the film and the game alike. Many themes, such as Harry Potter Clue, and Scooby Doo, Where Are You! Clue, lend themselves readily to the game's whodunit framework. Others, such as Clue: Family Guy Collector's Edition and Clue: Juicy Couture seem less likely. But, they exist.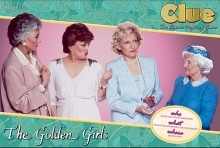 Clue has its own (slightly sketchy) wiki, where one can learn the backstories of the original characters. For example, Mrs. White's full name is Blanche White (née Chalkley). She was born in England, her weapon of choice is the rope, and she "hides a secret indulgence." Colonel Michael Mustard's "glittering career hides a tarnished past" and he "deals quickly with weakness." Each character's story goes on into seedier detail—all are capable of murder. But not so in one of the goofiest retro Clue variants yet produced. In 2017's Clue: The Golden Girls, nobody commits murder. But somebody ate the last piece of cheesecake. Was it Sophia, with the whipped cream in her bedroom, or Rose, with the pocketbook on the lanai? If you are a Clue fan, you can solve even the cheesiest of mysteries!