Since last summer, you may have noticed small groups of millennials walking briskly toward landmarks surrounded by people staring intently at their smartphone screens. Every now and then, cries of delight or disdain erupt from the gatherers. "Oh good, a Snorlax!" someone murmurs appreciatively. "Just another Rattata!" another person groans. These folks aren't speaking in code—they're playing the massively popular, record-breaking, augmented-reality mobile game Pokémon GO.
The "Pocket Monsters" franchise has been around since 1996, when Nintendo released the first two Pokémon games for its Game Boy in Japan. Two years later, the game launched in the United States. My brother Bob played Pokémon Red on his Game Boy Color, while I tackled Pokémon Blue on my Game Boy Pocket. Between the two of us, according to the game packaging, we would be able to catch all 150 Pokémon characters and "trade" version-specific monsters via a linking cable. The game was fairly straightforward: choose a Pokémon to start the game, discover wild Pokémon by walking around, catch them with Poké Balls, and "battle" them to gain experience. I liked the collecting aspect of the game, stumbling upon Pokémon that I hadn't yet seen and watching as the game added new entries to my Pokédex (a mini-encyclopedia of stats about each captured Pokémon). Bob, meanwhile, liked to train his Pokémon and max out their stats so that he could—as the Pokémon television show theme song stressed—"be the very best." Since 1999, Nintendo has issued additional "generations" of Pokémon games, including Pokémon Gold, Silver, Diamond, Pearl, Sun, Moon, and many more. These versions add more characters, deeper statistics, bigger battles, and an internet-trading component. Honoring the game's longevity and popularity, the World Video Game Hall of Fame inducted the original pair of games, Pokémon Red and Green, in May 2017.
Even if you haven't played the video game before, you likely recognize some of the Pokémon characters that have invaded our cultural landscape. (A "life-size" Pikachu welcomes guests to The Strong's eGameRevolution exhibit on the museum's second floor!) Over the past two decades, Pokémon have migrated from the Game Boy screen to the movie screen and all forms of media in between. There are still ample ways to play with Pokémon without access to a handheld electronic device.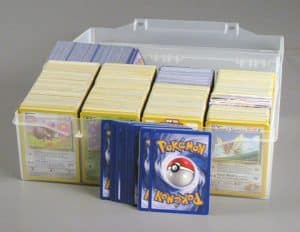 Comparable to the 1990s belief that collecting Beanie Babies was a good investment, some kids who played with Pokémon trading cards trusted that their rare cards could also potentially make them rich. In the Pokémon Trading Card Game, players use a deck of collectible cards to battle against an opponent's cards. Game shops and big-box stores sold sealed packs of Pokémon trading cards (packaged similarly to baseball cards), and collectors crossed their fingers that they would get at least one Secret Rare or Ultra Rare holographic card per pack. Players utilize three different types of cards (Pokémon, Energy, and Trainer cards) to play the game; upon defeating their opponent, they get to select a Prize card to add to their own collection. More than 15 years after the trading cards debuted, one of my brother's prized possessions is his first edition holographic Charizard card.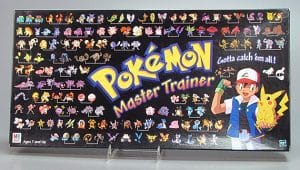 Since most Pokémon-related games are for two players, it seemed inevitable that games for multiple players would develop. The Pokémon Master Trainer board game draws from the original premise of the video game, having players catch wild Pokémon and battle them at designated spots around the game board. This game doesn't require much strategy or previous knowledge of Pokémon, so it's a great option for beginners (or people who just enjoy rolling dice). Other well-known licensed games feature these characters too, such as Monopoly: Pokémon Collector's Edition, Sorry!: Pokémon, and Yahtzee Jr.: Pokémon.
Finally, for people who care less about statistics and more about the cuteness of Pokémon, a variety of action figures and plush monsters await. These toys can range in size from a few inches tall to the size of your fingernail. When Pokémon: The First Movie came out in the U.S. in 1999, Burger King offered tie-in promotional toys with its Kids' Meals. Garth Parker, a premium toy designer whose papers are housed in the Brian Sutton-Smith Library and Archives of Play, created many of these Pokémon figurines for Burger King.
The popularity of Pokémon has only increased in the past two decades, as evidenced by the numerous handheld, console, arcade, tabletop, and mobile games released by the franchise. I curiously downloaded Pokémon GO and was surprised by how much I enjoyed playing the game while walking around neighborhoods here in Rochester. (I also remembered a lot more of the original 150 Pokémon characters than I cared to admit; I blame it on my trivia-collecting brain.) Whether you prefer to play Pokémon on your Game Boy, game board, or smartphone, there are a variety of ways for you to catch 'em all.