It seems that now, perhaps more than ever, people everywhere are constantly on the go. Traveling to work or school, the gym, or the grocery store—the list goes on and on. We eat on the run, drink coffee on the run, and even get our information on the run thanks to smartphones that make emails, news, and calls available wherever we are. Today, many folks would tell you that life on the go is hectic but necessary. For a moment, let's set the necessary aside and look at the more playful side of "things that go!" as children so frequently phrase it.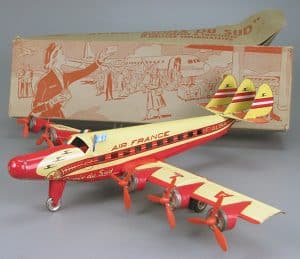 Let's start with the basics: planes, trains, and automobiles. All are great choices and The Strong is home to countless examples of each, some of which are displayed in exhibits, such as Build, Drive, Go, including colorful toy airplanes from the collection of Seymour Merrall. The collection includes Navy planes, single engine planes, seaplanes, and hundreds of others. If you prefer a more grounded method of transportation for your imaginary travels, perhaps a Greyhound bus is the way to go? More than 200 Greyhound buses are parked at The Strong, thanks to Harvey and Carol Simmons. Their Greyhound collection features scaled-down versions of the popular buses as they evolved in design throughout the 20th century into the 21st, including variants like the Glide-a-Ride trams used at the 1964 New York World's Fair. If you prefer driving to riding and are of petite proportion, perhaps the Keystone Coast to Coast Bus ride-on toy is for you. It's traveled more than a few miles since its manufacture around 1930, but it's still sturdy as can be.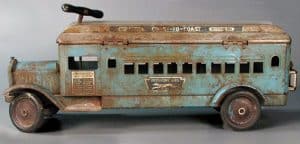 Need to cover more playful ground quicker? A pair of roller skates or Heelys (the wheeled sneaker of the early 2000s) can help. For a small child with a sprawling yard, a Power Wheels vehicle can be a timesaver. I can attest to this firsthand, as one of my nephews enjoys such a yard and has been gifted so many Power Wheels vehicles (six!) that he needs his own garage—ironic for someone who can barely reach the kitchen countertop.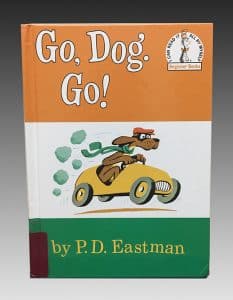 If you fancy yourself more of a homebody, a good book can take you any number of places. By the end of the ever-popular book Go, Dog, Go! I feel as if I've traveled miles—and attended a great party among anthropomorphic dogs—every time I read it. Alternatively, Marvin K. Mooney Will You Please Go Now! makes me feel like a child in the waiting room at the dentist all over again. If you've had a long day and need an encouraging pick-me-up, Scuffy the Tugboat or The Little Engine That Could offers all the reassurance you need to conquer life's challenges by water or rail. If you need to escape further, use the Magic School Bus Lost in the Solar System to whisk your imagination out of this world to a place where anything is possible.
So next time you find yourself on the run during a hectic day, take a deep breath and consider the many pleasant ways to go. If that doesn't work and you're in the neighborhood, a few laps aboard our train or colorful carousel may be just the thing to steer your mind in a more playful direction.