Growing up in Pennsylvania, my parents frequently looked for family excursions within a few hours' drive from our home near Pittsburgh. Lancaster County, Pennsylvania, became a frequent destination for the Novakovics, thanks in part to my younger brothers. Both Bobby and Billy loved reading the Thomas the Tank Engine series by Reverend W. Awdry; watching the PBS show Shining Time Station; and playing with metal Thomas & Friends train cars (which feel worse to step on than Lego bricks, FYI).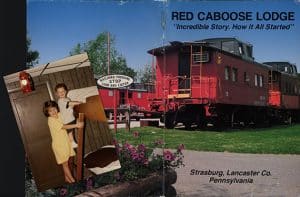 Among Lancaster's attractions is the town of Strasburg, home to the Strasburg Railroad; the Railroad Museum of Pennsylvania; and the National Toy Train Museum. For total railroad immersion, we stayed at the Red Caboose Motel, a compound of 38 retired cabooses turned into tourist lodging. (I believe we opted for the "Baggage Car" floor plan, which housed two sets of bunk beds.) Daytime activities included the Strasburg Railroad's scenic 45-minute round-trip train ride through the countryside, climbing in and around old trains at the museums, and eating our weight in delicious shoo-fly pie from an Amish farm market. My dad kept a souvenir cassette tape of railroad-themed songs in his pick-up truck for ages, and I can still remember all the words to "Chattanooga Choo-Choo" and "On the Atchison, Topeka, and the Santa Fe."
Although I haven't been back to Strasburg in more than a decade, I'm surrounded by trains here at The Strong. The Strong Express Train on the museum's first floor is a mini-locomotive ride for children and their accompanying adults. (Don't forget to wave at your family and friends when your train car circles past the station!) In the museum's Build, Drive, Go exhibit, visitors can peruse cast-iron, steel, plastic, electric, and even paper toy trains. (During World War II, the U.S. War Production Board prohibited the manufacture of toys using critical war effort materials, such as steel or iron. As a result, the Lionel Corporation ceased its standard metal toy train production and instead fabricated items for the Allied troops. Lionel did, however, print the Wartime Freight Train on heavy paper stock for families to assemble and play with at home.) There are also many train-themed games—both traditional and electronic—within the museum's collections.
If you've ever built a railroad line from Los Angeles to New York City in less than 30 minutes, you must have played Alan R. Moon's Ticket to Ride. In this cross-country train adventure game, players fulfill their randomly distributed "destination tickets" by building routes across the game board. The more train cars a player can put on the board between cities, the more points she receives; players also obtain bonus points for completing routes laid out on their destination tickets. For example, in the original North American version, players receive five points for completing the route from Kansas City to Houston, and players earn 22 points for building a route from Seattle to New York. Seasoned Ticket to Ride veterans often deploy strategies such as claiming specific key routes early on or stockpiling the "train cards" needed to build routes between cities. Other players (such as my youngest brother) are more interested in playing defense by staking short routes that prevent other players from completing their destination tickets. There are now more than a dozen expansion packs in the Ticket to Ride series, including a unique double-sided board with the United Kingdom map on the front and Pennsylvania (featuring routes into New York State) on the reverse.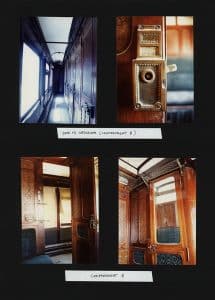 The Brian Sutton-Smith Library and Archives of Play holds the papers of noted video game designer Jordan Mechner, including his game design documentation for Prince of Persia (1989) and The Last Express (1997). The latter, a train adventure mystery game, takes place in 1914 on the Orient Express's final journey from Paris to Constantinople. In order to ensure the authenticity of the game's setting, Mechner traveled to Athens and Budapest to extensively explore and photograph the interior compartments of decommissioned Orient Express train cars from the early 1910s. Mechner referenced his photographs to design near-replicas for filming and later rotoscoping the distinctive animation within The Last Express's gameplay.
While there are now more efficient methods of transportation than an old-time locomotive, there's just something about playing with toy trains or train games that transports you to the past. The next time my parents or brothers visit me here at the museum, I'll direct them to the Build, Drive, Go exhibit to see if they can point out any toy versions of trains we might have actually ridden or toured during our Strasburg trips. I'm not sure I can find any shoo-fly pie here in Rochester, NY, but we can always sing a round of "I've Been Working on the Railroad" together for old times' sake. So, put on a conductor's cap and grab a wooden train whistle—next stop, fun with trains!