My reading list seems to grow longer each year. It seems impossible to read all of the intriguing titles available; the Library of Congress alone has approximately 838 miles of bookshelves. If you're like me and you'd like to tackle more of your reading list or if you'd like to take your reading beyond the beaten path, you might try out a few video games based on books.
Video game designers have dabbled in interactive retellings of stories for decades. In 1984, author Douglas Adams and computer game developer Steve Meretzky paired-up to turn the Hitchhikers' Guide to the Galaxy series into an interactive fiction video game. Cyberdreams worked with author Harlan Ellison in the mid-90s to turn his short-story, "I Have No Mouth, and I Must Scream," into a point-and-click adventure game. American McGee's Alice, an action video game with psychological horror elements, presented a more cynical version of the Lewis Carroll's Alice and Wonderland. I recently discovered a few other video games that correlate with books on my reading list.
1. Blackwell's Asylum
Nellie Bly solidified her reputation as a famed journalist in 1887 when she wrote Ten Days in a Mad-House after an undercover visit to Blackwell's Asylum in New York City (now Roosevelt Island). Under the guise of insanity, Bly experienced the dire conditions—spoiled food, abusive attendants, flimsy clothing, and unsanitary facilities—of the first city-run mental hospital in the United States. She also discovered that many of the doctors misdiagnosed patients. Her report caught the attention of the local Grand Jury, which investigated the conditions of the asylum and later increased the Department of Public Charities and Corrections budget by more than $800,000 and required the monies help to overhaul the institution. More than 100 years after the release of Ten Days in a Mad-House, a group of students at the Danish Academy of Digital Interactive Entertainment recreated Bly's experience in the first-person escape game Blackwell's Asylum. The player must navigate Bly out of the twisted confines of the asylum. The design team based the setting on works by famous artists from the late 1800s and the aesthetics to the angst of a drug-induced patient fighting to escape.
2. Franz Kafka Video Game
Russian developer Denis Galamin recently created a classic adventure game based on the complex works of Franz Kafka. The forthcoming Franz Kafka Video Game follows a man named K as he begins a new job that requires him to make a distant voyage. The game trailer features a quick appearance by Gregor Samsa from Kafka's The Metamorphosis, and promises an atmosphere of "absurdity," "surrealism," and "total uncertainty." These descriptions certainly sound like the setting of a Kafka novel. In his 1903 letter to art historian Oskar Pollack, Kafka wrote "some books seem like a key to unfamiliar rooms in one's own castle." His work often featured a protagonist that fails to make himself heard or understood. His characters faced alienation, dread, physical and psychological discomfort, and labyrinths of bureaucracy. It's difficult to ascertain just how much the game play resembles Kafka's work. Slate's education columnist Rebecca Schuman suggests that a true Kafka video game would require "you go to the app store to download the game, but to buy it you have to click through a labyrinthine series of forms, some which take hours (if not days) to complete. The app requires a full criminal background check….takes two weeks to process…. submission of four different application essays, two of which must directly contradict each other."
3. Stride and Prejudice
Pride and Prejudice, Jane Austen's 1813 novel, presents life in the genteel, rural society of early 19th-century England. The story follows Elizabeth Bennet as she deals with family, manners, morality, education, and marriage. Part of its lasting popularity stems from the quirky misunderstandings between the quick-witted Elizabeth and her romantic interest, Mr. Darcy, a socially awkward and arrogant man. Over the last 200 years, Pride and Prejudice has inspired musicals, operas, Masterpiece dramas, Bollywood movies, vampire and sci-fi adaptations, and a video game. A few years ago, Carla Engelbrecht Fisher created Stride & Prejudice, an endless runner, 2-D side-scroller. Players control an 8-bit pixelized version of Elizabeth Bennet as she makes her way through the entire novel (the game screen is the book with auto-scrolling text). The player may select the scrolling speed and the color scheme to make reading the novel on the screen as comfortable as possible. I still found it difficult to keep track of all of Austen's characters. Fisher considers Stride & Prejudice a "gate-way app for both book-lovers and gamers." However, most people interested in Austen prefer to read the actual text.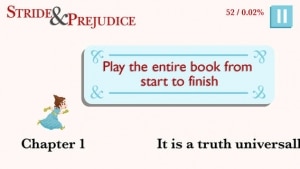 Some other clever video games based on literature include Hamlet or the Last Game without MMORPG Features, Shaders, and Product Placement (based on William Shakespeare), The Dark Eye (based on Edgar Allan Poe), and Walden, the Game (based on Henry David Thoreau). Adaptations of literary work often fail to achieve the same experience as reading the book. Their creators take a risk when they attempt to create a visual interpretation of a classic literary work.