Congratulations to sidewalk chalk for earning a place of honor among the three toys inducted into the National Toy Hall of Fame on November 5, 2020. For a plaything that's been around ever since our early ancestors were drawing on the walls of the caves they called home, that's proof persistence earning well-deserved acclaim.
But 2020 wasn't the first year that chalk received recognition as one of the 12 finalists for the Hall of Fame. Back in 2016, chalk's inclusion on that year's shortlist of esteemed toys resulted in my making a connection with a woman named Marcia Reece who had her own story of persistence and triumph with sidewalk chalk and the company she founded to produce the toy.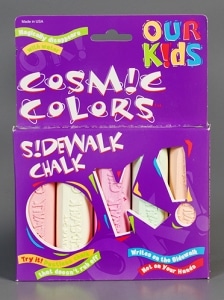 As Reece explained to me, Our Kids Sidewalk Chalk began on a family trip to Walt Disney World. Flying home to Colorado, Reece's son and daughter asked when they could go to Disney again. She offered to loan Ross (then 3) and Suzanne (aged 6) $50 as seed money in order for the kids to earn the $500 airfare for the next trip—Mom and Dad would cover the rest of the costs. Reece had already enjoyed a reputation in her neighborhood for great homemade sidewalk chalk and Ross and Suzanne produced a batch for their church's bazaar—and sold out in 20 minutes. Craft fairs followed and sufficient cash flow resulted that a checking account was required. A squabble between Ross and Suzanne over whose name should be on the account led to their father stating, "You're both our kids" and the Our Kids brand was born. Stores started calling to stock the chalk and Reece ventured to the Denver Merchandise Mart where she got an introduction to the world of wholesale operations as well as a sense that she needed to improve the product's packaging from Ziploc bags.
As orders flowed in, the family set up a chalk manufacturing business in their home to keep up with the demand. At its peak, the home business had 11 women coming in daily to make chalk and the basement, garage, and every room of the house was rapidly overwhelmed by packages of chalk and filled cartons awaiting shipment. A leap to an actual manufacturing facility was in order. With sales in specialty gift, toy, and educational stores across the U.S. and around the world, placement with a big mass-market retailer—Walmart—remained as an objective. Persistent phoning by Reece finally earned her an appointment with a Walmart buyer in Loveland, Colorado. She made her best pitch, and he placed a test order for the nine stores he oversaw—but with the requirement that Our Kids would buy back any product that remained after a 30-day period. Reece was determined that all the product would sell—but how could she insure that happened? She went home, whipped rainbow-striped sheets off her bed, and sewed up clown costumes for her kids (augmented with rainbow wigs). Then she contacted the manager at each of the nine stores, offering to run a chalk contest in their parking lots. The managers agreed and anted up prizes. In turn, Reece made sure that each store's shelves were stocked with chalk the day before the contest and that local media would cover the event. Four days after the final contest, the Walmart buyer in Loveland phoned saying that there was a problem—all the stores had sold out of chalk!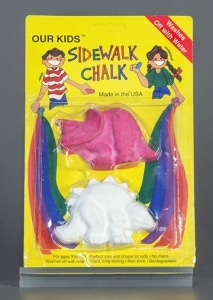 Success at local Walmarts led to a trip to the headquarters in Bentonville, Arkansas, where the national buyer was impressed with the sales figures but told Reece that her packaging "sucked." That inspired Our Kids to invest in a 6-station blister automatic packaging machine, at precisely the same time that the firm perfected a way to mold chalk into novelty shapes. A test of the repackaged product—of course with promotional chalk contests in their parking lots—led to placement in Walmarts across the nation. A story about Our Kids chalk on 
ABC World News Tonight with Peter Jennings earned Reece a blistering call from the senior toy buyer at Kmart who wanted to know why Walmart (a much smaller firm at the time) was getting all the press—and proceeded to order 2 cases of chalk for each of Kmart's 4,200 stores–delivered within five weeks. Eventually Our Kids had three factories to meet retailers' demand and Reece decided the business had become too big to manage. A deal with Ohio Art didn't work out in 1988, but a match was made with DreamWorks, a Minneapolis toy company with capacity produce, finance, and distribute the product.
So here's to Marcia Reece and her tale of entrepreneurial spirit and success—all because of the compelling allure of playing with sidewalk chalk. And I hope that, even if you're not inspired to start your own toy business, you still might find yourself drawn to grab a stick (or four) of sidewalk chalk and head outside to sketch up a game of hopscotch or decorate a plain piece of pavement with imaginative artwork.